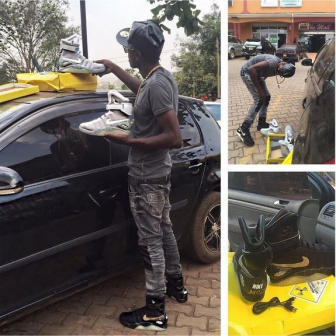 Flamboyant Ugandan artiste Jose chameleone has purchased himself shoes worth 12,500 US dollars , approximately Ksh 1.2 million bob.
The singer who had a performance in Kiambu over the weekend got himself Nike Air Mag limited edition shoe and posted it on his wall generating numerous comments with some accusing him of "financial indiscipline."
Well, he had quick come back for the 'haters' as he defended his lavish spending.   He said that he had every right to reward his feet for "standing him tall", and after all, he explained, he almost lost his feet in an accident eight years ago.
The Valuvalu singer told his fans that they had the liberty to pursue their desires in life. "We have one life to live" his message read.
I now certify that a lot of people In our society have a very short Memory and further pay attention to things that don't matter most to themselves!!!
I Almost lost my life 8years Ago in an accident that almost left me feet less!!!! And when I chose to reward my feet for standing me this tall above the envy and hate some people show case they still want me to live their lives and disregard my own.
That's why we lead and the flock follows. It's just shoes, Just shoes. For those advising me about financial discipline, give me a chance to advise you to. I can't compromise my desires. IF YOU DO you will regret. We live once. And what the fuss CHINA got an option for you???? in different Grades 1,2,3,10 your choice