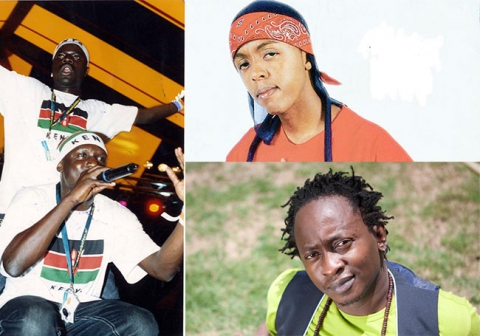 They are songs that make you go crazy with good memories making you wish local artistes could still make this kind of music.
We sample sentiments from various household names in the entertainment industry and local music lovers on some of the greatest hit songs ever produced locally.
Veteran radio presenter Fred Obachi Machoka describes a hit song as one than can be passed on from one generation to another.
He explains some of the songs that have stood the test of time are Embakasi by Mangelepa, Stella - Freshley Mwaburi, Daudi Kabaka's Twist, Jambo Bwana - Them Mushrooms, Sina Makosa - Les Wanyika, Vunja Mifupa - Samba Mapangala, Kasongo- Super Mazembe, Stella - Mwema Brother, Dunia ni Dwara - Moreno, America to Africa – David Amunga and My land is Kenya by Roger Witeka.
Others include Princess Jully's Dunia Mbaya, Esther Wahome's Kuna Dawa, Jemimah Thiongo's, Mwenye Baraka, Kareish's Muthoni Kifagio, Maroon Commandos Charonyi Liwasi  and Christina.
As for vernacular songs Obachi  points out songs like songs like Ndoa Ya Machozi -Tony Nyadundo, Kanungo E Teko - Otieno Aloka, Shimita - Papa Jey, Mariru and Mumunya - Albert Gacheru, My Dear Kwaheri - Musaimo,  Mama Mulayi and Ndichu's Coco Wagakunga have managed to cut across various communities within Kenya.
"Having been in the music industry for more than four decades these are some of the most requested and listened to songs that to date," says Obachi, adding that  longevity is the driving force behind their success
Veteran deejay Stone, a scion of Omega mobile disco since 1982 points out songs Redsan's and Chameleones- Mama Mia, Daudi Kabaka's Taxi Driver, Gabriel Omolo's Lunch Time, Mangelepa's Nyako Konya, Jaguar's Kigeugeu, Les Wanyika- Sina Makosa, Maroon Commando's Uvivu ni Adui Mkubwa, Kaikai Kilonzo -Kenya Nchi Yangu and Freshley Mwamburi's Stella Wangu as the best songs ever produced locally.
"These are the most played songs that have stood the test of old and recent times," he says.
Jimmy Gathu echoes their sentiments adding that Hardstones's Uhiki, Produced in 1997 takes all the credit for introducing and popularizing local raga hip hop earning its status as Kenya's first ever-commercial song.
"Its popularity opened floodgates for him as the first local United Nations Youth Ambassador.
"To date he becomes the first East African to sign with the American Atlantic Records, a subsidiary of the Warner Music Group and home to global superstars like Missy Elliot, Wiz Khalifa, Bruno Mars, Coldplay, Trey Songz et al."
He also mentions Swahili Nation with their hit track Hakuna Matata that was highly appreciated locally and abroad at that time when Kenyan music was taking shape.
Others he says include Kenya's biggest song ever in Africa, Gidi Gidi Maji Maji's 2002, hit tune Unbwogable that was not only performed live during the finale of Big Brother Africa 2003, but was ranked top in Germany's Last FM including Europe, America and Australia.
Due to its popularity it was also adopted by the Kenyan opposition during the 2007 presidential campaign.
He adds that  Eric Wainaina's anti-corruption song Nchi Ya Kitu Kidogo  and Daima Mkenya  which ruled the airwaves during the post-election violence. He also became the first Kenyans to be feted in the prestigious KORA Awards.
Likewise, Kalamashaka's Fanya Mambo smash hit that topped the charts locally and abroad becoming the first Kenyan tune to be played on South Africa's Channel O video show.
Thereafter several others hits emerged blossoming the local music industry. They include Mashifta's System Ya Majambazi - an evergreen timeless hip hop track classic that stood the test of time.
Wasee Wa Githurai by Mr Googs, Lenny and Vinny Banton that turned huge with a remix owing to great public demand.
Though controversial Nonini's Manzi Wa Nairobi was exactly what the Kenyan youth were waiting for.
The smash hit paved way for Genge music including several artistes among them Jua Cali, Jimwat, Pilipili, Flexx and the late Lady S.
But just when Kenyans thought they had the last of it, Kenyan hip hop icon E-Sir (deceased)  burst into the spotlight with his singles Boomba Train, Mos Mos, Hamunitishi, Kamata and Bamba from his debut album Nimefika  that still remain national hits.  
On the other hand, Redsan's mega hit Wanipa Raha catapulted him to fame winning him several awards and earning him the title king of local dancehall music while Kenya's biggest pop artist Nameless ruled regional airwaves besides breaking the record of staying at the top of the local music charts for more than a hundred days with Ninanoki track. Others include Holiday, Sinzia and Juju.
The latter invited the likes of Deux Vultures, Tatuu and Wakimbizi who released national hits and club bangers like Monalisa, Teso and Mariko earning them a name as favourites among East Africa music fans. 
In 2005 Necessary Noize's Kenyan Gal, Kenyan Boy was the jam in every hood including the youth who sang along to its lyrics. It won them several awards coining them a name as the best reggae group in East Africa.
Also in line was best rap group Klepto whose Tuendelee a response for the dis track by various hip hop musician (including Bamboo), who criticized the commercial Kapuka music style was voted biggest song of the year. 
During the time, rapper Prezzo who is credited for having single handedly introduced swag in local music even before the word itself burst into the scene with Naleta action among other hits.
Other songs that ruled the local airwaves include Bambika by Tyrical Erico and Shanky Radics, Morale by Pilipili and Ukimwona by genge's rap queen Lady S (deceased), Jua Cali's Kiasi, Daddy Konia's Meri Mela, Longomba's Vuta Pumzi that was dubbed biggest song ever to be produced locally on HIV/Aids awareness it earned them a status as the best local group earning them several awards.
Likewise, [email protected] Under 18, Amani's Missing My Baby, Bamboo's Compe, Shavie and Slice's Gyal, Kantai's Kantai, Wahu's Sweet Love, Man U na Arsenali by Drygin and Fracas (both deceased) a special dedication to Manchester and Arsenal local football fans remains popular.
Equally, Octopizzo's Ivo Ivo, Twende Tukawake - (the late) K- Rupt, Coupe De Kalle-Daddy Owen, Mwikhulu - Rufftone, Nyudo Wa Komeo - Flexx, Rising Sun – Ousmane, Fever - Habib and Manga, Watu na Viatu - Nyota Ndogo, Jullinai's Shagalbagal Nikiwa Ndani – Prince Adio,Akisema Atakubariki- Jemimah Thiongo and Esther Wahome's Kuna Dawa that was  on  everyone's lips and played in clubs  earning her the title queen of gospel.
By the same token, DNA's Banjuka reportedly made millions of shillings after the Party of National Unity (PNU) adopted the song for its campaign) while Jaguar's club banger and a campaign theme song Kigeugeu, remains Raila's favourite.