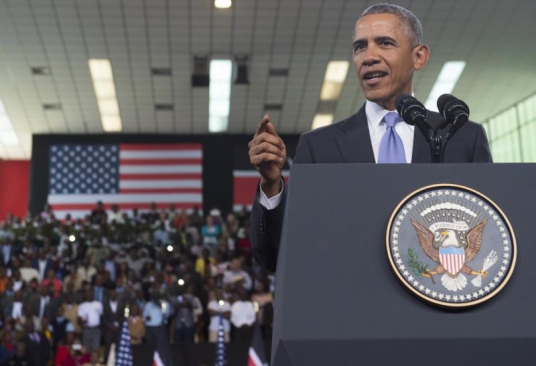 By Njambi Mungai (@njambie)
Visiting US President Barack Obama gave a powerful speech at the Kasarani Indoor Areena on Sunday afternoon.
The speech touched on issues that have dogged Kenya in recent years. Leading the list was corruption, terrorism, women and girl empowerment, national unity and youth and development.
Here are the 20 most memorable quotes in Obama's speech
On Corruption
There is no country that is completely free from corruption. The fact is, too often here in Kenya, corruption is tolerated because that's how it's always been done.
Fighting corruption is not just about changing laws. Ordinary people have to stand up and say enough is enough.
Corruption continues to deny many Kenyans jobs. Every shilling paid as a bribe could be paid to someone who is doing an honest day's work
On Terrorism
We honor the memory of every Kenyan who has lost a life in the fight against terrorism.
We are greatful of the progress of AMISOM and the US faces similar threats of terrorism as Kenya
Violent extremists want to turn people against each other. The terrorists know that they a minority that cannot win.
On Women and girl empowerment
Around the world, there is a tradition of oppressing women. Just because something is a tradition does not make it right
Treating girls and women as second class citizens is a bad tradition, it holds you back
Communities that give their daughters the same chances as their sons prosper
Any nation that fails to educate girls is doomed to lag behind in the global economy
On Youth and development
It is the young people who must take the lead.
We are connecting young people full of ideas who are not weighed down by ideas from the past.
You don't need to look overseas to realize your dreams
I like the phrase "Yes Youth Can"
On National Unity
We are all part of one tribe, the human tribe
We do not inherit the earth from our ancestors; we borrow it from our children
Progress requires that we honestly confront the dark corners of our past
Whatever the challenge, you will be stronger if you face it as Kenyans
He signed off with two very heartwarming statements;
19.Thirty years ago when I first came to Kenya you made me feel at home.....you still make me feel at home."
20. I am proud to be the first Kenyan to be president of the United States
Here is his speech in full: