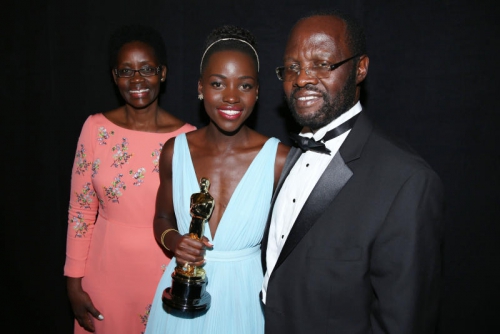 Being Lupita's father: Anyang' Nyongo shares about daughter's journey to stardom, how he inspired her and how her achievements have come as surprise to him
"I want to thank my family for your training and the Yale School of drama as well for training. When I look down at this statue, may it remind me and  every little child, that no matter where you come from, your dreams are valid"
Those were words of Lupita Nyong'o after she won Oscars Award in March 2014 for Best Supporting Actress in Hollywood. All appreciation was inclusive of her father Professor Senator Peter Anyang' Nyong'o.
Professor Nyong'o has been an instrumental figure in Lupita's life; ensuring she meets her dreams.
Celebrating fathers who have made a difference in their children's life, SDE delves deep into Senator Nyong'o's life in relationship to Lupita; globally followed and admired daughter of African soil:
While appearing on Tell Me More Show by NPR News hosted by Michel Martin in June 2014, Senator Nyong'o shared a lot about his relationship with the Hollywood darling.
Here are snippets of the interview in relation to outlined theme – Being Lupita's Father:
How Professor and family felt when Lupita was awarded an Oscar in 2014:
"We were as moved as everybody. I mean I couldn't believe that was Lupita talking, we call her Amondi (PH). But of course her most well known name is Lupita. So, you know, as a parent you get kind of taken aback at how wise the little ones have become and we almost shed tears when we heard those words of wisdom."
How Lupita was like growing up – did he see the wisdom, greatness she has portrayed in her today's career?
"She started rather early. I remember in kindergarten, when she was five, we went to a parents' day and she was leading a bunch of kids on the stage, singing and entertaining parents. And then she came on stage singing this Swahili song, which was recorded, I think we still have a version of it somewhere. And she just did wonders and that's when we realized that this child is in for something."
As father, how he felt when he learnt his daughter wanted to venture into acting career:
"I myself was an actor when I was in High School. And we are thespians really in the family. We loved going to plays, I mean I used to recite to them lines from Shakespeare, which amazed them, especially from 'Othello'. When Othello is wooing Desdemona, before her father, I am telling her these stories or adventures from Africa… She was just amazed and inspired.  I myself was a student of literature, political science and philosophy in college. I kind of did not see that it is necessary to steam roll a kid into a particular career. "
About the name Lupita – it so unique:
"We went to Mexico in December 1981, and in March 1983, Lupita was born. The name Lupita is very important because it is a kind of combination of these two names 'Lua' and 'Peter' – the word 'Lua' in Luo means 'to follow' and Peter is of course my name."
On Lupita's achievements: Did he expect them and how important are they to him? - Her fashion and style, being recognised as World's Most Beautiful Woman in April 2014:
"The beauty, the style and the dressing – we never really expected. That came to us as a surprise. I guess as a parent, you don't really appreciate this. But I was surprised. I never knew but when all of this happened, then came this conversation she had been having with her mum about beauty. They never told me.
And of course the mother kept affirming to her that she was beautiful. So, I think when this happened at her level, it was fantastic affirmation of what her mother instilled in her – to believe in herself. And I think to me, it helped give us strength – that there is more to you than you think, and that you should give the best of yourself to the world."
Source: www.npr.org