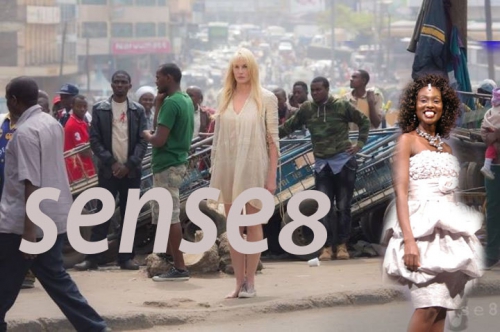 Kenyan actors join the global front in film as they star in an upcoming American science fiction drama web television series- Sense8.
Actors Biko Nyongesa, Chichi Seii as Capheus' mother, Lwanda Jawar as Githu, the leader of Superpower, a vigilante gang, Paul Ogola as Jela,  Peter King Mwania as a crime lord named Silas Kabaka are the first actors from Kenya to be starred in a SCI-Fi film
They join the celebrated Lupita Nyo'ngo in exploring the elusive acting opportunities abroad. Her success story has perhaps sparked a sense of inspiration among these aspiring Kenyan actors who are now scaling the heights.
The series created and produced by The Matrix Trilogy creators Andy and Lana Wachowski, will be available for streaming on Netflix on June 5, 2015.
The creators are well-known for their sci-fi success in film production. Sense8 on its first season consists of 12 episodes. It becomes the first of its kind to star Kenyan local talent as it goes on streaming website, Netflix.
The film tells the story of eight strangers from different cultures and parts of the world, who, in the aftermath of a tragic death, suddenly find themselves mentally and emotionally connected – an evolutionary leap of technological origin.
The performance of the actors in the movie is something to look out for as the acting industry in Kenya proves to be source of talent to a global arena in the film industry.
Source Actors.co.ke
Check out the sense 8 trailer: