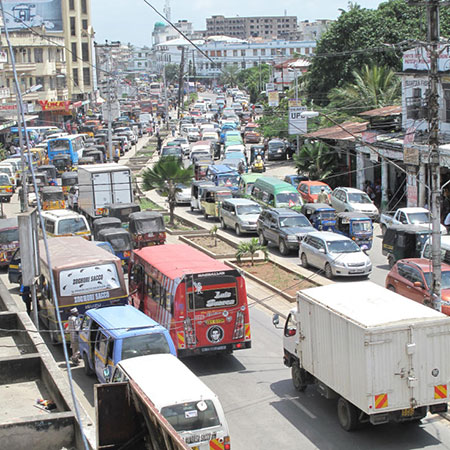 Nairobians need anger management classes as part of driving school 'syllabus' if the road rage witnessed on our roads is anything to go by.
Some drivers in Nairobi have courtesy, are cultured and civilized. Those are in the minority.
Majority are mannerless and careless as if they never went to school. To them, giving way is like donating blood to a vampire. Yet you are a fellow motorist, politely requesting that you change lanes.
Here are 10 things that cause road rage in Nairobi.
1. 'Sitting' on the horn
You could be stuck in traffic like everybody else, but one motorist on his way to, maybe, 'zima moto' starts hooting incessantly, attracting irritating attention. These self-obsessed types should be taken to Dandora dumpsite and doused in concentrated sulphuric acid.
2. The tempered, trigger happy
Those with more than simis, Masai rungus, nyahunyos, metal bars or otugodieps just press the triggers and tut! tut! Remember Prof Arthur Obel shooting twice at matatu driver Kyalo Kioko for blocking his car in 2004? The Prof was acquitted in 2005.
3. Madcap overlapping
This is no longer a preserve of matatus. Some private car drivers have perfected the art of gassing on pavements, sending pedestrians scampering as they hurry to the bar. Or has the wife just called warning 'wet fry' might dry up, and with it, end of coitus?
4. Matusi mtungi mzima
Women drivers are good at rolling off stuff from poisoned tongues that would leave Satan blushing. If it's a man who's on the receiving end, well, a few hot slaps shuts her up, before a sad assault case opens against the 'slap-happy.'
5. Garbage on the go
This obnoxious habit comprises throwing empty beer cans, banana peels and oily ketchup-soaked chips funga wrappers out of the window. It is common among those weaned in 'Kanjo' schools and burdened with 'Eastlando,' genetics indicative of poor upbringing.
6. The so long not see breed
What goes on in the mango heads of Nairobians who stop smack in the middle of busy Jogoo Road to say hi, shake hands and creating a jam? And when motorists hoot, they're rudely instructed to 'pita juu hakuna gari huko!'
7. 'Nancy Boys' in noisy Subarus
Nancy Boys in pimped up noisy Subarus (Impress-Hers) roll down windows and crank up the stereo most weekends. This is no hating, but we know you just took a loan for the music system (and the car loan isn't half way done), so spare our eardrums, nincompoops!
8. Furahi day and 'mwisho' drivers
Most middle-class wannabes can hardly afford ngata (fuel) and parking fees daily, so they shika matatu javelin (better than Julius Yego), only to unleash on-loan 'Tu-toyos' come Friday and 'mwisho' creating endless jams.
9. Not sparing middle finger
You overlap, hoot, and commit all the eight offences above and then show me the middle finger like you just graduated from Wamumu Approved School? That finger is one reason for cause number 10.
10. That 'Bruce Lee'
Stepping out the jalopy 'kutoleana mashati' is one cause of road rage that is so 1945...like those matatu touts who tried clubbing a Nairobi motorist should be fed on those Marabou Stock at Nyayo Stadium!
Related Topics