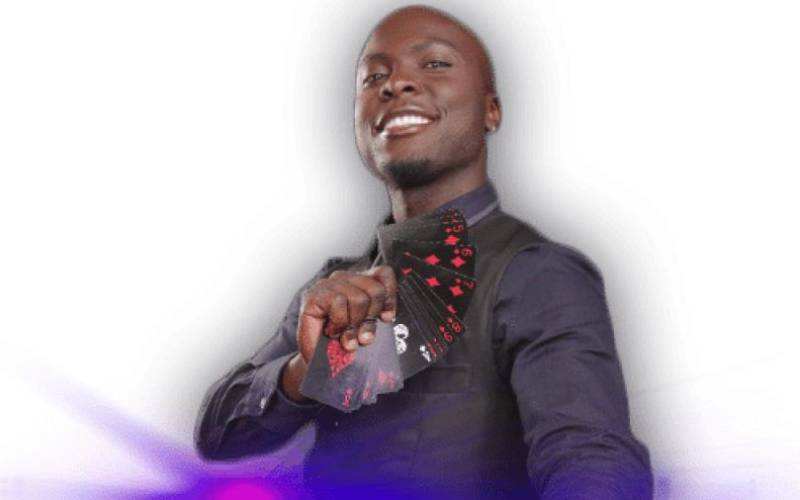 Street magic is not a new act and walking around the streets of Nairobi you might bump into a circus of magicians with mind-bending tricks that leave you wowed.
This art has long dazzled fans who more often than not think there are some other paranormal powers attached to it.
Harry Houdini, David Copperfield, Shin Lim, David Blaine and James Randi are some of the notorious magicians known the world over for their tricks.
Although magic has been revealed as mere deception, with some observers taking upon themselves to uncover the tricks, we still love the performances and clever ways with which magicians fool us.
One such Kenyan is Andrew Litoro. His onstage illusions are presented with energy and panache, combining visual illusion with dance.
As a close-up magician, he presents a unique and likeable style of mystery, charming you with his mind-boggling sleight-of-hand and mentalism.
His illusion shows include all the drama, glitz and glamour of a Vegas-style show.
"First of all, before we start, do you know what the most difficult magic trick is? Well, it is convincing a crowd that you have done something but they have no idea how you did it," he asks and answers himself.
The 34-year-old born in Kiambu and brought up in Kawangware, was not lucky with formal education, which saw him transfer to more than 10 schools, finally dropping out at the age of 12 while in Class Six. "Education was a bad experience and my mother was unable to pay my school fees. That is when I started practicing as an acrobat," he says.
Soon afterwards he was enrolled into a street children school running the programme 'Kuruka Maisha,' which rehabilitated street kids.
There, he horned his skill as an acrobat and lady luck smiled at him when Salto Jamboree, an organisation that specialises in providing entertainment to parties, spotted him and started giving him gigs, entertaining guests at home and birthday parties.
"Things started changing slowly and I could go home with shopping; I would give my mother some little money for upkeep but instead she beat me up since she thought I was staying out late smoking weed," he says.
TURNING POINT
While performing his acrobat stints he had not known his passion was in magic. But through a friend who invited him to their church he was introduced to certain 'mzungus'.
"The Americans; Scott Flom, Justin Flom, Lisa Flom and Josh Flom, called me aside and showed me a trick where a full pack of numbered cards changed from numbers to blank cards. I was intrigued and wanted some more. They later left me their email address but that time I did not know anything about the Internet," he says.
It was not until later when he was invited to Spain that he remembered the email address but by then he had misplaced it. After a Google search he finally managed to get hold of them four and had to open a Facebook account.
"They were happy to hear from me, and every year in January they came to Kenya with lots of gifts. I started getting knowledge about white magic and I became good at it," he says.
Despite making a name for himself in the magic world, Litoro does not consider himself a magician.
"I cannot say I am a magician, but you can call me a fantasy. I am the person that brings wonders and happiness to people. I love creativity and I love imagination," says Litoro.
Asked whether magic is real and does not depend on other forms of hidden black power he says: "Magic is real if you believe. It is an imagination that we build in the mind and we manifest into being. This is a fantasy world that no one can tap in until they open their third eye'' he says.
"Let us see look around, everything is created in a magical way, from grass, flowers, water etc. Even being pregnant is magical, sleeping at night and waking up in the morning is magical," he says.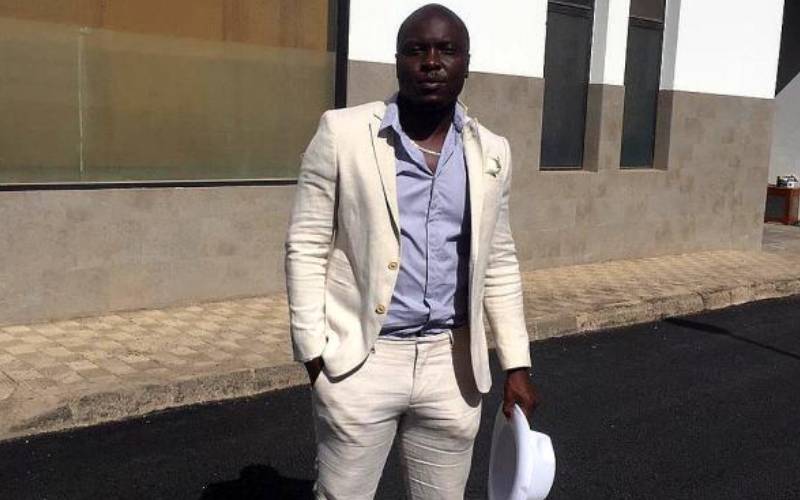 Litoro has performed far and wide, including multiple times in Hungary, Germany, Kyrgyzstan, Slovakia, Slovakia, Serbia, and Spain, but says his epic moment was when he became the first magician from East Africa and represented Africa at the Let's say Magic festival in Bishkek, Kyrgyzstan.
I got the chance of meeting popular magicians David Davinci and Jef Lee. I used to see them on TV and YouTube and here I got my first Master Certificate and walked home Sh500,000 richer," he says. 
LUCRATIVE FIELD
With Covid-19 pandemic slowing the entertainment industry, Litoro started an online show.
"The whole industry came to a standstill and bookings were cancelled. I started an online show that did not have wow moments. I went back to the drawing table. Things have changed and I am happy I am not in the box I was in."
Although most people shun magic, the magic maestro says this is a lucrative field. Depending on the occasion he rakes in between Sh10,000 and Sh50,000 a session.
Litoro, however, warns that this is a time-consuming venture since one has to put in the hours and master their craft diligently. "You will look stupid in front of your guests if a trick does not work," he warns.