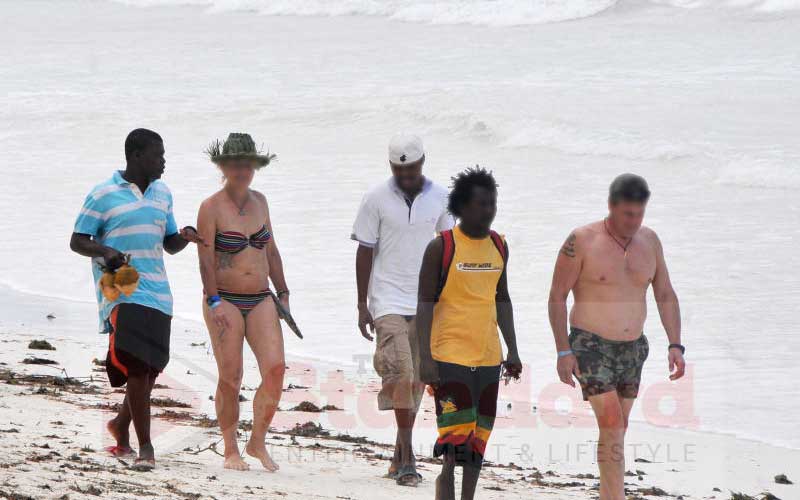 When you look the Kenyan coast, the place is full of foreign tourists. Some fall in love with the ambience, food and people, so much that they never return to their countries of origin. The few who do, remain regular visitors. But in their endeavor to find love among locals, some end up regretting ever setting foot in Kenya. They end up with experiences characterized by betrayal, court battles over property, nasty separations or divorce cases and in extreme cases murder. A perfect case in point is a certain Petre, a German national, who fell victim to the 'Mombasa raha' frenzy and ended up losing millions of shillings and now lives like a pauper.
He first visited Ukunda in 1996 for holiday and stayed in luxury hotels and cottages in Diani. Petre now lives in a single-roomed makuti shack. "I stayed at Neptune Beach Hotel for one month. I liked the place and the beaches. I fell in love with Mombasa and I decided to make it an annual visit," says Petre.
He later opted to holiday twice every year in Mombasa. How then did his fortunes crumble?
READ ALSO: Female tourists who travel to Kenya to get laid by local men
"In 2003, I came for my holiday as usual. I had a local girlfriend who was staying in Mtopanga, Kisauni. I would sometimes stay at her house but used to shuttle back and forth to the cottages in Ukunda," he explains.
He somehow spent his entire pension on her and other local women. He is now penniless and spends most of his time at the beaches in Ukunda, acting as a tour-guide in exchange for money from German tourists. Forced to live like a majority of locals, Petre's life is a far cry from what it was some time back. His life's savings, after retiring from the German fashion industry, evaporated in the coastal heat.
Now he pays Sh400 rent for the room, the beach hotel he so loved is now forgotten. Petre has been registered as an alien and is learning Kiswahili. Despite the pauper life, he says he will never go back to his country where he left a wife and two children. Petre is in good company. Another victim is a German woman in her mid-50s who visited the Kenyan Coast, probably to enjoy her twilight years in the serenity of the gateway to East Africa.
Unfortunately, she found herself in the sin city of Mtwapa where readily available sex and a good life awaited. She met a Kenyan man and was immediately struck by his youthfulness and virility — he was in his early 30s and wore dreadlocks. They became lovers. And because she was 'loaded' and in 'love', she was transparent with her lover boy. She gave him everything money could buy. He knew where the money was and even had access to her bank account. The two were deeply in love, or so she thought. They bought a house and started a business. But after about a year, she started noticing changes.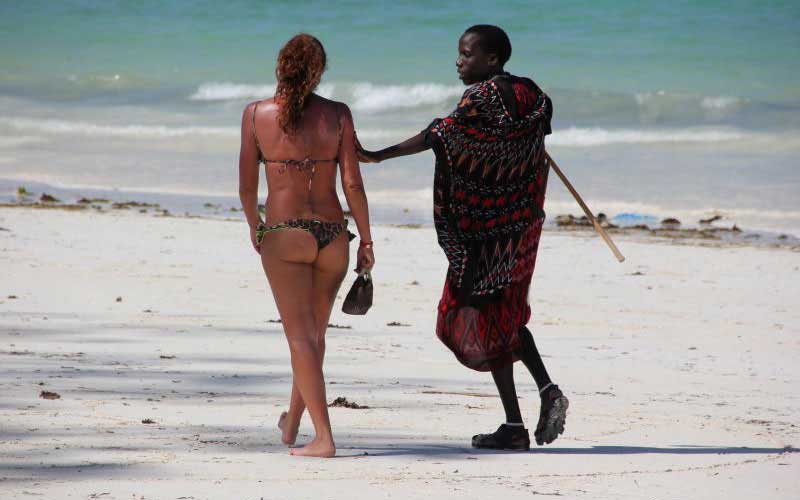 Not long after, she sold a piece of land they had acquired together. "I later realised that the land was registered in his name because the transactions were carried out in his mother tongue in my presence. Upon questioning him, he became so furious that he frightened me into silence," she explains. That marked the end of their relationship.
READ ALSO: Mombasa beachboy divorced by Italian doctor over Facebook lover
The Bombolulu area of Mombasa County is where a number of the fleeced tourists have made home. The area has seen an influx of bankrupt wazungu, who can be seen strolling around in bathroom slippers and dirty clothes. Occasionally, they ask for handouts from matatu operators and vegetable sellers.
Kimberly, another female tourist had to seek legal counsel after her local husband swindled her. The two, who got married at the Attorney General's office in Mombasa, bought a piece of land in Kikambala area of Kilifi County, only for the title deed to appear in his name. The man, who already had a Kenyan wife, even changed the logbooks of the family cars to his name without her knowledge before vanishing into thin air.
With the high poverty levels along the Coast, the practice is not only appreciated but also highly encouraged as a 'business enterprise'. One such man in Mtwapa has amassed wealth after three relationships with white women spanning more than ten years with his wife's knowledge. In one of his 'relationships', his white lover nearly committed suicide after her fortunes ran dry.
"All you have to do is learn a few English, Italian or German words and you are in business," said one beach boy that we interviewed for this story, "then be patient and wait for the opportunity to come."