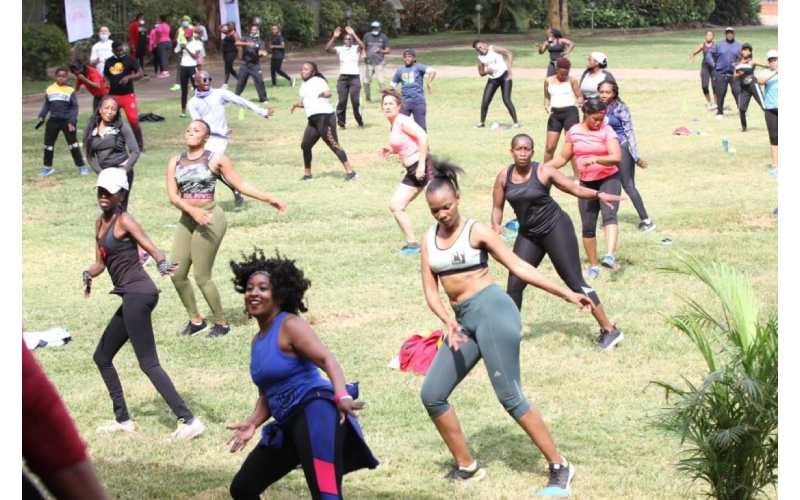 Fitness enthusiasts are urging Kenyans to keep fit, one of the ways to boost body immunity against the coronavirus, or as we put it, Covid-19 virus at bay. On Saturday morning, Nairobi is all but cool weather as Zumba lovers make their way to the Carnivore Gardens for the monthly Wellness, Fitness & Zumba dance. The day's menu is lined-up with various fitness activities, among them Rhumba dance, Strong by Zumba, Strength Training, holistic exercise for fitness – all things fitness.  The music to keep your spirit alive by deejays Qhav, K-Rich and Kutskillz sounds irresistible. Motivational talk by food nutritionist and a recovered COVID-19 patient is well planned. This is one of those 'oh-happy-day' moments.
The participants take their slots while observing the two-meter social distancing and fitness and health trainer. Nicholas Wichenje, aka Niko Fiti, takes the stage to take the participants through the training. The session starts with warm-ups, stretching to ease the muscles, and the general holistic exercise begins. "Most people are stressed, mentally disturbed, relationships broken, job losses, just to mention but a few of the negative effects caused by the Covid-19 pandemic globally.  We decided to take the training outdoors to help people relax their minds. It's healthy for their wellbeing," informs Nicholas.
The initiative is the brainchild of Nicholas and Joseph Imbwaka, who operate the fitness gyms and health clubs, Niko Fiti and RDF Fitness Centre. They are giving hope to those who may be finding it hard to do the communal exercise since the Ministry of Health put restrictions at the training clubs. The team has online groups that keep tabs together. They even conduct online training occasionally, but once in a while, they do 'distance socialising 'through the organised outings in spacious grounds.
ALSO READ: What exercises you should do at every decade of your life to stay fit
Halfway the Zumba training, recovered Covid-19 patient Salvador Agina urges Kenyans to keep fit regularly. Fitness significantly boosts one's immunity not only against Covid-19 but the general wellbeing of a person's health. He notes that regular fitness reduces obesity, which has been sighted as a high risk for health complications.
"If it was not for fitness, I don't know if I would have made it. I train regularly, a factor that contributed to my quick recovery. I would encourage us to exercise in whatever way we can. It doesn't have to be in a gym or anywhere fancy.  Just find space from where you are, and do whatever little exercise you can. It goes a long way in boosting your body immunity," says Salvador, making his motivational speech on the benefits of keeping healthy in the fight against the spread of the Covid-19.
Joseph Imwaka takes the wheels as the training intensifies with thorough and electric dance moves as the session heads towards the tail end. He takes the participants through different dance moves with the deejays hot on the decks. The dances makes a one sweat it all.  This is it. It is sweaty! It is funny! It is fun! This is healthy and entertaining.   Joseph operates RDF fitness centre in Nairobi and West and a branch in Ongata Rongai, Nairobi, which is now running online due to COVID-19 restrictions.
ALSO READ: Everyday things you can do to improve rest
"Due to Covid-19, many guys are avoiding indoor training; because of the space limitations. We have been conducting online training in our various online platforms, but occasionally we do such 'distance socializing,'" says Joseph.
The participants are later treated to light refreshments and lunch in guidelines with the nutritionist's advice during the training sessions. This is a new way of life Kenyans are fast adopting. And now you know the next time you hear the call, you will head to "Zumba." But in the meantime, here are the exclusive photos Standard Entertainment&Lifestyle captured during the event just for you.