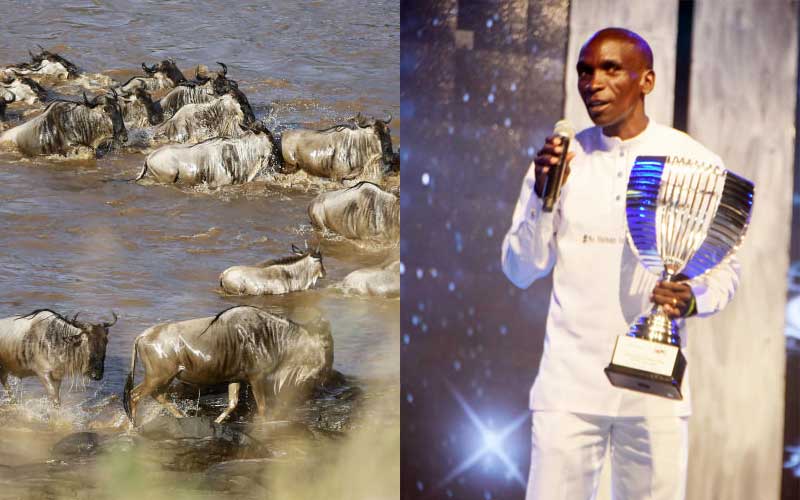 Eliud Kipchoge, the world marathon record holder, will spend this weekend at the Maasai Mara National Reserve to witness the Great annual wildebeest migration. This is even as he prepares for the London Marathon, tentatively scheduled to take place in October. The event, which will be broadcast live on social media platforms, coincides with the date which would have been the 2020 Olympic marathon weekend; which has since been postponed to next year. Kipchoge would have been in Japan this weekend defending his Olympic marathon title but will instead be watching a different type of marathon across the Mara River.
The event will be graced by among other dignitaries Cabinet Secretary Najib Balala and will see Kipchoge do a light training session in the Mara as part of his preparations for the London Marathon.
READ ALSO: From safaris to poolside dinners, tour companies change business strategy
Kipchoge said: "I would like to visit Maasai Mara as I have never been there before. I am planning to visit there to see for myself, with my own eyes, that these wonders are actually moving to the other side of the country."
This comes days after it was announced that Kipchoge had signed up a partnership with the Kenya Tourism Board (KTB) to be a destination ambassador for the country. The engagement, which commenced last month, will see him promote Kenya as a preferred tourism destination locally, regionally and internationally through various campaigns. KTB CEO Betty Radier said the board is pleased to have him committed to promoting destination Kenya adding that Kipchoge, among other marathoners, is Kenya's greatest assets and have put the destination on the global map.
READ ALSO: Saudi Arabia bans religious trips to Mecca and Medina over coronavirus fears
Kipchoge said: "I am passionate and love my country dearly and it is an honour to be working with KTB on projects geared towards propelling Kenya as a preferred tourist destination globally. Kenya has a lot to offer, and I urge local and foreign visitors to explore and experience what the country has to offer"
The government has increasingly turned to sporting activities and top local personalities to profile Kenya as a preferred tourism destination in Africa.
Related Topics