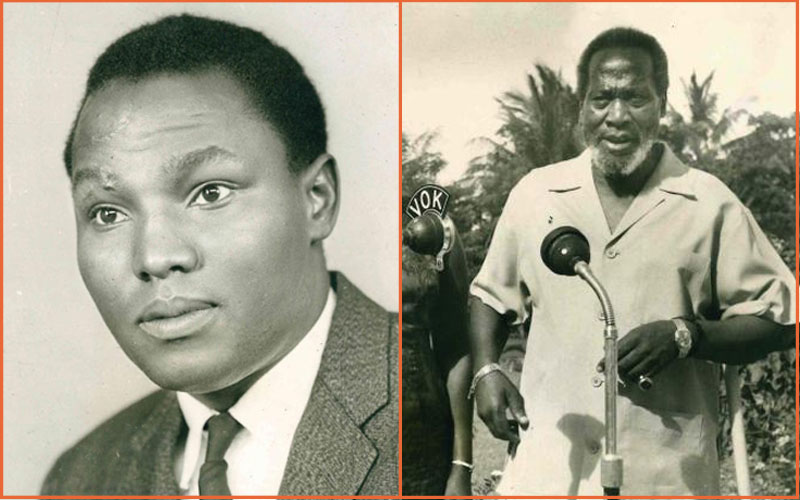 He curved his immortality in Kenya's political scene after giving up his Kigumo seat in Fort Hall (Murang'a) for Jomo Kenyatta, thus easing his entry into Parliament and with it, a chance to attend the Lancaster House Conference in London which ushered our independence.
Jaramogi Oginga Odinga, Raila Odinga's father, had been begged, but adamantly refused to step down for President Uhuru Kenyatta's old guy.
For his sacrifice, Kariuki Njiiri, son of the famous colonial senior chief Njiiri of Murang'a, gradually became a powerful post-independence Kanu power broker, besides later serving as Kigumo MP and assistant minister for local government in 1964.
READ ALSO: James Gichuru, finance minister who missed CBK opening after chewing blackout
His family also acquired trading permits to operate the high-end retail clothing store, Njiiris Stores, ran by his wife, Ruth Stutts Njiiri - one of the private secretaries to Mzee Jomo Kenyatta alongside Jemimah Gecaga, grandmother of Uhuru's PA, Jomo Gecaga.
Kariuki Njiiri, who attended Kenya Teachers' Training College in Githunguri (where Jomo was his teacher), met his future wife while at Lincoln University USA for his BA and MA degrees before returning home and becoming an education officer in 1958 on his way to founding Kenya Children's Library, Kenya Education Trust besides serving on the Board of Governors, Njiiris High School named after his father.
Kariuki Njiiri's other great contribution was in education the most enduring being serving in the interviewing panel for Kenyans in the famous educational 'Airlifts' to America alongside Tom Mboya, Dr Gikonyo Kiano, Kariuki and Robert F Stephens, the cultural attaché at the American embassy, sieving the candidates.
READ ALSO: Paul Ngei- Veteran fisi who set fornication standards for the nation
Among those who passed through their hands, included the who's who in Kenya today. As Stephens recalls in his book, Kenya Student Air Lift to America: 1959-1961 An Educational Odyssey, there was Joe Wanjui who went to study industrial engineering (although there were no industries in Kenya) with Hillary Ngw'eno studying nuclear science. Others were the late George Saitoti, future vice president whose application forms were filled by Dr Kiano's American wife at her house, one-time finance minister Arthur Magugu, Philip Ochieng', the famous journalist, Maina Wanjigi and Nicholas Mugo, the ambassador hubby to politician Beth Mugo.
In the words of Evanson Gachuhi, also an alumnus of Lincoln University: "We came back a different breed. Had it not been for the Air Lift and opportunities like it, this country would never have made it."
Kariuki Njiiri died in a road accident in 1975.