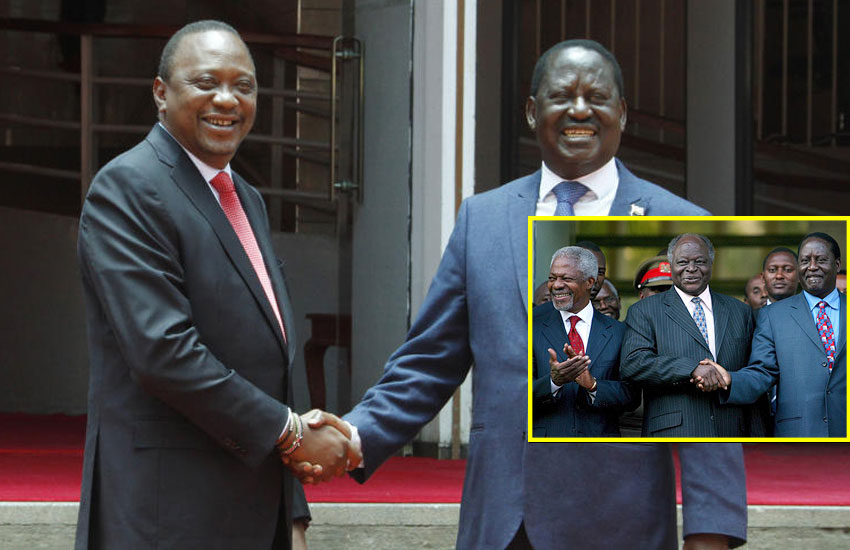 This March marks a year since the 'Handshake' between former Opposition leader Raila Odinga and President Uhuru Kenyatta which ushered in political calmness following the acrimonious 2017 General Election.
It was one of three previous 'Handshakes' for Raila, since the one brokered by the late UN Secretary General Kofi Annan in 2008 and 20 years since another with retired President Daniel arap Moi in 1998.
All the three 'Handshakes' followed General Elections which almost tore the country apart. What was 'Mr Baba Man' after in all of them? Twice he has been screwed, so, why another 'Handshake' with Uhuru and will he run the distance?
Whether the current 'Handshake' will be another case of smoke and mirrors remains to be seen, but for a glimpse of what Raila wants in all the handshakes one has to get into a time capsule back to the first  'Handshake' in 1998 after the previous year's General Election.
Kibaki, who came second, protested the outcome of the poll and took a petition to the Court of Appeal, which he lost on a technicality for not personally serving Moi.
Raila, who came third, surprised friends and foe when he met Moi at his Kabarak home a day after the election and agreed to a co-operation between Kanu and NDP. He was also not to contest Kanu's win besides halting all planned demos.  
As a result of the co-operation, Raila was appointed to the lucrative Ministry of Energy as Minister as his close allies got government jobs.
The Kanu-NDP deal later matured into a merger in 2002 and its strengthened bromance consummated at the Moi International Sports Centre, Kasarani during the Kanu national elections where Raila was elected party Secretary General as the Vice President, the late Prof George Saitoti and Cabinet minister, the late Joseph Kamotho were unceremoniously expended.
It is at Kasarani that Moi and Raila shook hands, the first of the many 'Handshakes' for the former Prime Minister.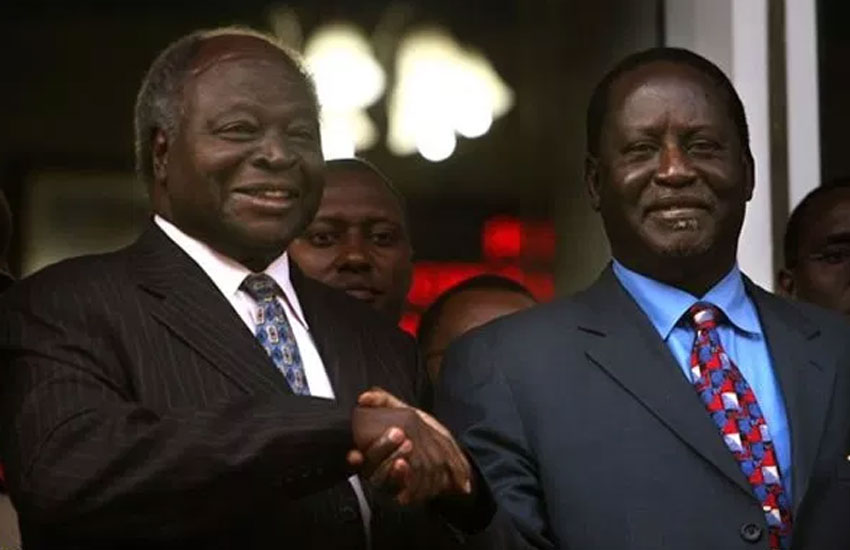 However, Moi had other ideas. Despite Raila sacrificing his liberation credentials, he ended up the loser as his hope of succeeding Moi ended up in smoke after Moi chose Uhuru as his successor.
The Kanu 'Handshake' screwed him and he later led a bitter walkout from Kanu alongside most of Moi's former allies turned disgruntled elements, including Saitoti and Kamotho, to form the Liberal Democratic Party (LDP) ahead of the next elections in which he sought a joint Opposition candidate to take on Uhuru.
Raila had initially agreed with former powerful Cabinet minister Simeon Nyachae to back his Ford People candidature, but back peddled and declared 'Kibaki Tosha' at a rally in Uhuru Park paving way for a Kibaki presidency.
Mzee Nyachae was left hanging like Sailor Kelly halfway up the pole of political amazement.
However, the marriage between Raila's LDP and Kibaki's National Alliance Party of Kenya (NAP), which formed the National Rainbow Coalition (Narc) didn't last long after Kibaki's  close buddies blocked Raila's access to State privileges as Kibaki back slid on a gentleman's Memorandum of Understanding to appoint him Prime Minister.
Instead, Raila was appointed Roads Minister and took his job with gusto, but later led an Opposition within government, which worsened after Kibaki's side frustrated his proposed constitutional amendments.
The 2005 Referendum was the watershed moment in which Kibaki's   'Yes' Banana camp lost to Raila's  'No' Orange camp against a new constitution.
Infuriated, Kibaki sacked his entire Cabinet before appointing a Government of National Unity that excluded Raila's LDP brigade. Yet again, Raila's 'Kibaki Tosha' handshake had faltered.
Taking advantage of the Orange wave, Raila formed the Orange Democratic Movement (ODM), and took on Kibaki in the 2007 General Election.
The disputed outcome plunged the country into ethnic strife and it took international mediators wwfor the two sides to reach a truce after a 'Handshake' between Kibaki and Raila on the steps of Harambee House brokered by Koffi Annan.
While the marriage lasted its course, Kibaki opted to rally behind Uhuru, who had left Opposition ranks to back his 2013 bid, as his Vice-President Kalonzo Musyoka teamed up with Raila.
Yet again, a dispute arose over the election's outcome and it was eventually settled by the Supreme Court, whose ruling was, however, widely criticized for giving prominence to technicalities. It can be cited as another case of a failed handshake on Raila's part.
Come the 2017 contest, Raila boycotted a fresh election ordered by the Supreme Court after his successful challenge to Uhuru's win and the country yet again faced the prospect of plunging into widespread chaos.
Amid another round of international pressure and threats of visa bans, Uhuru and Raila met at Harambee House and later shook hands in a scene that took their allies by surprise.
Critics, especially Deputy President William Ruto's, fear they have their designs on who secures tenancy on the House on the Hill in 2022.