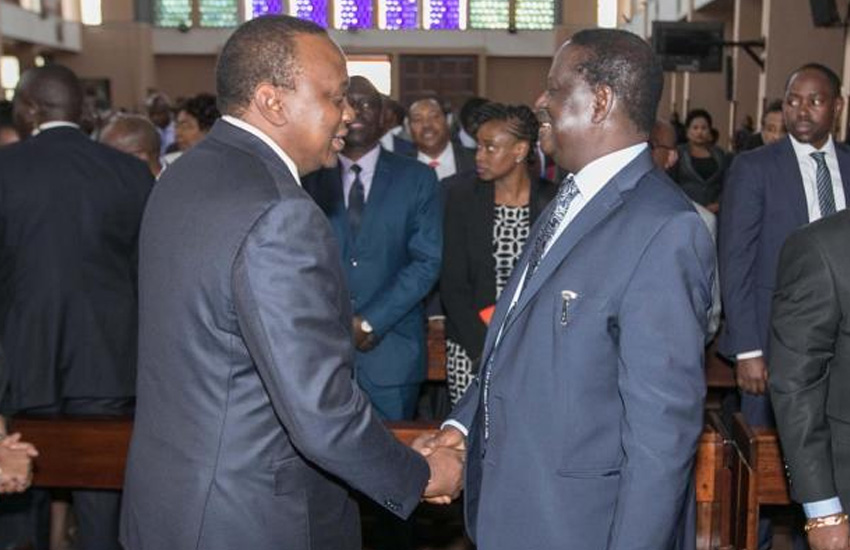 Jaramogi Oginga Odinga was detained by Mzee Jomo Kenyatta and his opposition party banned in 1969. But 22 years later, multi-party politics returned to Kenya in 1991, but the KikuyuLuo ethnic divide still persisted.
Since 1969, and again in 1992 and 1997 and 2007-08, were years when politically instigated ethnic violence reared its ugly tribal head with land rights, poverty, elite survival strategies and State abuses being the spark to the ethnic wood in Kenya where negative ethnicity saw tribal clashes erupt in parts of the country mainly in Rift Valley and Coast around election time.  
But by 2002, the two Kikuyu-Luo blocs appeared to have turned the page after Raila Odinga helped built an Opposition alliance, Narc, which fielded Mwai Kibaki for the President after leading a walkout from Kanu when Moi tapped Uhuru Kenyatta as his preferred successor.
Read Also:Better than the handshake? Uhuru, Raila, Ruto, Kalonzo hug at prayer breakfast
Kibaki and Raila were to bitterly fall out soon after Narc's victory when the former went back on a deal to appoint him Prime Minister.
He let his Liberal Democratic Party (LDP) troops in defeating a proposed constitution at a referendum in 2005 on the premise that it had been altered to water  down  clauses covering the system of government, devolved structures and land, among others.
Kibaki fired his entire Cabinet before reconstituting a government of national unity that excluded LDP.
Uhuru, then the Kanu chairman, who was initially with Raila, later defected to join Kibaki's team.
Their bitter rivalry culminated in the hotly contested 2007 presidential election and the ensuing post-election violence after Raila declared his victory had been stolen. The chaos only ended after the international community sent a panel of eminent personalities led by former UN Secretary General the late Koffi Annan, who chaired a mediation process that resulted in the signing of a National Accord that set out how the dispute was to be resolved.
One of the provisions was the formation of a Grand Coalition Government where Raila became Prime Minister and his party, ODM, formed half the Cabinet.
Read Also: Waning popularity? MP goes missing after Uhuru, Raila handshake
Despite formation of institutions such as the Truth, Justice and Reconciliation Commission, the National Cohesion and Reconciliation Commission, devolved governments and an independent Judiciary under the 2010 Constitution, negative ethnicity and raw competition for the presidency have continued to persist as witnessed in 20013 and 2017 while historical injustices remain unattended.
This is why President Uhuru reached out to Raila to unite the country while addressing most of these issues through the 'Handshake' deal.
Perhaps, by insisting that he will ensure every corner of the country and not just Central Kenya is developed, he is aware that his greatest legacy will come from ensuring he leaves behind a united country and one that no longer has some of its regions marginalized development wise.
In a sense, his united front with Raila offers the two a chance to resolve the sins of their fathers who came together to secure the country's independence before going separate ways. 
The wounds of 1969 were partially pacified with the March 2018'Handshake' between President Uhuru Kenyatta and Raila Odinga which calmed an otherwise jittery political atmosphere following the acrimonious 2017 General Election.