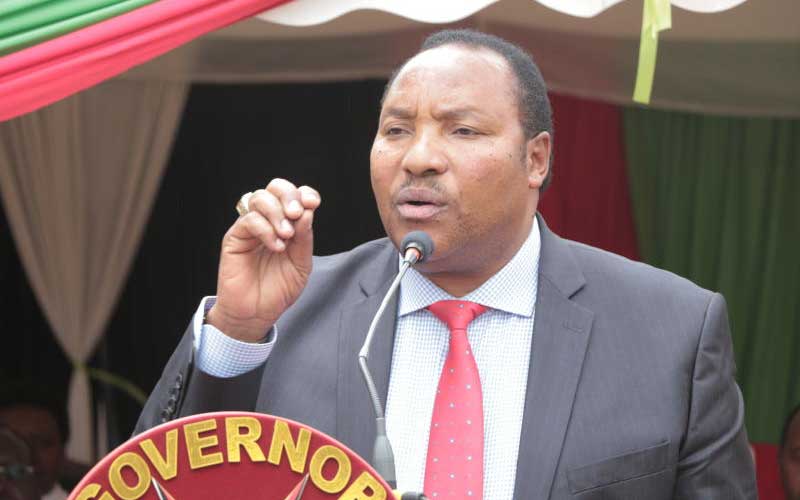 Somehow, and for strange reasons, Kenyans assume Kiambu Governor Ferdinand Waititu is daft.
Almost every week, there is a meme circulating on social media which portrays him as being not as bright as the other 46 governors, yet he's more educated than two well-known cases.
He never shies from admitting he will do anything to get what he wants, and is currently scheming to be the next Kikuyu political kingpin in Central Kenya once President Uhuru Kenyatta exits the scene.
But before this happens, he has set his eyes on becoming the next Deputy President, which is the reason he aligns himself with DP William Ruto who is a heartbeat away from the highest office in the land, barring untoward machinations.
Yet, Kenyans continue poking fun at Governor 'Baba Yao' who unlike other politicians, rarely dishes out money to lure voters.
The dimwit tag was best exemplified during the demolitions of city buildings in September 2018.
Waititu, an investor in real estate, strongly condemned the demolitions of buildings said to have been built on riparian land.
ALSO READ : Revealed: How Governor Waititu made billions in one year
He argued that the streams or rivers can be moved, at the building owners' expense, instead of demolishing property worth millions of shillings.
"I don't support the demolitions... if your house is near a river, you should be the one to ensure that the river is redirected, and the costs of doing that met by the house owners.
Demolishing houses is not a solution, it is such a big loss," he said as local television stations replayed the clip to much comic effect, almost running Waititu out of town.
But in reality, he was right: Rivers have been moved to pave way for buildings and indeed, some cities like Venice in Italy, are literally on water and attract millions of tourists annually.
Budapest in Hungary and Brussels in Belgium are also built on riparian land.
And as Kenyans consign him to the back of class, the TIFA research on governors launched in November 2018, ranked him fourth best performing county chief alongside Kisumu's Prof Anyang' Nyong'o, Nairobi's Mike Sonko and Mombasa's Ali Hassan Joho.
Waititu, who could be academically smarter than Mombasa Governor Ali Hassan Joho and Nairobi's Mike Sonko, made the list thanks to initiatives such as clean water, street lighting and education bursaries in Kiambu.
That feat aside, he still continues to be the butt of online jokes, with memes such as: 'I wish you a Merry Christmas and a Previous New Year' which did the rounds towards the New Year and the famous, "I am a proud daughter of four fathers" providing weekly doses of laughter.
The jokes are such that it's hard distinguishing which are his actual quotes, but clearly some are made to reinforce the image of him as a man who has little to be proud of between his ears.
Some memes like, "I am sorry for the death of your CS; I wish him a quick recovery", are borrowed from the idiotic wisecracks of Ugandan dictator Idi Amin, while others like the one he's advising Governor Sonko to move the CBD to the area around Fig Tree in Ngara at the height of the ban on matatus, are made on the spur of what is trending.
ALSO READ: Governor Waititu hits headlines again with viral Christmas photo
But how could someone rise from Member of Parliament in two different constituencies, run for governor of Nairobi and lose by a whisker, before finally being elected Kiambu Governor if he's daft as Kenyans portray him?
Is it his ruffian mannerism, street dressing comprising baggy trousers, untucked shirts or his little regard to etiquette? The Blue Economy Conference in Nairobi had governors and Cabinet Secretaries photos paraded along Mombasa Road. Waititu had no suit but a flowery shirt unbuttoned down to his chest!
Consider the following. Waititu was a sand seller at Njiru shopping centre who joined politics as a councillor for Njiru Ward in 2002 on a Kanu ticket enroute to canvassing and clinching to the position of Nairobi deputy mayor. He survived the Narc political wave and became the only Kanu councillor in Nairobi.
Waititu is one of the very few politicians in Kenya to change constituencies and still get voted. The other is retired President Mwai Kibaki who relocated constituencies with a degree of success.
Kibaki narrowly won in Nairobi's Bahati Constituency against Jael Mbogo and served as MP from 1969 before relocating to his Othaya backyard in the 1974 elections, never to return to Nairobi.
Waititu, on the other hand, became Embakasi constituency MP in 2008 in by-election after newly elected MP Mugabe Were - who had defeated Waitituti in 2007 - was gunned down in Woodley Estate, Nairobi. President Mwai Kibaki appointed him assistant minister for Water.
In 2013, Waititu ran for the Nairobi Governor's seat and came second to former Governor Dr Evans Kidero who won with a slight margin.
Baba Yao took a brief retreat following the defeat and focused on his transport and petroleum businesses. It did not take long before Waititu bounced back after being elected Kabete MP following assassination of the incumbent George Muchai in Nairobi.
Waititu vied and toppled the likes Lewis Nguyai with a landslide victory to become Kabete MP and used the position to warm up for a bruising battle to trounce the combatant Kiambu Governor William Kabogo. In the 2017 elections, Waititu used the United for Kiambu vehicle to send Kabogo packing.
Would you like to get published on Standard Media websites? You can now email us breaking news, story ideas, human interest articles or interesting videos on: [email protected]