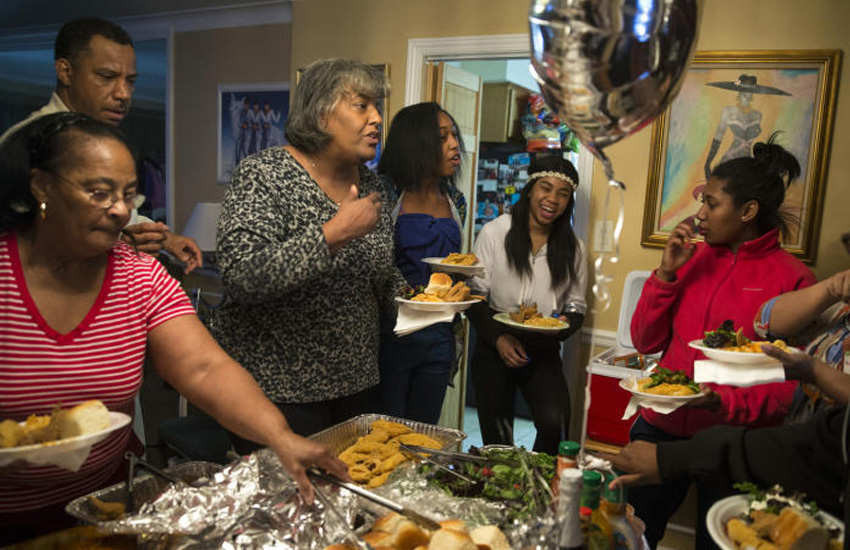 Every festive season comes wrapped in thrills that excites all and sundry, from a two-year old to 102-year old guka.
The festive season also comes with goodies like Christmas bonuses, mbuzi parties, shopping vouchers, bash invitations and sealing many friendships over demon drinks.
There are many weddings and an air of camaraderie. But it's always rosy. Here are 10 reasons why Kenyans hate December festivities:    
1. Miss Mboch goes missing
This is the one month when Miss Mboch goes shags to get married to her Bukusu darling, leaving you with brats who are on school holiday but have to be begged to do household chores.
Worst still, come January, you'll be begging Miss Mboch to return to work. Boy, she will milk your pockets dry with pleading that: "Aki nitumie fare nikuje." 
Then  she'll  go  ahead  to  put  you  down  with  excuses  such as,  "Kuna  matanga  huku,  nishatumia  fare  yenye  ulinitumia!" 
 2. In-house day care centre
 "Wacha  watoi  wangu wakuje  wakae na  wako  wiki mbili,"  are  requests you'll  get many  a  times  via  phone.
Don't  be  surprised when  you end up accommodating  all  the  children  for  your  clan and turning your  house  into a drop and pick up point in between draining your food budget.
'Court  sessions,'  especially  during  night  hours , will    be  unavoidable,  since  sharing of beds will  be the  norm and you'll  have  to  solve  bed related  cases  including, "Mummy  huyu  ananisukuma  kwa  ukuta" or "huyu  ametukojolea!"
 3. Christmas tree manenos
The  Christmas  tree  will  be  worshipped like a  god  in  your  house, with many side shows, including  dealing with questions like: "Mummy, mbona  hii  haiwaki? And dramas like, "Mummy, tree imeanguka!" "Mummy lights zinachoma sana!"
 4. Woishe! Tupeleke coast
This festive season, you'll be pestered mostly by your long-suffering wife and brats demanding to be taken to Mombasa "kuogelea kwa bahari", yet most go to the beach in jeans and sports shoes.
Others like your girlfriend or mpango don't know December is high season when transport and accommodation cost an arm and a leg.
5. Mchango wa Krisi
Njeri  wa  Aunty  Mary  may  add  you  to  a  WhatsApp  group named  'Merry  Krisi', where you  will  be  met  by  requests  to  changa  for  the  mbuzi  ya  Krisi  and you  may  be  compelled  to  cater  for  the  transport  costs  since  everyone  knows  that  unafanya  kwa  serikali.
 6. Crazy matatu crew  
 You  may  have  to  dig  deep  into  your  pockets  to  cater  for  your  family's  transport  to  shags.
With  the  strict  traffic  rules,  there'll  be  no  declarations that,  "Wewe  ni  kadogo  huwezi  lipiwa  kiti,  utakalia  gunia  ya  viazi!"  Gharama itakuwa kwako!
 7. Utiaji ya relatives
Relatives in shags will bombard you with all manner of questions, especially if you're still a bachelor or spinster beyond acceptable age limit.
Yet you promised Aunty wa Ngong last Krisi that you will take your prospective father or mother of your brats to her place.
Aunty  wa  Ngong  will  give  you  lectures  and advice  including that "wanamke  ni  kuvumilia!"    
8.  Cousins wa Nairobi
If you have been stuck in shags since birth, just prepare to see your cousins from the city receive preferential treatment this festive season.
They'll wear your expensive khaki shorts and leather sandals during outdoor activities. You  may  have  to  contend  with  their  twenging  and  have  a  bigger  problem  explaining  to  them  that  "huku  hatuna  Wi-Fi."
 9. Upishi massive
Visits  to  shags correspond with endless cooking on a three-stone smoky jiko, where your  fake  nails  and  Brazilian  weaves will suffer as choking  and  coughing becomes the order of the day for the uninitiated who will end up preparing a worse version of mashakura! 
 10. Shenanigans from shosh  
Woe unto you if your children are skeletons. Genetics  could  make  a  concrete  excuse for  their  skinny  nature, but  not  all  will  buy that 'excuse,' especially the  grandparents.
You will deal with difficult questions like: "Haulishi wajukuu wangu vizuri?  Unawapea stress? Kwani baba yao huwa hatumi pesa?" 
Would you like to get published on Standard Media websites? You can now email us breaking news, story ideas, human interest articles or interesting videos on: [email protected]