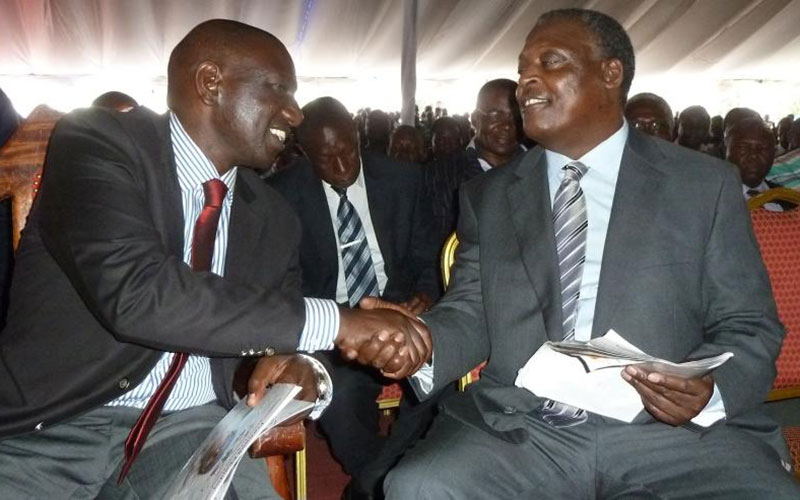 Deputy President William Ruto and former Lugari MP Cyrus Jirongo are a study in contrasts: Ruto was the one-time mtu wa mkono when Jirongo was a flamboyant real estate billionaire. Today, Jirongo is broke. Ruto is the real political and financial Kahuna.
Just early this month, Ruto bought Sh10 million worth of goats (half for President Uhuru Kenyatta) at an auction in Kajiado while last week Jirongo needed half that amount to get bail out of the coolers.
Devolution CS Eugene Wamalwa had to surrender the logbook of his Mercedes valued at Sh2 million as surety while Ruto chipped in Sh3 million for Jirongo to secure the Sh5 million bail-even though Ruto often wonders why Jirongo- his former Godfather- hates him with a passion.
'CJ' as his friends call him was locked at Muthangari police station in Nairobi after city debt collector Brian Yongo had him arrested over the Sh25 million loaned to him between 2014 and 2015.
Just what happened to Cyrus Jirongo and how did fortunes favour Ruto, his former errand boy so?
It is hard to believe that while Jirongo failed in his 2017 presidential bid, Ruto, the campus leaver he met in 1992, is a heartbeat away from the presidency come the 2022 elections. While Jirongo, was a billionaire in his 30s, Ruto was a road side hawker of chicken, eggs and njugu karanga.
Jirongo's fall from grace to grass follows a series of debts running into hundreds of millions.
He is being sued by among others; Sammy Boit Kogo, his friend whose properties worth Sh700 million where auctioned in 2009 after Jirongo failed to service loans secured with Kogo's properties at the National Bank of Kenya.
Only a pending High Court appeal is standing between Jirongo and imminent bankruptcy filed by Kogo in 2017 and which was lifted to allow Jirongo to run in the presidential elections in which he mustered under 4,000 votes.
Then there is COTU boss Francis Atwoli who has been chasing Jirongo iover a Sh100 million 'soft loan' payable in 50 days with Sh10 million interest since 2016. Atwoli has never been paid despite the court ruling he has to pay the debt.
Never mind the Sh500 note was nicknamed the 'Jirongo' following the splashing of the then new Sh500 note in political campaigns spearheaded by the Youth for Kanu '92 (YK '92) lobby group which Jirongo was prodded to head at the onset of multiparty politics and which propelled him into the public limelight.
Jirongo was then campaigning for retired President Daniel arap Moi with Ruto, who had graduated with a degree in botany and zoology from the University of Nairobi in 1990 as his errand boy. Before YK '92 the only jobs Ruto held were teaching stints at Sirgoi and Kamagut Secondary Schools besides forays in selling chicken, groundnuts and eggs on the Nakuru-Eldoret highway.
Ruto had eyes on business though and formed the African Venture Tours and Hotels after campus but it went to the sands.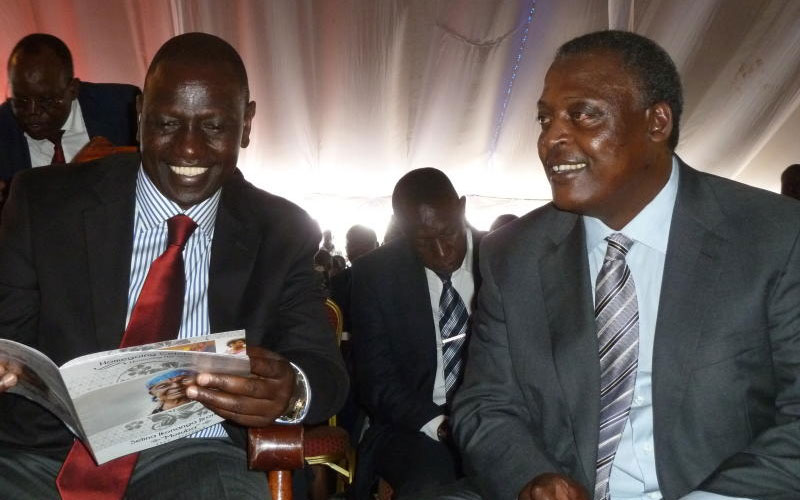 Like Ruto, Jirongo also started small after dropping out of Egerton University – his father having died years earlier – and came to Nairobi where he operated from a telephone booth outside Hilton Hotel selling real estate.
Jirongo spent nights on the benches of Kenyatta National Hospital before he could to rent his pad. His break came via a Sh70, 000 loan in 1986. He was 25.
"This was to pay for small classified ads for properties I was marketing on behalf of clients. My first contact point at the time was a phone booth outside the Hilton Hotel," he told the Media Complaints Commission sometime back after a local daily linked his riches to the YK '92 printed money for campaigns.
By the time Ruto was joining him at his Development House office-shared with Kogo, Jirongo, the Mr Money Bags was a big player in real estate: construction of Kemri estate, Saika estate (which he says is a corruption of Cyrus in Kayole) and Hazina estate in South C on land he bought using a Sh60 million loan from politically correct banks like Postbank Credit and Dubai Bank.
It was due to his financial muscle that he was made chair of YK '92 to propel young leaders to influential positions, but alas! It was the beginning of the end for his real estate empire under Sololo Outlets and Cyperr Projects International.
After delivering victory for Kanu in a hotly contested election, Jirongo – with money and new found power – was rumoured to have harbour presidential ambitions-his worst mistake. Some court poets wanted his ambitions nipped in the bud and shortly, YK '92 was disbanded in 1993 and its architects dismissed as "con men."
Soon after, Jirongo's companies came under sharp scrutiny from State security agencies.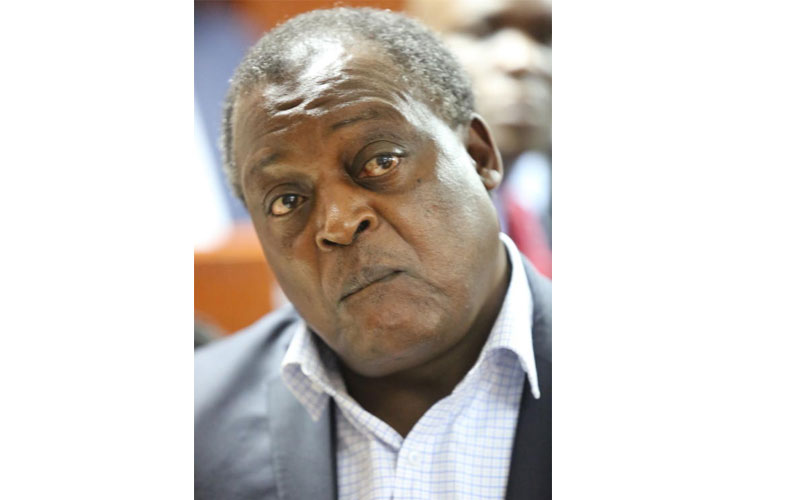 A lucrative deal with the National Social Security Fund (NSSF) in 1993 through Sololo Outlets to construct Hazina estate in Nairobi was cancelled. NSSF was to pay Sololo Sh1.2 billion, but the deal went sour when it sought Sh600 million more to complete the project citing inflation and the effects of negative publicity of the project.
Hazina estate sitting on the 23 acres Jirongo had bought comprised 100 maisonettes, 320 flats, one nursery and primary school, health and recreational centre and a shopping complex.
Sololo did not get the money and was shortly declared bankrupt. Mugoya Construction took over the Hazina project and interestingly, was paid Sh1.5 billion to complete the remaining 25 percent of the work. The company, owned by Ugandan tycoon James Mugoya has since been liquidated.
Other parcels of land Jirongo owned include one in Ruai which cannot be sold or developed as the title is held by Kenya Deposit Insurance Corporation since 1993 over a Sh1.1 billion loan taken from Postbank Credit (under liquidation). The loan now stands at over Sh20 billion thanks to high interest rates that obtained in the 1990s.
Jirongo recently got investors from Dubai willing to construct 10,900 housing units in his Ruai land but that small matter of the title deed is still a hurdle.
Another of Jirongo's 103-acre farm in Chepkoilel was sold by KDIC early this year for Sh53 million to recover loans owed to the collapsed Dubai Bank.
But Ruto, his errand boy, fared differently. After Jirongo guided him through political and business minefields besides access to State House, doors were opened: Ruto became Eldoret North MP in between real estate ventures through Oseng Properties Ltd and Orterter Enterprises from an initial eight plots worth over Sh50 million allocated to him through the presidency at the time.
"I acknowledge I was his junior," said Ruto of Jirongo during the funeral of former Malava MP Soita Shitanda in June 2016. "But why is he so chronically bitter at me? I have told him quite often, it is all about 'kujipanga' (strategy)."
Today, Ruto's "kujipanga", despite negative acquisitive quotient, accounts for his interests in insurance, real estate, hospitality and media.
Would you like to get published on Standard Media websites? You can now email us breaking news, story ideas, human interest articles or interesting videos on: [email protected]