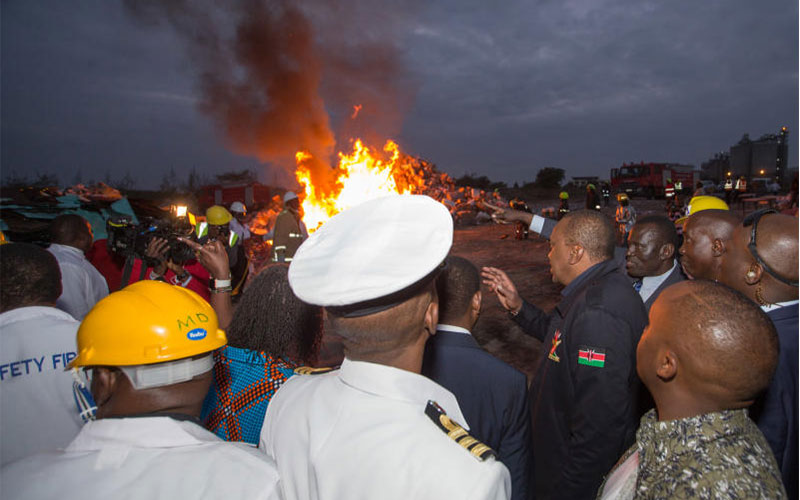 Samantha, the sex doll with artificial intelligence, together with other sex toys, were among multi-billion-shilling contraband goods that were recently set ablaze by President Uhuru Kenyatta.
A Kenya Revenue Authority (KRA) official has told The Nairobian that the contraband included 14 packages of sex toys, vibrators, several Samantha dolls and pornographic DVDs worth millions of shillings.
The high-tech sex doll is reported to have a realistic silicone skin and ability to flirt with men.
The Samantha craze swept through Nairobi a few months ago, and while most men loved her, the women were not in the least amused. 
"What does the makers of that sex doll think of us (women)? This is dehumanising. How can you replace a woman with a robot, complete with human features? This is madharau of the highest order," Cate who lives in Nairobi scoffed.
Phyllis, yet another furious local girl, jumped in, explaining how the dolls have baby faces and could encourage child abuse, more sexual assault and rape of women. There is little doubt that most women will applaud Uhuru for torching hundreds of Samantha dolls, which they claim are like slay queens - they have fake hair, fake eyelashes, fake boobs, fake bum and can't cook or clean!
Also set a blaze at the East African Portland Cement Company in Athi-River were packets of sub-standard condoms and other assorted goods.
"The sex toys had to be covered because it is not prudent to display such goods in public, especially given that the function was being presided over by the president," the KRA official who did not wish to be named, told The Nairobian.
"The crowd that attended the function was excited and most of the people wanted us to uncover the sex toys so they could see them. Most of the sex toys were for women," he said.
Among the illegal imports were luxurious vehicles, sugar, rice, pharmaceutical drugs, electrical appliances, roofing materials and other household consumables.