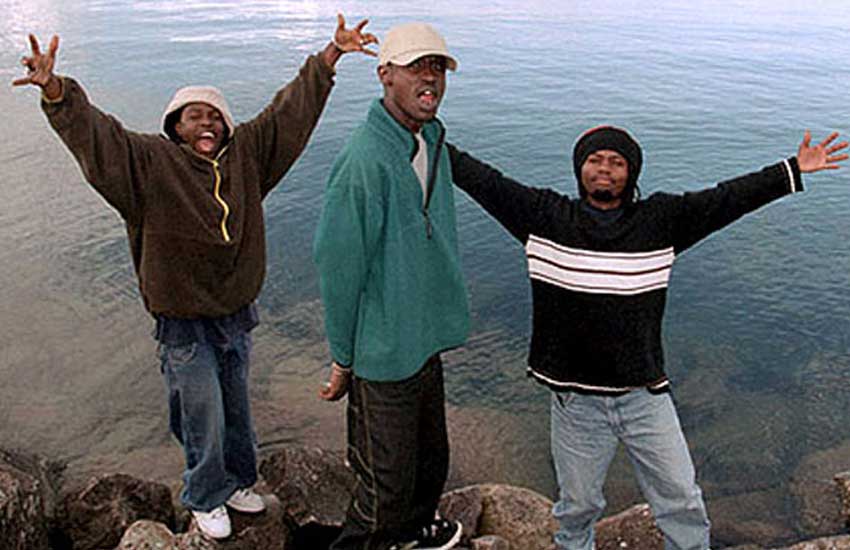 What is the distance from Umea, Sweden, to Dandora, Nairobi?
Google will tell you that it is about 12, 500 kilometres, via Europe and the Trans Saharan highway; and 783 days' hard walk, (going by the walking world record of one George Meegan); crossing through Egypt, Jordan, Israel, Lebanon, Syria, Turkey, Bulgaria, the Ukraine, Belarus, the Russian Federation, before finally taking the Finnish ferry at Vaasa to get to the finish line of Umea.
If you asked Kalamashaka, 783 days is round about the time it took them from the heights of performing to full house concerts in Stockholm and Umea in mid-2001 to the despair of just sitting around in their ramshackle base in Dandora by Valentine's Day in 2004 - saying they were mentoring the Next Generation of ghetto hip-hop artists, but in reality just drinking cheap liquor and sniffing tobacco, as they lamented their lost glory days, and missed opportunities.
If you look at Sauti Sol's schedule, you will realize they are playing in Zambia today (at the Ndola Wanderers' Club).
The boys then put on a VIP show in Bujumbura in early August (they are the favourite band of the mad Burundi president, Pierre Nkurunziza, who even has his own 'Halleluhya' cheerleader band to accompany him on football matches), which is where they performed to usher in the New Year.
In late September, Sauti Sol strikes south again to take their 'boomba' to Kabumba, Malawi, before performing at Lake Natron, to Tanzanian patrons, 16 days later on November 10th.
Sauti Sol could be said to be a solid regional band, with continental ambitions, and international pretensions, having performed in Paris in May of this year; as well as in Fremantle to Australians recovering from the two/nil defeat to Peru three days earlier (on 26th June) that definitely condemned the 'Land Down Under' in the 2018 World Cup held in Russia.
Roll the clock, flip the calendar back seventeen years to the middle of 2001 - and who are the dreadlocked, capped and cornrowed trio we are seeing leaping madly on stage in Lapohenmen, Sweden, as they spit rhymes in sheng to a thrilled mzungu audience?
They are none other than 24-year-old Kama (Kamau), 25-year-old Vigeti aka Johnny, and 26-year-old Matumbai, aka Roba – and they are the first ever local musicians from the Kenyan underground (ghetto) music scene to go perform in concert in Europe.
Their seven-year journey from Florida 2000 jam sessions to performing even for the Kenyan Ambassador in Stockholm has been the proverbial Biblical seven years of famine – before their huge hit, Tafsiri Hii, caught first local, then European attention.
According to Roba, their Swedish success story began at the Kenya National Theatre, when a visiting Swede duo, Katynaa and Wanda, in Kenya to shoot a video on different forms of Kenyan music 'heard one of our songs playing at KNT, and contacted us, then shot a video, which they later sent to Sweden.'
Amen? Not quite.
Veteran music producer David Mureithi, fired by Kalamashaka after some 'Benson & Hedges' concert (yes, cigarette firms not only used to advertise on media, but they also sponsored youth shows) at the turn of the millennium, says the group let fame go to their head way too soon.
'I saw their talent and took them on in the late nineties. I managed them, helped them open their first account with a local bank, and later helped organize their successful six month trip to Sweden.'
Sadly for Kalamashaka, after their six months of harvest in Sweden, the Seven Years of Plenty in Kenya, never happened for them.
"We decided to just go back and lie low at our base (in Dandora) and re-strategize, after we presented our singles 'Moto' and 'Wakati' to local FM stations, and they simply ignored them,' said Kama at the time (2004). We realised that since most local radio presenters are from the middle class, they do not understand our kind of music, which they describe as 'music for underprivileged' and keep off air."
Of course in the mid-oh-ohs, there was nothing like Ghetto FM, with the Mbusis of this era.
Worse still, after parting ways with Tedd Josiah, the trio from 'Dandoch' had no point of aggress to the 'middle class' presenters of the time, that they so desperately needed for airwaves' time.
(Write to [email protected] with your memories of Kalamashaka.)