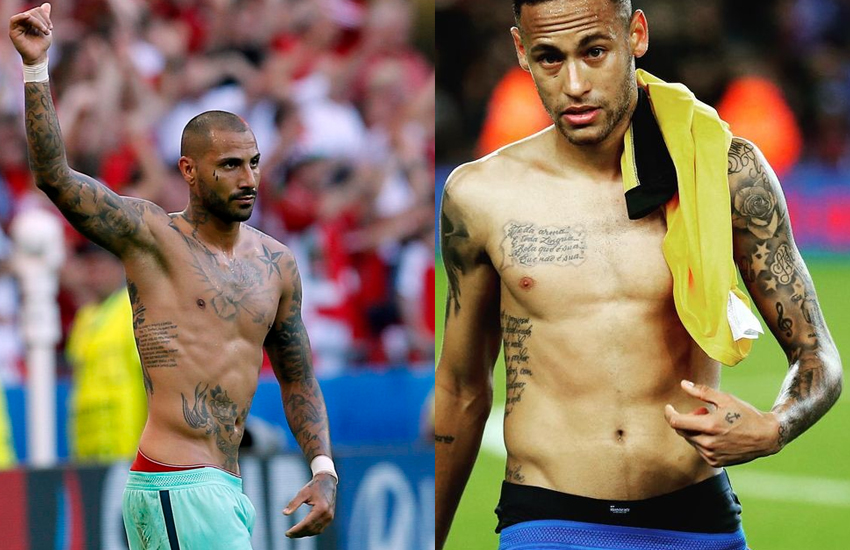 Booze, more booze, women and tattoos have formed part of the fixtures at the 2018 FIFA World Cup showpiece being staged in Russia.
The Nairobian looks at some of the stunning arrays of tattoos - feature angels, marauding bulls, portraits of human torsos, dragons and well - nothing - that have become the hallmark of the beautiful game in President Putin's yard.
Needless to say, the drawings vary from pure madness - by traditional African standards - to stupid. That's the part where you ask: "What were they 'inking' parading 'ink work' on the pitches? Here are some of the candidates who made it to The Nairobian World Cup tattoo list.
 1. Aron Gunnarsson
Aron Einar Malmquist Gunnarsson is an Icelandic professional midfielder who plays for Cardiff City at club level. The 29-year-old loves wearing tattoos, a thing which makes him distinct in his national team.
He has the inking on both of his hands but the mother of it all is on his back. The back tattoo is a combination of Iceland's national flag, a fierce bull, a war-bound bird and a warrior.
A close look at the hands reveals that Gunnarsson has the number 607 inked on his left-hand and what appears to be the word 'Malmguist' on his right.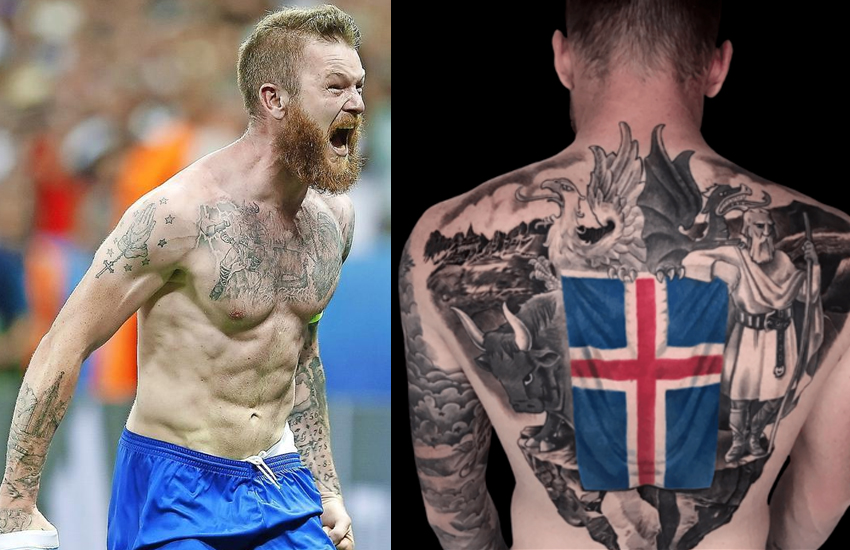 Their 2016 triumph in European Championships motivated him to wear the tattoo at this year's World Cup. Listen to him explain the real meaning of the art:"I've been a tattoo enthusiast for a long time. After the European Cup Finals in France two years ago I just wanted to do something special and uniquely Icelandic.
The art is based on the official Iceland crest but it is a modified version where a few of the original elements were replaced with elements that are special to me. So, in fact, this is a deeply personal tattoo that I wear with pride," he told local media.
2. Fyodor Smolov
Fyodor Mikhaylovich Smolov is a Russian striker who plays for Krasnodar and the Russia national team. He is representing his country at the ongoing World Cup tournament. Expressing oneself isn't generally advised in Russia, but Smolov seems like he has nothing to fear with a raft of tattoos covering both of his arms and the back of his right hand.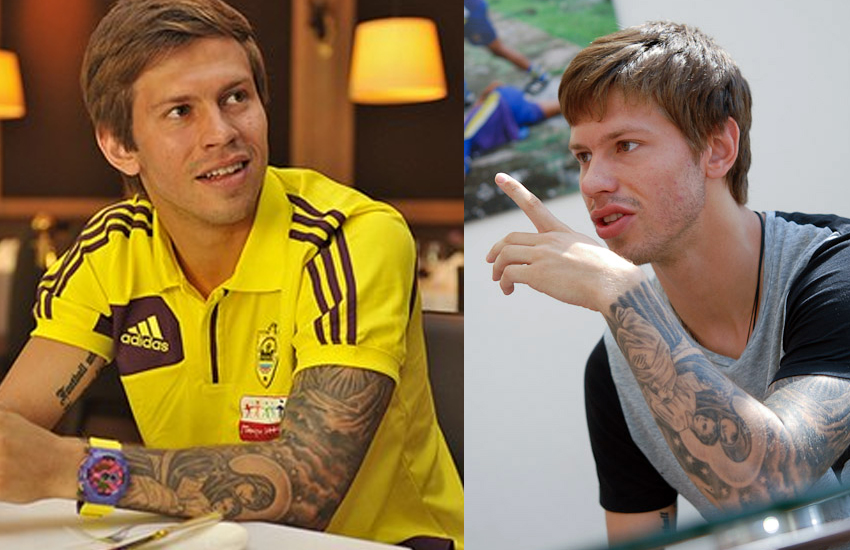 Vividly conspicuous on his right hand are the words 'Love' and 'Free F510'. The latter could apparently mean a sign to unlock some code — in this case could be his secret in the game of football. Just kidding.
 3. Lionel Messi
Lionel Andrés Messi Cuccittini is an Argentine professional football forward who plays for Barcelona at club level.
Forget his penalty miss against Iceland during their World Cup opening match, -the football star has some fascinating tattoos to show on the pitch. Messi took inspiration from his former teammate Dani Alves who is known for his full body tats.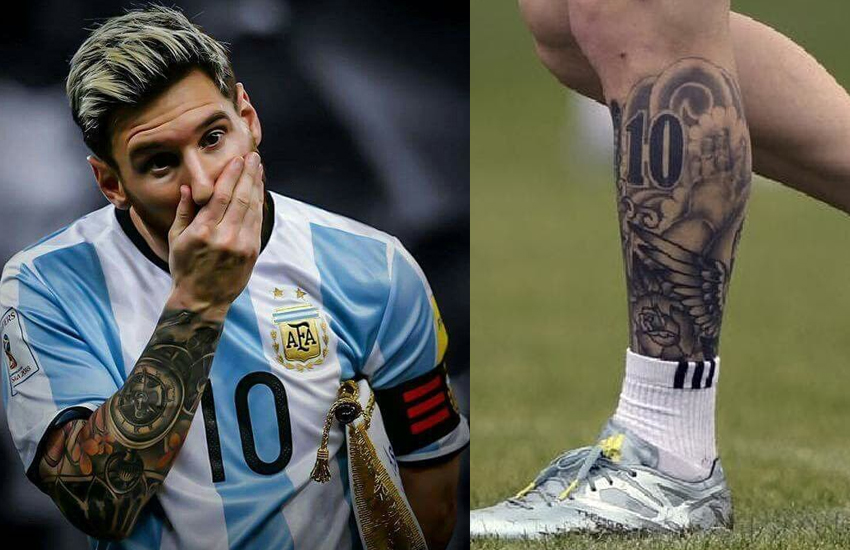 Reportedly, Messi was initially afraid of the pain - so he got his girlfriend Antonella to get a tattoo first. And when he got his first tat there was no stopping. The star has now collected some pretty impressive ink on his back, arm, and leg. Each of his tattoos has a personal significance for him.
Hear this! Messi's very first tattoo was a portrait of his mother on his back, then he got the handprints of his newborn child tattooed on the calf of his left leg to celebrate fatherhood. On his leg, is a number 10 and the name of his son 'Thiago', to show his love for his jersey and his son.
We all know Messi hails from a small Argentina city Rosaria. He is a perfect example of from rags to riches story and his Lotus tat on his arm also explains this. It is a part of Messi's full sleeve tattoo and it symbolises that talent can grow anywhere.
 4. Neymar
Neymar da Silva Santos Júnior, is a Brazilian professional footballer who plays forward for French club PSG and the Brazil national team. He is one of the key players for Brazil in the 2018 World Cup showpiece.
The big fan of tattoos strongly relates to the ink work in style. The tats largely make reference to his family and life experience.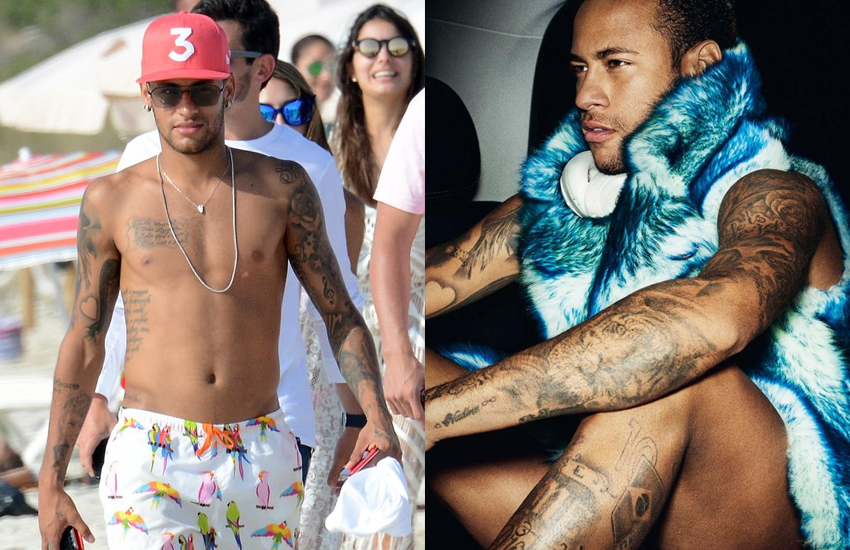 Since he has a handful of tats, let's focus on a few — a crown on the finger to celebrate his marriage, 'Love' which he shares with his mum and dad, roman number IV next to his ear, which represents the number of his family members. Then there is that of his sister's name gracing his hand.
 5. Olivier Giroud
Olivier Giroud is a French professional footballer who plays as a forward for English Premier League club Chelsea and the France national team.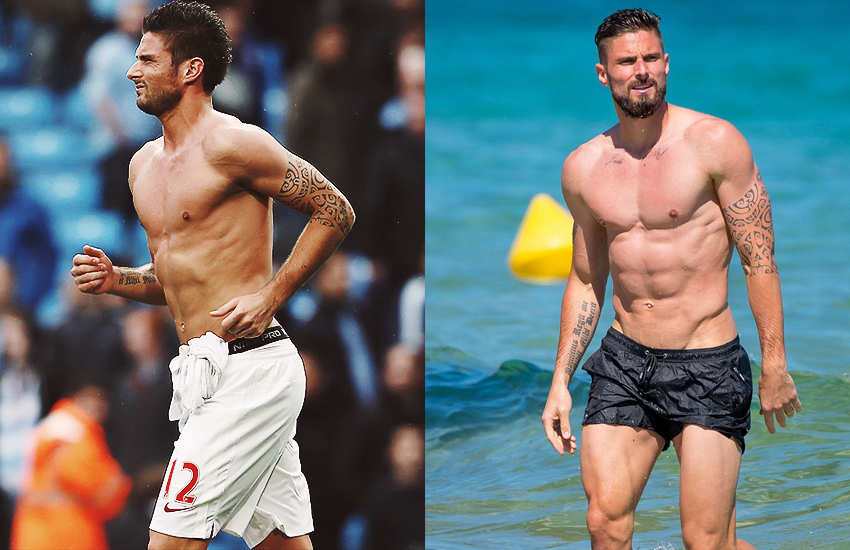 The 31-year-old has some interesting tats on his hands. He has one on his right leg, one on his right hand and another on his left hand. Tattoos on his hands are biblical and family in nature. For instance, the writing on his right hand is in Latin meaning 'God is my Shepherd'.
 6. Ricardo Quaresma
Ricardo Andrade Quaresma Bernardo is a Portuguese winger playing for his country at ongoing the World Cup. He is covered in tattoos, including a kiss mark on his neck. But it is the freaky eye on his right hand that is the most interesting.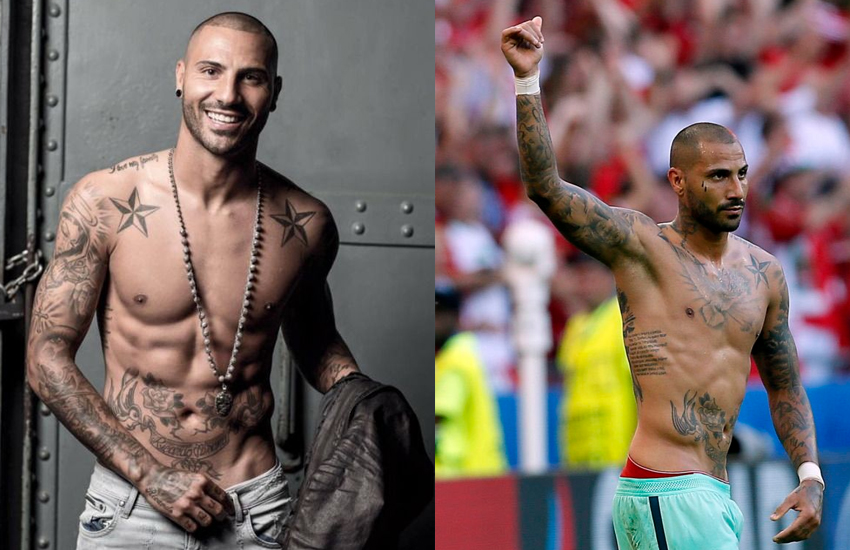 The eye seems to give his hand a squid-like quality when at rest while the words 'true' suggest a deeper meaning behind it all.
Notably, media and everyone are still in search of the meaning of his two teardrops tattoo on his face.
7. Sergio Ramos
He is the controversial Spanish skipper who plays as a defender for his national team and at club level. His torso is absolutely packed out with ink, so it was only a matter of time before it eventually leaked onto his hands.
On his left hand, is a rose in full bloom and the year 2014 while the right-hand shows a number of different symbols, numbers and even measurements.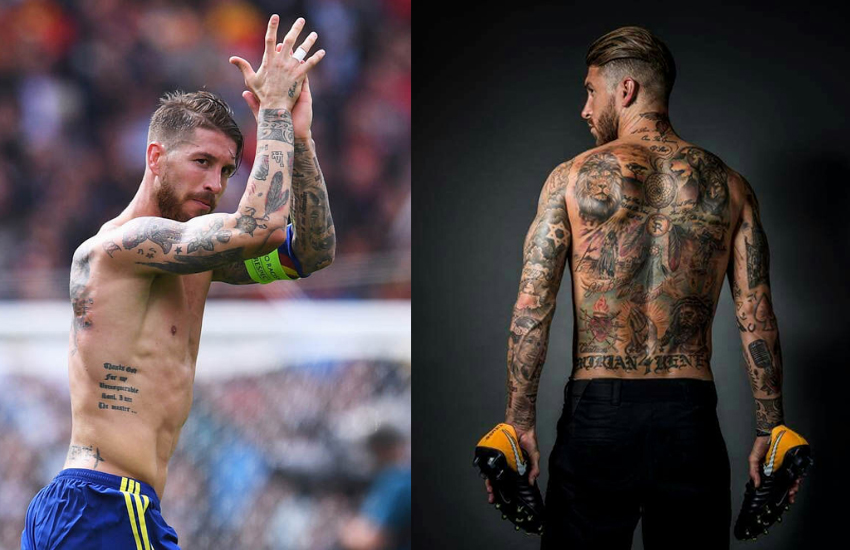 When the Real Madrid captain asked supporters to guess the meaning behind the numbers 35, 90+, 32 and 19, when he got them inked in red in 2016, the fans attributed the figures to his various debut successes.
When he first started his career at Sevilla, Ramos' first squad numbers were 35 and 32, while 90+ refers to his injury-time goal in the 2014 Champions League final against Atletico Madrid. As for the 19, he made his official debut for Spain on his 19th birthday.
The star also has the Virgin Mary on his arm and a lion on his back.
 8. Ederson Moraes
Ederson Santana de Moraes is a Brazilian professional footballer who plays for Premier League club Manchester City and Brazil national team as a goalkeeper.
The 24-year old goalkeeper's body is covered in tattoos, with an emoji behind his ear just one of a number of designs.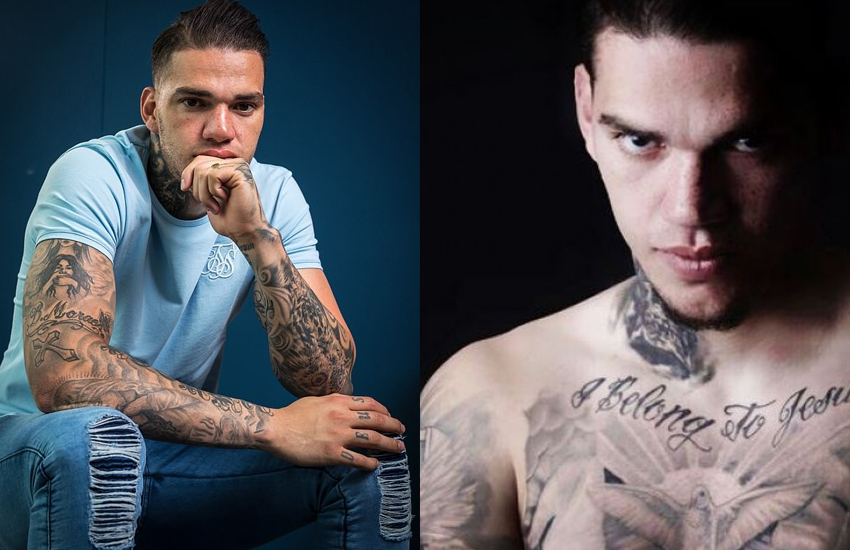 The leg design appears to show Greek god Poseidon above other mythological images, and it's meaning to the game is yet to be known.
9. Roman Torres
Román Aureliano Torres captains Panama national team in Russia.
The defender has tattoos commemorating his achievements in football, one of which shows him lifting the MSL Cup in 2016. The tattoo has confused a number of fans in Russia, who think it's the 2018 FIFA World Cup trophy symbol.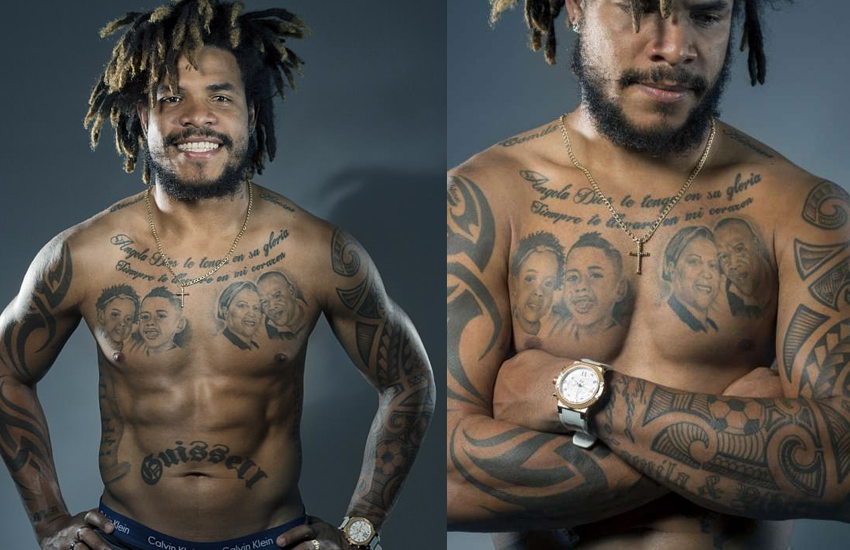 Another one on the leg features the date of October 10, 2017, in roman numerals, which is the day Panama qualified for the World Cup.