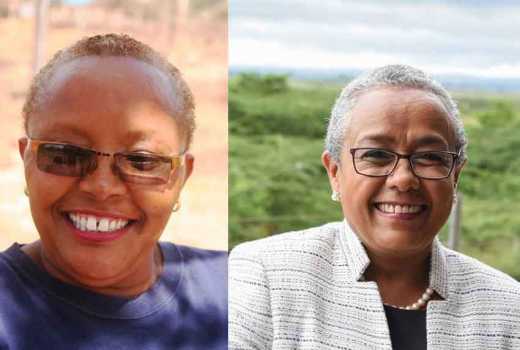 In Voi town, Grace Elizabeth Mkabili, has earned a new tag that is synonymous with power.
Her close resemblance to First Lady, Margaret Kenyatta has attracted attention and everywhere she goes, people want to catch a glimpse of her.
The 51-year-old social activist, is now referred to as 'First Lady' and enjoys 'special' treatment.  
Her light-skinned complexion, shot hair and height, a striking resemblance to that of Margaret, stirred journalists during a Kenya Tourist Board trip to Voi where she was in attendance.
Speaking to our sister publication, The Standard, Elizabeth revealed that people stop to ask her if she is related to the First Family and some of her friends have nicked her 'Margaret Kenyatta'. 
"I am a likeable person and mingle freely with people here. Most people are not convinced when I tell them I am not First Lady's sister.  After I decided to shave my hair and dye it, every one said I was a carbon copy of the First Lady. The saloonist handed me the mirror and I was shocked to see that I resembled the first Lady," she said.
She revealed she has met First Lady Margaret Kenyatta during the official handover ceremony of the first mobile clinic to the Beyond Zero campaign in Wundanyi, Taita Taveta.
"I was near the dais and I think some people she sat with, drew her attention to me as she waved to me. Of course, I was elated, '' she said.
She added that she would love to take photos with her lookalike.
Elizabeth grew up in Mombasa's Shimanzi Railway staff quarters where her father worked as a senior train locomotive driver with Kenya Railways Corporation (KRC).
She attended primary school in Nakuru and did her secondary school learning at Makindu Secondary School before enrolling for a short course in youth ministry and theology at the Daystar University College.
She is married to medic Boniface Mwakio and have three children.