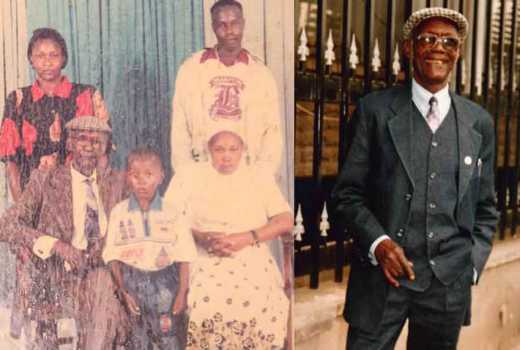 When Mzee Ojwang was laid to rest at Langata Cemetry, he was more famous for being 'Luo' than the son of his ancestral home in Mukurweini in Nyeri County.
Benson Wanjau was nicknamed 'Ojwang' due to his dressing during his days as a theatre technician at Mater Hospital.
He was later auditioned for Darubini show on KBC in the early 1980s, a show that was later renamed Vitimbi.
Besides acting on Vitimbi and during national days, Mzee Ojwang also starred in commercials, the most memorable being that of the Strike insecticide that killed insects "fofofo."
The veteran thespian started at Bahati Social Hall before getting into the limelight. Some of his colleagues in the pioneering Vitimbi who have since passed away included 'Amka Twende' (Dennis Otieno), 'Othorong'ng'o Danger (Joseph Anyona) and 'Masanduku arap Simiti' (Sammy Muya).
"All Mzee Ojwang's problems started when he was fired from KBC without any notice," Gibson Mbugua, the 'prosecutor' claimed. "This pushed him into drinking, as he wondered how the station could drop him like that without as much as a wheelbarrow." 
The 78-year-old Benson Wanjau, who was crowned the grandfather of Kenyan comedy, left behind a widow, Augusta Wanjiru and two children, Patricia Njeri and Michael Karira, and two grandchildren.
He succumbed to pnuemonia at the Kenyatta National Hospital.