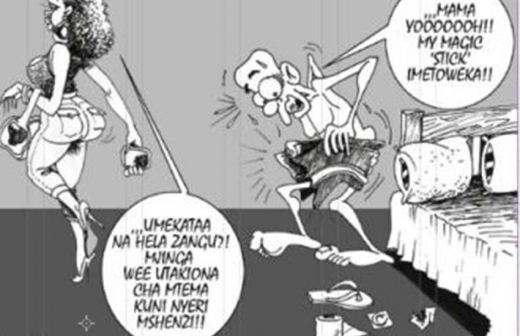 A man in Mishomoroni, Mombasa County still can't wrap his mind around a suspected 'juju' incident after his weapon of mass procreation reportedly went missing after he allegedly refused to pay a prostitute her dues.
The man, only identified as Nathan Karisa, shocked locals when he narrated how his member disappeared, following a 'gland-to-gland' combat with a 'thigh vendor' he identified as Salma from neighbouring Tanzania.
"We met at the bar. She told me her name was Salma. We struck a deal, and I promised to pay her Sh200 for each shot. We booked ourselves into a lodging in an adjacent building.
Once we were done, I had incurred a Sh1500 bill," says Karisa, adding: "Considering I only had Sh800 and we were acquaintances, I paid her Sh300 and promised to settle the outstanding debt the following day. I used the rest of the money to settle the lodging bill."
He narrated that when the woman of easy virtue called him up the following day, demanding her dues, he didn't feel like paying her.
She called a few days later, and Karisa, again, didn't have the money. She called one more time and Nathan began playing 'cat and mouse' with her.
"She called several days, but I didn't have the cash. So when I told her to give me more time, she got worked up and threatened to take me to a mganga to teach me a lesson," says Karisa.
He goes on to say he dismissed her offhand, thinking she was kidding.
Two days later, as he went to pee early in the morning, he was shocked to find his magic stick missing!
That whole day, he felt a lot of pain as his bladder desperately needed to be emptied. Shocked, Karisa called her but she never picked his call. When he insisted, she blocked his number.
One day later, his organ was still missing. Panic-stricken, he approached a neighbour identified as Kai whom he told his problem.
Seeing as things were getting out of hand, with Karisa's bladder almost bursting, Kai took him to a witchdoctor in the neighbourhood who boasted that the problem was a simple one, and he could solve it in seconds — if only they paid Sh5000.
Unfortunately, the two could not afford the services. Trapped between a rock and a hard place, the cash-strapped duo tried three other witchdoctors who still demanded money they could not afford.
Seeing as Lady Luck was still sulky, the duo had to inform Nathan's wife, who got so furious. But considering the gravity of the matter, she calmed down and informed his parents about the tragedy.
Karisa's parents had to enlist the services of a powerful witchdoctor that very day, all the way from his rural home in Kilifi.
"Had it not been the timely intervention of the witchdoctor, I felt like I could die. My bladder was taut with urine and there was pain all over.
The witchdoctor said the hooker had used deadly juju on me from Pemba island. He asked me to lie on my stomach as he talked with spirits asking them to restore my 'thing'.
Miraculously, after chanting incantations and slapping my stomach, the organ 'returned'," explained Karisa, who said he is now born again.
However, save for Karisa's accounts and those of eyewitnesses present as he explained the incident, Crazy Monday could not independently establish whether indeed the organ had gone missing.
Related Topics