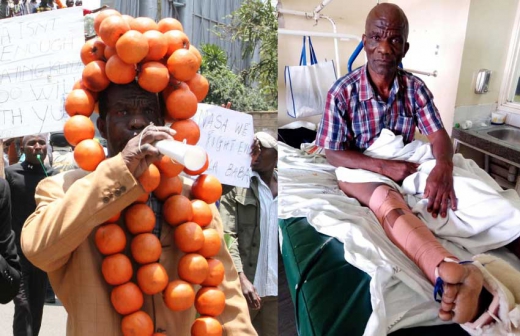 Nicolus Owino Owiro alias Owino Mawe says he is a diehard Raila Odinga supporter
Owino Mawe,a  father of nine has been rallying behind Raila for over a decade
He was run over by an oncoming vehicle during a NASA protest that turned chaotic
He says that only Esther Passaris, Simba Arati and Amolo Otiende have visited him
Behind the no-reforms-no-election demos called by NASA lies the agony and grief of families who have directly borne the brunt of police brutality.
Those who have lost their beloved ones are now struggling to cope with the harsh reality, while hundreds have become victims by default, nursing injuries or overwhelmed by heavy hospital bills.
Nicolus Owino Owiro, a resident of Korogocho estate where he is commonly referred as Owino Mawe, is 65 years old.
The father of nine has been in active politics as a diehard supporter of ODM, CORD and now NASA, rallying behind Raila for over a decade since 2004.
"My support for Raila will never fade. In fact, it grows stronger whenever I listen to him. It started long ago in 2004 when he was championing for constitutional referendum during President Kibaki's regime. Up to date, I am Raila damu," he says.
He says he was given the nickname Owino Mawe because of his unflinching support for Raila that has seen him sustain injuries several times whenever demonstrations turned chaotic.
Owiro has never missed any gathering called by Raila, but the year 2017 has left a permanent mark in his life.
On October 9, Owiro woke up and marshalled his troops to do the usual — walking in the footsteps of his mentor Raila, or Joshua as they call him.
Trumpets, cheers, and screams rent the air as his team and other NASA supporters clad in white shirts as a symbol of peace, with placards made their way to Anniversary Towers to register their dissatisfaction with IEBC officials. "Chiloba must go! No reforms, no election!" they sung.
But at exactly 12:45pm, all hell broke loose as riot police countered the demonstrators along Kenyatta Avenue with rungus, whips and kicks amid a cloud of teargas.
"As I took off, an oncoming vehicle hit and ran over me, sending me rolling to the ground and writhing in pain, as the occupant fired gun shots and took off," he says.
Nairobi Woman Rep Esther Passaris come to his rescue, rushing him to Kenyatta National Hospital where he was admitted in ward 6A.
But that was just the beginning of his misery. On a visit to Kenyatta National Hospital, we met Owiro lying in his bed with a swollen left leg, his pain evident.
Since his admission, he claims doctors have never attended to him except offering him tembes to dull his pain.
"Passaris gave out Sh1, 500 for activating my NHIF card and left me with promises which are yet to be fulfilled. I have never seen her since. I am just rotting in this bed with no services from the doctors because they are demanding a down payment and I have no money," he says.
Doctor Omanyo confirms that Owiro suffered a hip bone fracture as well as an injury to his right leg which requires Sh500, 000 to fix.
But Owiro says he has no snowball's chance in hell of getting his hands on that kind of money.
"I am just a vendor of second-hand clothes who barely makes enough to feed my family. So where do I get half a million shillings?" he poses.
"Since I was admitted, only Esther Passaris, Simba Arati and Amolo Otiende have paid me a visit. But even Raila himself has never set foot here," he says.
Strangely, no police officer has come to question him or ask for a statement about the incident that led to his hospitalisation.
He says meanwhile, the person who almost killed him remains free with no indication that the police are investigating the matter.
According to a report by the Kenya Human Rights Commission, over 40 people have been confirmed killed by police while over a 100 are in hospitals with severe injuries.
Owiro, however, vows that the injuries won't deter his passion and zeal in for supporting Raila and that upon his recovery, he will still attend his rallies.