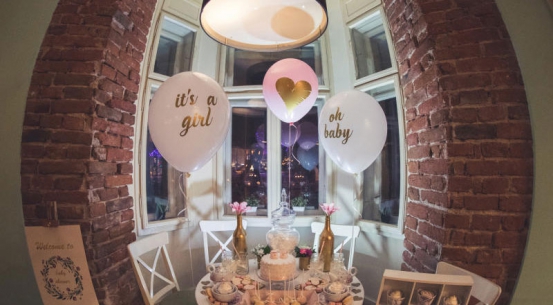 The baby shower. Hmm...Nairobian women have made it such a big deal, yet its traditionally given only for the family's first child.
Only women are invited. But alas! that has changed. Baby showers are now like mini graduation ceremonies minus the gown and what's more, men are even invited.
Something else. It is not the woman who will be screaming in the maternity wing who throws the baby shower. Rather, a blood relative, close buddy or a colleague at work organises it.
But that has changed as well as prospective mothers are now seeking the help of event planners to make their ultimate baby showers the real thing.
You know, baby showers were affairs in which the mother to be was 'showered' with gifts, hence the name.
The host was mostly an aunt or cousin  to avoid appearing like the family was on a mission to collect gifts. This tradition isn't strictly observed these days.
In fact, it is acceptable for a sister, mother-in-law, or even the mother to be to be to host or co-host a shower which typically should last two to three hours in which time guests are offered food and drinks while mingling.
Once all guests are in, the games, usually three or more, take place after which the mother to be opens her gifts then cake is served and the party ends.
But new parents are taking things down Decadence Avenue and bringing in male strippers!
Some want them to be more over the top and have included Shisha sessions. And the cost is no object.
Take Businessman Steve Oduk. In March this year, Oduk coughed up Sh1 million to make his girlfriend Aeedah Bambi's dream baby shower come true all in a bid to skirt away from the boring traditional way where girlfriends meet up and play silly games with disposable diapers.
And just like a wedding, the baby shower was pink and black themed complete with floral décor. The guests were asked to observe a dress code.
There were over 200 guests, and guess what, men were invited as well! They guests were treated to a buffet, indulged in champagne showers and Hennessey sips, as shisha did the rounds like in scenes from an Arabian night party. The mother to be was presented with a two-tiered cake.
Bambi told The Nairobian, "I decided to organise my own baby shower because I did not want a surprise baby shower. Most of my friends would not understand my style and what I wanted in a shower if they organised," he explains adding that "a baby shower is not an everyday occasion so it had to be memorable.,"
Among those invited to the baby shower included radio and television presenters, businessmen, political aspirants, musicians and those in showbiz circles.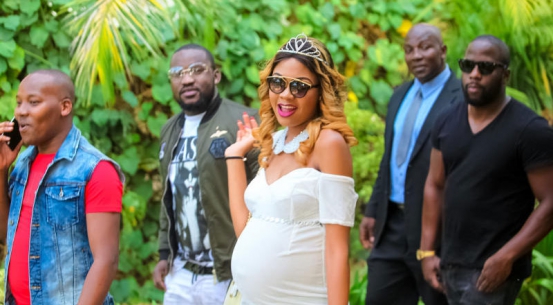 DJ Pierra Makena's friends were organising her baby shower when she got the wind of it and joined the planning and "later diapers came on board and I decided why not make it bigger and get all the people I want. I also wanted a guest list of people who have supported me and not just anybody," explains Pierra.
"My friends continued planning for it but I was still consulted. I believe a baby shower should be attended by your friends and women can come for an intimate set up for maybe lunch or dinner and advise you on parenting.
I believe people can plan their own baby showers and those who love surprises why not. My baby shower was held at B Club and cost Sh500,000."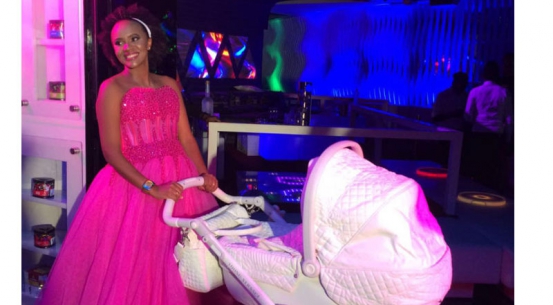 Actress Awinja (Jacky Vike) was lucky to have four surprise baby showers.
"My friends went over board and gave me the ultimate baby showers. I regret doing my own shopping. My cast mate Wilbroda threw me an intimate shower in her house. The Papa Shirandula team also surprised me in my mother's house. "
"My workmates at Kwetu FM threw me a white and blue themed baby shower and lastly, my other friends surprised me with a yellow themed shower. Bringing gifts was lovely but I also appreciate those who took time and spent it with me," says Awinja.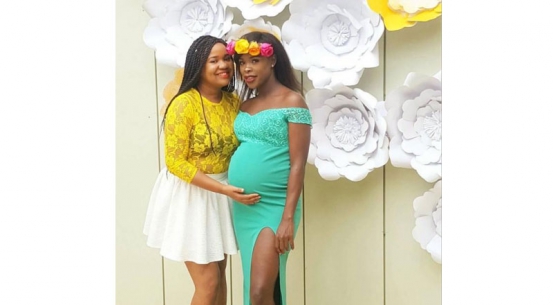 Dorothy Oliech the founder of Mochez Models also had her friend, the late Grace Makosewe and hubby organise her baby shower.
"My shower was white themed and Grace and hubby made sure I got everything I wanted and it was well executed plus more. None of my friends were pressured to contribute. They brought what they could afford."
" I wanted both male and female to attend the shower because they are part of my life and I did not want to exclude them."
In November of 2015, controversial businessman Chris Obure threw his wife, Farha, an expensive baby shower held at the Villa Rosa Kempinski where family and friends mingled with the who's who in the all-white party with a touch of gold.
Over 100 guests were in attendance with actress Eve D'Souza as the emcee while DJ Protégé was on the decks. A popular television 'Marriage Doctor' was also invited to give the women a pep talk. Other guests included media personalities and a diplomat.
Apart from sumptuous meals, guests enjoyed an open bar with drinks flowing.
Chris took the celebration a notch higher by showering his wife with several gifts including; a Samsung Edge Plus phone, a holiday trip to the Bahamas Island and Sh1 million.
Indeed, baby showers are akin to wedding bridal showers complete with committees.
However, not all women feel the baby shower vibe. Take the case of Mercy Nekesa who claims she was added into a WhatsApp group and the money that was being asked was ridiculous!
"These groups have now become like a wedding committee because the demands are just not realistic," moans Nekesa.
She recalls being in a "ridiculous group where we had to pay a contribution fee of Sh5,000. A list of expensive things was put on the group and we had to pick one to buy as a present for her. Further, the mum to be wanted a specific stroller which was apparently on her vision board. "
"When I did my math, the total cost was half my rent! I left the group and decided to buy a small gift and drop it to her on a different day. These days this baby showers have become like wedding committees," says Nekesa.