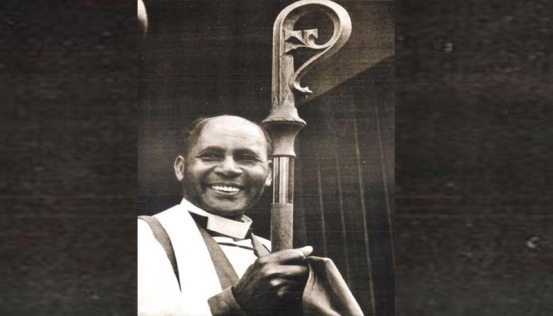 Obadiah Kariuki was born in Kabete around 1902 where his neighbours; the Njonjos, the Leakeys and the Koinanges later influenced his life in unexpected ways.
Chief Koinange's family gave him a wife, Lilian Wairimu, while the Leakeys paved his way into being one of the first homespun bishops of the Anglican Church in Kenya. See, young Obadiah Kariuki wa Yusufu. The first born and only son of Ng'ang'a and Wanjiru Yusufu served as a part time domestic worker at the Church Missionary Society station in Kabete headed by Canon Harry Leakey, grandpa of Dr Richard Leakey.
Canon Leakey baptised his Uncle Thiong'o and aunt Nyambura as Joseph and Mary and their attractive attires so impressed Kariuki that he did not have illusions what his calling in life was, as he recounts in his bio, A Bishop Facing Mt Kenya.
Ambitious Kariuki requested an education and Canon Leakey offloaded him to the CMS Buxton Primary School in Mombasa in 1914. He returned a teacher and became Canon Leakey's deputy in 1924. Two years later, Alliance High School was opened and Obadiah admitted. He was 25.
He wedded Lilian at St John's Church in Kiambaa in 1930 when he headed the local church school. They had 14 children, three sons died at infancy. Their youngest son is the most renown — Court of Appeal Judge Paul Kihara Kariuki, the one-time Chancellor of the Anglican Church in Kenya.
Obadiah resigned as a teacher in 1935 and joined St Paul's Theological College, Limuru and later St Augustine's College, England to study theology. After his ordination he was posted to among others St Stephen's Church in Nairobi, then the largest between Cairo and Cape Town in the 1940s.
Mau Mau insurgents killed Christians for not taking the Mau Mau oath — which Kariuki opposed — during the State of Emergency. But he traversed detention camps in a motorbike (riding goggle and all) preaching to detainees.
In 1970, Obadiah Kariuki was beaten by Festo Olang who became the first black head of the Anglican Church in Kenya. But Kariuki's immortality was cemented in the churches, parishes, rural deaneries and Arch-deaconeries he established as Bishop of Mt Kenya Diocese which grew so rapidly he divide into two — Mt Kenya South and Mt Kenya East headed by the late David Gitari.
The herd's boy who became a bishop died on May 6, 1978. He was 76.