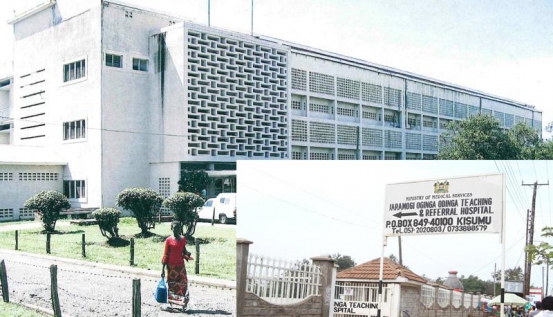 German war-time leader, Adolf Hitler's offices had slippery floors on long and endless wide corridors. No carpets. Visiting diplomats could not reach the walls for support when their feet gave way on the polished marble floors. This ensured the VIPs reached the Fuhrer thoroughly shaken and humbled.
It was intimidation through architecture, very effectively used by dictators, and no less in communist Russia, whose government bankrolled the New Nyanza Provincial General Hospital in Kenya, popularly known as 'Russia' at the time. It is now the Jaramogi Oginga Odinga Teaching and Referral Hospital as indeed, it was Jaramogi, then vice president and socialist sympathiser in capitalist Kenya, who asked Soviet premier Nikita Khrushchev for 'development assistance.'
Eager to have a socialist foothold in East Africa at the height of the Cold War, the Soviets poured Sh140 million into the Russia hospital, a 200-bed facility in Kisumu, Odinga's backyard.
Russian engineers VL Usenko, NA Novikov and VI Belov oversaw the construction of the medical and surgical wards, children's emergency department and the infectious diseases ward from 1965 through 1969. Over Sh8.5 million of medical equipment was later installed in the facility supervised by S Nicouline of the Soviet Economic and Technical Cooperation.
A local firm, Panesar Ltd, was the main contractor, but all iron rods were imported from Russia, alongside 15 doctors who helped out for two years. But did you know the ceilings were made so high - communist style - to intimidate patients? When bulbs 'burnt,' the Russians did the replacement. The suspicious communists couldn't trust anything from capitalist West! A bulb from an European manufacturer could as well be a surveillance and listening device!
That is not all: All the floors were built by shipping different workers in the entire duration of construction. And long after the Russians had left, few local electricians could figure how the wiring - which was embedded in concrete - was done!
The opening of Russia by President Jomo Kenyatta in September 1969 was not without political undercurrents. Tom Mboya had been murdered two months earlier. Nahashon Njenga Njoroge, a Kikuyu, was arrested for Mboya's assassination. Kenyatta I, another Kikuyu, presided over a government that had consigned Oginga to political Siberia, after he resigned as vice president three years earlier.
Hostile Luos were demanding to know, "Where is Mboya?" even as Kenyatta I Issued a string of choice insults. Fearing for his life, the security detail rushed the president to safety as the crowd pelted his motorcade with stones and rotten eggs. Shooting into the crowd resulted into 11 people - four children, five adults and two cops - losing their lives. Hundreds were injured in what went down as the 'Kisumu
Massacre,' and with it, the long running political bile between Kikuyus and Luos, whose starkly divergent cultures don't help matters.
The opening of Russia saw Kenyatta I closing his diary on Kisumu throughout his presidency. Jaramogi was later detained. Russia hospital suffered neglect and was characterised by shortage of drugs, doctors, nurses and clinical officers. Medical services declined. The Luos were condemned to socio-economic and political wilderness until Kenyatta I was 'killed by death' on August 22, 1978.