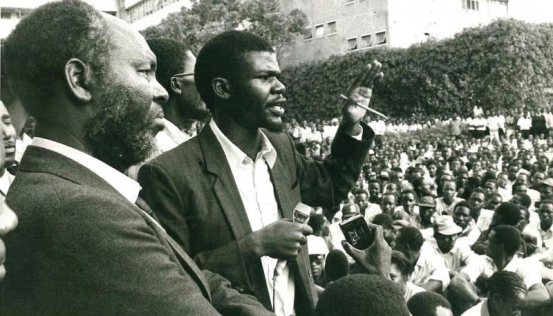 Back in the day when the University of Nairobi bragged of a brigade of firebrand student leaders, it was not uncommon for them to chart the national discourse in ways that made the ruling classes to listen.
When their calls went unheard, 'Comrade Power' came into force, manifesting itself in organised riots starring Stone Age methods, such as throwing 'missiles' (read stones). Never mind, the bulk of the riots were meted out on motorists in the Central Business District, where there are no quarries, but stones were in plenty via comrade power.
Of course campus students rioted over such mundane things as lack of meatballs in their diet, power blackouts during exams, as well as issues of national concern, such as the 1990 murder of Foreign Affairs Minister Dr Robert Ouko.
The comrade power rallying call saw students with clenched fists and all, join the leaders of the Student Organisation of Nairobi University (Sonu) in social political activism that engaged police in running battles. Central Police Station neighbours the University of Nairobi and at one time, a student explained that "it was the police who were rioting and we, students, went to quell their riots."
Students were arrested, beaten, detained and even jailed at the infamous Nyayo House torture chambers, but the fire of fellow 'comrades' kept the embers of their clamour burning in the backdrop of totalitarian regimes: Wanyiri Kihoro, James Orengo, Mwandawiro Mgangha, Miguna Miguna, TJ Kajwang and Wafula Buke, emerged in the dark days of single party rule.
Even though we no longer have politically-conscious student leaders, main campus students still refer to each other using their old moniker. So, why did they call each other comrade?
Well, university students' leftist activism went glove in hand with the Cold War - the state of political and military tension between communists and capitalists. Kenya was a capitalist state. But university students who read too much Karl Marx sided with Marxist ideologies propagated by the then soviet Union, whose Communist Party members referred to each other as Comrade Lenin, Comrade Stalin, Comrade Khrushchev...
Kenyan lecturers such as Prof Anyang Nyong'o and opposition politicians such as Mtumishi Njeru Kathangu, the late George Anyona and Koigi wa Wamwere, spotted 'academic beards,' accentuated by communist tunics like the Mao jacket still worn by Koigi today.
University students sided with these opinion shapers and their socialist ideals. While the term 'comrade' in socialist Soviet Union meant all party members were equal, in Kenya, it came to connote ideological bonding and militant activism against the social political order as seen in the eyes of campus students and their stone-faced comrade power!
The Cold War ended after 44 years with the collapse of the Soviet Union in 1991. But remnants of comradeship still pervades students' discourse at the University of Nairobi.