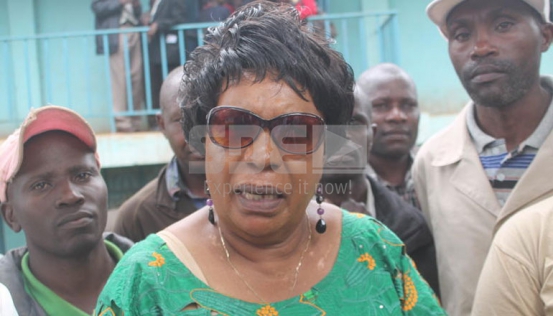 Catherine Nyamato, the politician whose gender activism shook Kisii men in 1990s, is back. In her heyday, she was among the few female firebrands who made women aware of their social rights, much to the chagrin of men.
But this time round, Nyamato is upping the game she played so well during the single party era, becoming a household name in Gusiiland and beyond. She wants to represent women and youth interests in the National Assembly as Woman Rep for Nyamira County.
Nyamato says she's still interested in representing women and that she will continue fighting hard to ensure that the gains which she, together with other women rights crusaders fought for in the spirit of gender equality, are fully felt by ordinary woman and vulnerable members of society.
"My main agenda is to ensure that the Affirmative Action Fund, which is specifically for the women and youth, is well put into use and more responsible young leaders are inspired to lead this country to the next level," says Nyamato.
Although her name may not ring a bell among youthful voters who came of age when she had taken a back seat from the limelight, Nyamato was among the few Kenyan women who steered campaigns against discrimination of women and girls in Kenyan communities, especially her homeland Gusii, one of the bastions of female genital mutilation.
In a land where wife battery, early marriages and literacy among women was low on account of gender discrimination, Nyamato and the women groups she rallied helped to change households through spirited gender advocacy campaigns.
Many men revolted, hurling sexist epithets her way. But that did not dim her efforts. Today, the gains women have made towards gender equality in the region cannot be mentioned without her name popping up.
It is a reflection of the clout her work generated that got President Daniel arap Moi to nominate her as MP between 1997 and 2002.
Nyamato sprung to the limelight after the historic UN Beijing Women's Conference held on September 4 and September 15, 1995, on the need for intense campaigns for gender equality.
That was the time when the slogan "what a man can do, a woman can do even better" became a catchphrase for young women fighting discrimination at home and at the workplace.
Women from Kenya who attended the convention flew back to Nairobi breathing fire, as bemused men smiled and laughed sarcastically, saying women were going nowhere. They were wrong.
After the conference, Kenyan women, including Catherine Nyamato, brought with them a great awakening that saw representation of women in leadership positions reviewed and more women allotted positions, with men in villages fearing their wives were going to revolt against traditional norms.
And from a single female Cabinet minister handling the woolly docket of Gender, Culture and Sports in 1995, President Uhuru's Cabinet now has women handling the powerful dockets of Defence, and Foreign Affairs, not to forget that Anne Waiguru was at the helm of the Devolution ministry.