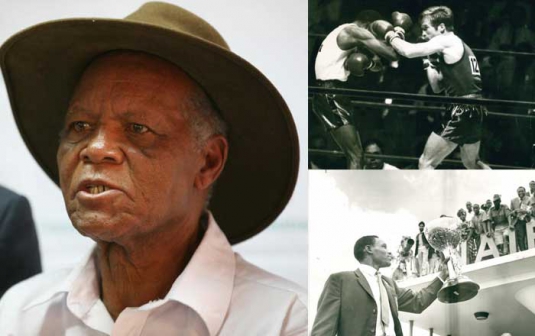 When you hear Joe Kadenge's plight being addressed by top government officials, rest assured that the list is long.
There are hundreds of retired sports stars who have fallen on really hard times, but are suffering quietly on their own in mashinani.
Why the media is obsessed with Kadenge is a different matter altogether. Of course, he represents all suffering veterans.
For starters, Kadenge's long-term captain was John Nyawanga. For the record, Kadenge, despite being a very good player, has two things missing on his soccer CV.
One, he never captained the national team. Two, he never qualified for any Africa Cup of Nations games. The first time Kenya took part in Afcon was in 1972 — Kadenge was not in the team.
Does anybody know or bother to know where Kadenge's then captain is? Does the Sports Principal Secretary who visited Kadenge have a list of former stars whose medical conditions require intervention? I doubt it.
Me thinks it would be prudent for the government to use Kadenge's case to prove to Kenyans that it is committed to improving the welfare of retired sportsmen and women. It should also draw up a long-term plan for the purpose.
Let the government not be reactive but proactive.
My long list of suffering retired sport people include Congestina Achieng', whom we all know has been dumped somewhere in Gem, Siaya County.
She is sick and requires constant medical and personal care. If there is anybody who epitomised women boxing in Kenya, that is 'Conje'.
Steve Muchoki, the guy who put Kenya on the world stage is in a sad state on the streets of Nairobi.
 I am told he retreats to his mother's small plot somewhere in the outskirts of Nairobi for night cover.
Before Muchoki, we had Philip Waruinge. He could have won a gold apiece at both the 1968 Olympics in Mexico and 1972 in Munich.
It is alleged he was robbed of victory on both occasions. Anyway, he settled for a silver in 1972. His brother Sammy Mbogua got a bronze in the same games.
When Kenya made her Afcon debut, Steve 'Macqueen' Yongo was our midfielder - the man who perfected the art of chesting balls. He is the first Kenyan to train as a professional coach in Essen, Germany. Yongo is around 72 years old, sick and partially blind. He requires an urgent operation to remove cataracts in his eyes.
Martin 'Ogwanjo' Ouma suffered a stroke a few years ago, rendering his right arm useless. He was a pathetic sight when Gor Mahia class of 1996 which won the league unbeaten and was recently paraded at Nyayo National Stadium.
One could notice his discomfort when they were asked to wave to the crowd.
Edward Kiiza sells curios at City Market at a stall he inherited from his late father. Elly 'Pikipiki,' Adero the fastest winger Kenya has ever had, is quietly whiling his time coaching mtaa clubs whenever he can.
I feel embarrassed to say boxer Philip Waruinge is almost blind after an untreated eye problem went awry. He is back in Nakuru, sick and helpless.
Mickey Weche aka T9 was a victim of an attempted robbery. Gun-totting thugs accosted him sometimes back near his home in a Nairobi estate. Weche also walks with a limp, a pale shadow of the no-nonsense Ingwe and Harambee Stars defender we knew.
Swaleh 'Oswayo' Ochieng' was one of Kenya's best leftbacks. Look at him now. After retiring from the defunct KPTC (Kenya Posts and Telecommunications Corporation), he is not the 'fashionista' we knew.
His cousin John 'Kasongo' Odie, has gone quiet and is leading his life without fanfare.
After leaving formal employment, Albert Okech, one of the best rightbacks for Luo Union, has tried to hustle hapa na pale, but life being what it is, has joined the list of neglected retired stars.
How can we forget Mahmoud Abbas, the man many called 'Kenya One.' He single-handedly gave Kenya the 1982 Cecafa trophy by saving penalties in an epic duel against the Cranes at Nakivubo Stadium .
Some veterans swallowed their pride and retreated to the village. They are not on the government or media radar. They are ailing quietly and regretting the time they worked hard for the country.
Maurice 'Sonyi' Ochieng' is diabetic and leads a pathetic life in his rural home in Seme, Kisumu County. Josephat 'Controller' Murila retired from KQ and remains anonymous on the streets of Nairobi.
 And then the other day, I saw somebody at Nyayo Stadium deny Austin Oduor a plastic chair claiming the seats are for VIPs.
Had it not been for the angry intervention of fans who know 'Makamu,' it was going to be the biggest embarrassment of the year.
The same facility is notorious for locking out former players who may want 'free entry' to watch a game they love.
There are those retired sportspeople who pursued education and came out with careers that are helping them to date.
These include Dr JJ Masiga, Dr William Obwaka, Dr Dan Shikanda, Dr Zacheus Omondi and Dr David Olima, all of whom are career medics. Others are Agonda Lukiyo, David Okello, Paul Owora and Owen Nandi who are pursuing different careers.
Some the former players are more visible on the streets of Nairobi, mostly begging for bus fare in the evenings. The last lot is the group that are aging, sickly and rural-based.
What's so hard for the Sports ministry to start a fund that could save our retired sportsmen and women?