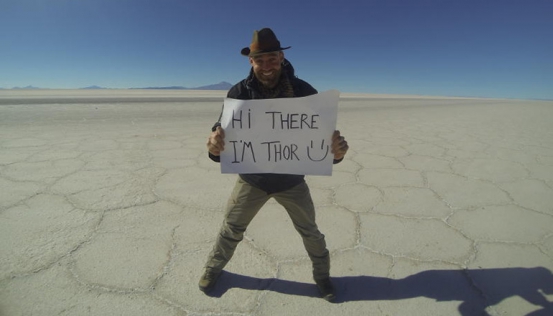 Imagine travelling to every country in the world on one long, unbroken journey without ever taking a flight. Thor doesn't have to imagine it. He is currently on such a journey and is in Kenya right now, the 121st stop on a trip he has named the 'Once Upon a Saga'.
Movie buffs and enthusiasts of Norse mythology are familiar with Thor as a superhero or a god who protected humanity and wielded a hammer that only he could lift, among other superhuman feats.
"Thor" is the Danish short form of his real name, Torbjørn C. Pedersen. "Torbjørn means 'stronger than a bear' ", he says.
Thor, who came into the country by bus from Uganda, is therefore living up to his name in many ways, because according to him, if he completes his mission, he will be the first person to do so.
One of the conditions of his journey is that he has to spend at least 24 hours in each country. No one who has been to so many countries without travelling on a plane can claim to have done the same.
He also travels on a budget of 20 dollars per day, which covers all his expenses including food, transport, visas and accommodation. This means that usually has to sleep in low-cost places and people's homes. Many times, he sleeps in slums or on the streets.
His unconventional journey has often been fraught with danger. "On the first of January this year, I got into a taxi racing towards the jungle of Congo," he says. "We ran into three uniformed men who were very drunk and armed and one was extremely vicious," he says.
The threat of being shot or dragged into the jungle was very real but after what was probably the longest one hour of his life, the men abruptly let them go.
He also contracted malaria while in Ghana and during his travels experienced migraines for the first time, migraines that were so severe that they brought him to his knees. "I once reached a point where I was in so much pain physically and mentally and was facing so many problems that I decided I was done with the project and was going back home," he says.
However, the good has outweighed the bad on his adventure and is what keeps him going. Kenya, in particular, will always hold a special place in his heart. This was where he decided that it was time to change status from single guy to fiancé and he did it in newsworthy style, because 'normal' is not a word that ever darkens his way of living.
His girlfriend, Le Gjerum, visited him here in Kenya. It was the 10th country she was visiting him in since he began his journey. As to how much time they spend apart, the proof is in the beard. "I usually let it grow in between her visits and shave when I am with her," he says. Sure enough, when we met him after his proposal, it was just beginning to grow, an unfamiliar look from the rugged beard he usually dons for his travels.
"This time, I had told her to carry camping clothes because we were going to trek and to expect it to be chilly. That was it. She had no idea what the details were," he says.
Le is a medical doctor who works in Denmark and up to that point had visited him nine times on his travels around the world. Kenya was the 10th country she was visiting him in. Ten appears to be a significant number for them, as he left his home in Denmark to begin his journey on October 10, 2013 at 10:10am.
She only learned that she was going to be climbing a mountain when she got there. It was an arduous, freezing journey up the mountain, but he describes her as a trooper, and when they made it to the summit on November 16, he got down on one knee at Lenana Peak and popped the question.
It was a risky move, considering their unusual long-distance relationship. They had almost split at one point because she was focused on her education and he was mired in the numerous challenges he was facing on his journey, making their communication superficial.
They managed to fix that, but he still wondered if she would say yes, considering he still has 82 countries to visit. He left home at 34 and he won't be back until he is 40.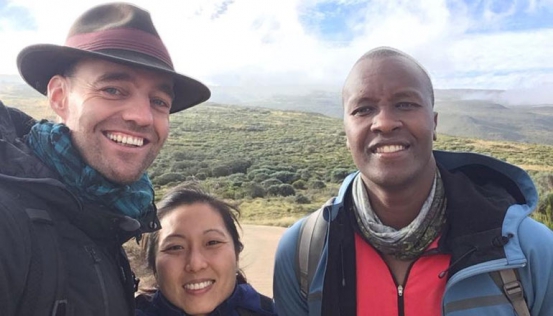 Luckily, through a cloud of happy tears, she said yes. "It would have been a long, cold walk down the mountain if she had said no," he says, laughing.
She went back to Denmark while he remained here in the country where he has been for more than a month, and for which he is full of praise.
"Kenyans are awake and well-informed. You can have a conversation with almost anyone here about what is going in the rest of the world because they follow what is going on internationally. Not many countries do that," he says.
Thor could hardly recognise the country from what it was ten years ago (there is that number again) when he visited. "This is a different Kenya from the country I visited in 2006. Development has skyrocketed and it has one of the most foremost economies in Africa," he says.
Thor has since found out that ugali is not so unique to Kenya, after all. "It exists across Africa under different names, and is just slightly different wherever you go," he says. Ugali with beef or fish is his favourite food and he loves travelling by boda boda. "Traffic is bonkers" he says, quick to add that the motorcycle taxis in Kampala are crazier than in Kenya.
Thor's main motivation when he began was adventure, but he is also travelling as an ambassador for the Danish Red Cross and the project is sponsored by Ross Offshore. He expects to be back home in 2019. He looks forward to "not living out of a bag", seeing his friends again and having Danish milk which he misses a lot. "But the very first thing I will do when I get back home is go to bed and sleep for a month!"
Thor's next stop is Ethiopia, where the saga continues.