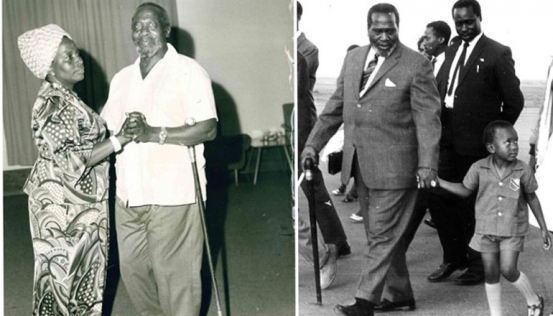 President Uhuru Kenyatta once told Kenyans that newspapers are for wrapping meat. He conveniently forgot that his father, President Kenyatta I, was the editor of the vernacular newspaper, Mugwithania (reconciler) and thus a certified meat wrapper in 1920s colonial Kenya.
Indeed, his old guy went to England to agitate for land rights and other freedoms - only that he wrote just two letters to the 'meat wrappers' at The Observer in the 15 years he was in the UK where money given to him by the Kikuyu Central Association ran out, biographer Jeremy Murray-Brown informs us in Kenyatta, published in 1973.
The house where he stayed on 75 Castle Road in 1929, where he often  broke down into tears whenever his landlady threatened him with eviction, is now a gazetted national monument in England. I is here where he toyed with the idea of becoming a musician!
Jomo had left first wife Grace Wahu and daughter Margaret Wambui Kenyatta, born at Pumwani Maternity Hospital, the previous year. The future president sent 'greetings and a bunch of bananas' to his young family. Margaret would later be the link between his father and the outside world through letters and prison visits when Jomo was jailed for nine years with hard labour at Lokitaung Prison after the infamous Kapenguria trial of 1953.
Written in Kikuyu, the censored letters were sneaked out by sympathetic guards. Politics was thus avoided. In them, Kenyatta reassured Margaret that,
"Your great love for me consoles my heart..." while requesting vitamin pills for his eczema and special items to improve his diet. Kenyatta never trusted a colonial government's doctor for fear of being murdered. He also wanted to know the latest news in Nairobi, since Margaret was working as a bookbinder for a nationalist Asian. Margaret wrote to daddy who replied in January 1956:
"My dear child, Wambui,
...When I got your letter, my heart was filled with joy to know that you are in good health...As you know, the last letter I sent was about the end of 1954. When I didn't get an answer, I was full of fear. I just put my hope in Almighty God, for He knows all."
Kenyatta's Gatundu farm had been grabbed by the colonial regime and allocated to an agricultural college. His family had split, his Hudson car a rust bucket in a shrubbery. Kenyatta wrote to Margaret, now in her 80s:
"My dear child,
...As you say, I know it's very hard for children to be separated with their parents and to be left desolate and orphaned to face the troubles of the world...I have no doubt all this has happened according to God's plan to teach his children to forsake the evil hatred, and to follow goodness according to the righteousness and faith in God. Greet all those at home, and the children and the womenfolk. If you write to Muigai (his son) give him my greetings. God willing we shall meet again."
Did you know that Margaret Kenyatta, Uhuru's half-sister, was turned into an inadvertent 'meat wrapper?'
In the Birth of a Nation, Gerry Loughran notes that after Kenyatta was jailed, no news or picture of Kenyatta had been seen in seven years. In 1960, the editors of the newly established Daily Nation gave Margaret a small camera with the assignment of taking and smuggling his photos back to the editors paparazzi style. Margaret Kenyatta's secret pictures of his dad in shorts and sandals taken when she went visiting was splashed on the front page of the Daily Nation on June 19, 1960 "and the story was a sensation the papers sold like hot cakes," writes Loughran who was an editor at the time.
Let us remember 'meat wrappers' this Mashujaa Day.