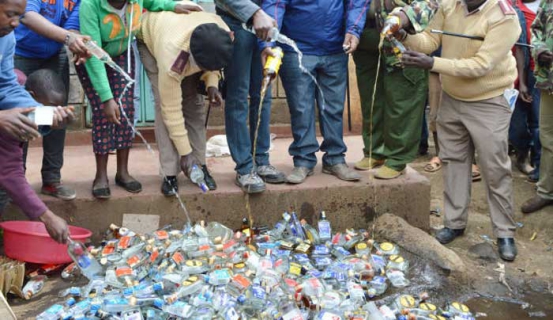 Last year, I was a victim of a serious motor cycle accident. A speeding motor bike 'appeared from nowhere' and in a fraction of a second, I was lying in a pool of blood. Luckily, I survived, with serious head injuries though.
That boda bodas are now the shortest and surest route to death for our young men, besides illicit brew and HIV/Aids is not news. But it is the long-term 'socio-economic' effects of that enterprise that the Jubilee administration and specifically Uhuru Kenyatta should be concerned with. Although the bikes may seem to provide jobs for unemployed youth, they have become a serious threat to safety, national security and ultimately, the future of a whole generation.
What is the government doing to empower and safeguard the future of this boda boda generation? It's laughable to see county bosses launch or disperse motorbikes to our youth, or worse, Devolution Cabinet Secretary Mwangi Kiunjuri, commissioning youth to the NYS 'donkey' jobs of clearing bushes and opening sewers, which is a temporary measure only equitable to Raila Odinga's moribund and shambolic Kazi kwa Vijana.
What we should be doing is equipping them with relevant skills which can guarantee them a livelihood well past their youth. Today, for instance, if you wanted to hire a plumber, you might have to book one and place yourself on a long waiting list. There are simply no plumbers because all the productive youths are doing a '30-minute flying a boda course.'
Yet, Kenya, being a developing country with a steadily rising population, has an urgent need of tens of thousands of youth equipped with practical skills, such as in building and construction, plant and machinery operation, carpentry and joinery, electrical and mechanical skills, air-conditioning and refrigeration, motor-vehicle repair and assembly, agribusiness and value addition, plumbing and so forth. Sadly, parents would rather buy their children boda bodas instead of taking them to vocational training centres and polytechnics, where they can learn and acquire vital skills that will make them self-reliant years after they exit the youth bracket.
As a result, we have a whole generation whose future hangs in the balance. In Kiambu County, for instance, if you are putting up a mansion, you are compelled to import skilled craftsmen from the Luhya community to do the roofing, or commission Luo 'tile specialists' for your floor. As a matter of fact, even finding a 'fine' barber, electrician, or a butchery attendant in Kiambu is not easy. Our youth have neglected these skills for bodas in the mistaken belief that the bikes fetch easy and quick money. The harsh reality, however, is that although boda boda was once an entrepreneurial opportunity, replication of this enterprise model has eroded the practicality of this business, not to mention that it is not the sort of business a man in his late 40s can engage in.
There is an urgent need to regulate the supply and use of motorcycles, not only emphasising on road use training, but also reflecting on the future of these boda boda operators. While there has been a few success stories, such as Kitengela Boda Boda Sacco that has invested in real estate, the dangers posed by this trade by far outweigh the social economic effects that boda bodas will herald for the future.
We in Kiambu County, which is hardest hit, are breeding a future 'zombie population' that shall be characterised by drunkards, lazy and unskilled dependents. Most of these operators aged between 16 and 25 years of age are worse off because they are victims of illicit brew and HIV/Aids. They have a few coins to buy booze and sex in dingy outlets run by their own selfish and capitalistic kin.
It therefore behooves both the national and county governments to invest heavily in expansion of polytechnics and vocational training centres and make these 'courses' affordable for the youth of this country. Further, the government should attract and facilitate investment in micro, small and medium enterprises, commercial infrastructure, such as business or industrial parks, stalls, markets or business incubators that will be beneficial to youth, besides skills enhancement to facilitate absorption and sustainability of a youth empowerment programme.
The ministry of devolution can do better than engaging productive youth in opening sewers and clearing bushes in villages. It should instead empower them with relevant skills. The CS for education, Fred Matiang'i, should further ban high school BOMs (Boards of Management) from presenting motorcycles as 'presents' and 'incentives' to best performers during prize-giving days and instead give laptops or other learning aids.
Going forward, President Uhuru's strategy should be to have our youth ride these motorcycles to 'their' jobs, instead of ferrying them to their early graves or a grim future that the boda boda generation is staring in the eyes. Failure to provide appropriate opportunities for this large segment of the population now will come with enormous economic, political, cultural and social consequences in the near future.
- The writer is a blogger, poet and political commentator
Twitter: @MwangiMuthiora