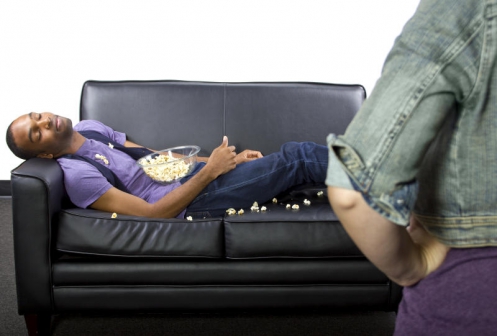 By 30, a man should be out of his parent's wings and get busy starting his own family.
But there are dudes who celebrated their 35th birthday in their mother's sitting room and when not forcefully evicted might be demanding meals, laundry and pocket money five years later.

The TV advert dubbed 'Utahama Lini?' doesn't shake this breed off their mother's petticoat as their hair turn into salt and pepper without as much as having paid their own rent.
And sticking at home when one is 35 staggering to 40 is no respecter of class. You can be in your mother's house at that age in rural Igamba Ng'ombe or in Karen.
In parts of Nairobi's Jericho estate and its environs including Buru Buru estate, it's not uncommon for some men to eat, sleep and depend on their mum when they should be worrying about high school fees like their age mates.
Reasons vary from the irresponsible who can hardly budget, do household chores while others are too attached to childhood friends.
Eddie Mbugua is a 38-year-old father of two. He made his name as an actor and more famously as a contestant in Apprentice Africa TV reality show, and argues that there are circumstances that forces a man to move back home to his mother, like relocating back to the country.

"Bureaucracy such as law that doesn't favour single dad's raising children. However despite special circumstances, one is not mandated to move from home unless they wish to or have reason to, the prerogative is their own," explains Eddie who lived with his mother after being given the custody of his son in 2013. 

Eddie also cites culture as another reason why a man should still live with his parents.

"Some traditions dictate a wife moves to her husband's mother's house which in turn 'tames' the wife. So it is a person's preference not law to move when they deem it necessary and if it's not an inconvenience to their parent," he adds.
Some men stick home to avoid baby mama drama.
They know their mothers can save them from anything. Even baby mamas. And it works. Have you ever seen a woman force herself into her mother in-laws house? The worst they can do is just leave baby at the door step for the man and his mother to raise.
Take Alex Ndirangu, 54.
The former Nairobi City County employee still lives with his mother at Santack Estate along Ngong Road, Nairobi. All his children, who now reside in Australia were brought up in that house. He is still living there with his mother and granddaughter.
"I had children with different women when I was young and my mother is the only person who could take care of them then. I have lived here all my life but I'm moving out to live with my girlfriend because my mother did something unforgivable to my grandchild," Ndirangu who took her mother to court told The Nairobian.
While circumstances can force a man to live with their parents beyond societal age limits, there are others who stay put because of parents who should be forcing them to vacate.

Alice, a college student reveals that, "It really pains me that my elder sisters were thrown out of home immediately after college. Mother told them to go out and get jobs or get married. My 36- year-old- brother, on the other hand, is still at home fighting over left overs with me," Alice a last born in a family of six said, adding that the brother works as a human resource assistant at a local brewery and drives a sleek car, but parents encourage him to stick around.
Biologically, only sons also find it hard leaving home like Andrew Mwendwa, a 45-year-old city mechanic who still lives in his mother's house in Jericho because he is the only child.

"All my life I have lived with my mother in our one bedroom house. I sleep in the living room. I tried to move out but I missed her food. This arrangement helps me save a lot.  Actually, and I don't feel guilty or ashamed," Andrew a father of one told The Nairobian.

When his six-year-old daughter visits him, she shares a bed with his mother. He, however, hopes that his mother will be moving to their ushago in Embu very soon so that he can enjoy the freedom of living alone.
Independent city women who are financially stable have also been to blame for tolerating men who hole up with their mothers.
Nancy Njeri who's in communications consultancy told The Nairobian that she had a boyfriend from Buruburu who couldn't move out of home since he had her spare key and could live in his mother's SQ or her pad.
Holing up with parents has financial benefits including rent-free living when one loses his job.
Eunice Muange a house wife complained about his eldest son who lost his job at 26 and 14 years later, he still lives at home after alcohol got the better of him.
"I also think the fact that he knew he had a fall back plan made him reluctant to even move out. In the three years, he worked we actually never saw a shilling from his salary.  He kept asking for bus fare from us," recalls Eunice whose last attempt to get him out of the house got him suicidal. "He asked me why I gave birth to him if I was going to kick him about. Just picture such a statement from a 30-year-old." 
Anastasia Mulinge, 79, is a great-grandmother of 12 from Nairobi's Kaloleni estate and says a parent can bring the children, but later regret how they turn out especially when "They don't want to work and rely on the little we have. You can imagine our 40-year old son and daughters insist on sharing these houses (in Kaloleni) with  their children who are now becoming mothers and fathers," she laments, sentiments which are shared by Mary Wangui of Nairobi's Jerusalem estate.
 "We brought them (children) up humbly with the little we had, but though life has become harder, our generation has grown with a roof over their head they don't mind how it is paid for and believe they must inherit them," says Wangui, adding "they don't want to work for their fortune and some despite with paying jobs don't want to rent. They have family and children but insist on living with their parents, even if it is in those mabati shacks as far as they will not pay any rent."
Edwin Mwandime a 32 year old banker who still lives in his parents' house in Langata, is not moving out any soon. "I have lived here all my life and most of my age mates are still here. Why should I be the first one to move? I don't want to live in another lonely hood."