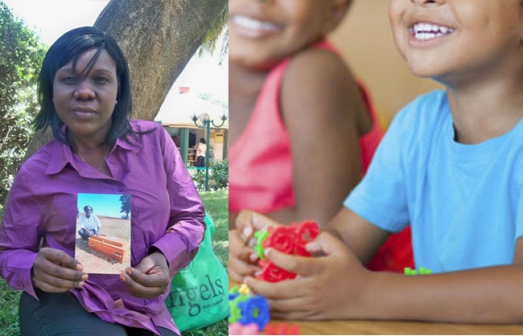 Betty Akinyi Odongo's baby died at a daycare centre. At the time that black Monday, January 27, 2015, Betty had no options but to leave the five month old baby as her house help had left without notice.
The elderly woman who ran the daycare looked like an experienced mother. Betty had no reason to worry. In any case, the daycare was a few metres away from where she lived in Dandora at the time, and she would use her lunch break to rush there for breastfeeding.
"I had known about the place less than a week since my house help left, the owner told me they were taking care of babies aged between three to six months old for Sh80 per day", shares Betty, a single mother of four who worked at the Makadara Law Courts along Jogoo Road, Nairobi.
"With few options I had to enroll my two kids, a two year old and the deceased then five months, I was a bit worried of the room since it was constructed of iron sheets and some tiny mattresses on the floor," explains Betty who woke up at 3am, prepared the kids and left them at the daycare with enough food and diapers for the day.
Betty picked her kids who were among the 10 babies at the daycare in the evening.
Betty says that her baby boy had adapted to life for the two weeks he was left there. But on the day he died Betty had an impromptu meeting with her supervisor that extended beyond the time but she still rushed to check on the babay only to find her baby in the care of a young girl who had been left by the elderly owner.
Betty's son was in the same position she had left him in the morning. "I was shocked as I rushed to wake him up in vain; worried I jokingly told the lady my baby was no more as I rushed him to nearby hospital".
Doctors said the baby had died hours earlier.
"I suspect he died around 11am because he was cold by the time I arrived, my day was spoilt and left helpless as I picked his body and took it home to look for money to take it to City mortuary later in the evening" says Betty recalling that he appeared like not a single drop of blood was left in his body. "It appeared as if it was sucked out of him".
The daycare owner vanished once police got involved.
"I will never forget that day, even the pictures taken during his burial are constant reminder of the day and even my other kids have never stopped asking me about their brother. I just left fate take its course" said Betty who now works at the city centre.
Catherine Miunde another parent who spoke to The Nairobian said her six month old baby was injured at daycare centre in Nairobi's Umoja estate where "I went to pick her one evening only to find her with injury on the forehead," explains Catherine.
"Upon asking the owner she claimed that the bay fell down in attempt to walk".
But on seeking explanations an employee confessed that Catherine's baby "was stepped on her forehead while fighting for food but the owner paid for medical bills," says Catherine adding that she then decided to employ a house help instead of risking her child's life in a daycare.