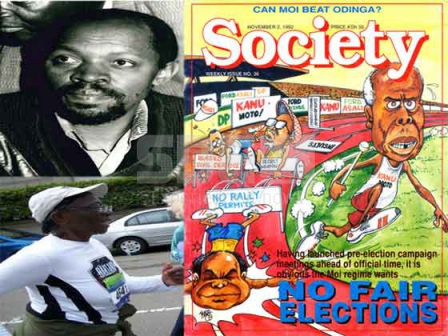 When the history of media liberation in Kenya is finally written, a chapter will be reserved for the Nyamoras: Pius and Joyce Nyamora. The couple was the fearless faces behind, Society, a no-holds-barred weekly political news magazine that took the powers that be heads on during the dark single party days. The other fearless publications were Finance and Nairobi Law Monthly.
Their home was under the watch of the Special Branch 24/7 and undercover cops engaged Pius in bar banter aimed at provoking him to say anything seditious!
Fearing State persecution after escaping a fire bomb at their offices, the Nyamoras fled, with the help of US Ambassador, the late Smith Hempstone, and became American citizens. They left a house in Runda and had to live in near-slum conditions without jobs in America.
Pius Nyamora: Owned Nyamora Communications that published Society magazine, which he founded in 1988 after 11 years as a parliamentary reporter with the Daily Nation, where his star rose under Editor-in-Chief, the late Joe Rodriguez. The alumnus of Johns Hopkins University (MA, International Public Policy) and University of South Florida (MA, Communications) is immortalised for his crusading journalism that played a pivotal role in ending single party rule in the six years Society existed before a cover story titled The Cost of Killing Ouko saw 30,000 copies seized and the printing press dismantled.
But it was carrying Paul Kelemba's caricature of the president on the cover of Society, a first for any publication since independence, that other newspapers made political cartoons part of editorial furniture. No threats and arrests deterred the 1985 Kenya Press Club Columnist of the Year and the 1984 Reporter of the Year in dismantling self-censorship that stifled mainstream media.
Society nurtured the talents of Mwenda Njoka, Paul Kelemba, Ruth Nyamu, Mukalo Kwayera, Mburu Mucoki, Blamuel Njururi, Macharia Mugo, Muga Kolale, Mwangi Chege and Laban Gitau.
Pius returned to Kenya in 2013 after two decades.
Loyce Nyamora: Was a director at Nyamora Communications, but had to sell in a kiosk in America to make ends meet. The trained accountant and real estate broker later worked for US Agency for International Development (USAID), Patton Boggs law firm, and is now a Marketing and Office Services Manager at Endurance, a sports and psychology centre in California.
In 2015, Loyce and Pius sued the State for infringement on their freedom, loss of business and unlawful confinement. The couple have two children: Dr Cory Nyamora, a clinical psychologist and a certified triathlon coach, and Peter Nyamora, an HR expert.