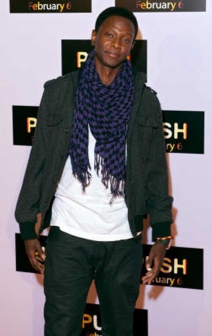 Edi Gathegi seems to be making quite a name for himself in Hollywood.
The upcoming star will be playing a gangster named Marques in John Travolta's new mob movie. The film will make its international debut on November 20.
The film, titled, Criminal Activities, revolves around four high school friends who reunite at the funeral of a former classmate. One suggests a "sure bet" investment, which he claims is guaranteed to make them rich.
When the deal goes sour, however, their money disappears with it. That turns out to be very bad news for one of the guys, who happened to have borrowed his original investment stake from Eddie, a mobster played by John Travolta.
Hence, the four friends get roped into the mob world and face the prospect of having to kill a crime boss, Marques, to get Eddie off their backs. However, things go wrong as the four friends are not able to contain Edi Gathegi's character.
Edi is also in the new film, Bleeding Heart, together with Hollywood stars Jessica, Beil, Zosia Mamet and Joe Anderson. The film premiered at the Tribeca Film Festival on April 16, 2015. Further, he is in post-production of the film Transformation Awaits which will be out next year.
Edi also seems to be building an impressive television résumé as he was the main star in the TNT Sci-Fi series Proof, where he played Zed, a Sudanese hospital intern tasked with finding proof of life after death. The series wrapped up in August. In addition, Edi is currently playing the villainous role of Mr Solomon in Season 3 of the popular television series Blacklist.
Mr Solomon is a ruthless killer who never fails at his job, and is hired to take out the lead character, Mr Reddington, played by Hollywood legend James Spader.