The Venice Film Festival is one of the most prestigious and glamorous film festivals in the world, it is the 'it' event for any serious filmmaker.
In September this year, local social filmmaker Sam Oluoko was privileged to attend this year's event to keep up with the Joneses of the film world.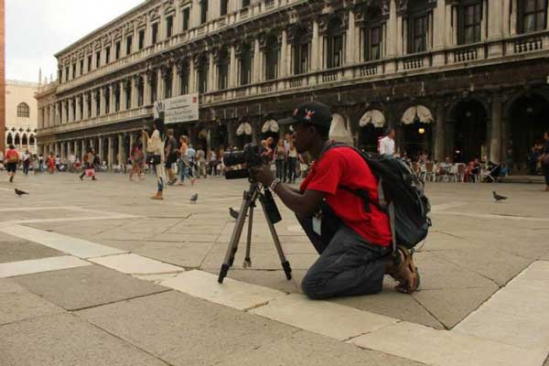 He had the chance to hobnob with legendary actor and filmaker Al Pacino, screen writer and director Abel Ferrara, and Polish director Krzyssztof Zanussi.
The opportunity was a result of a five-year partnership between Great Potential African Youths (G-PAY) and Cinemadamare Africa (CDM-A), also known as Filamu Kikwetu.
Oluoko is the project coordinator at (G-PAY) and the partnership is aimed at offering chances to selected young, passionate filmmakers from Kenya to attend the annual Venice International Film Festival.
Further, it gives participants the opportunity to not only make films, but also offer them a platform to network, and experience new ways of making films.
The programme is the largest gathering of young filmmakers and covers 10 different cities in Italy.
"As a participant, you are required to pay for the flight ticket, then everything else is catered for. This year, I went to Italy for 75 days with seven young filmmakers from the slums. We were able to shoot 10 short films in all the 10 Italian cities we travelled to, plus we got training in filmmaking," explains Oluoko, who originally studied electrical engineering in line with the career path his father had mapped out for him.
As soon as he graduated and got his first job, he began saving to follow his heart's desire to be a filmmaker. "I joined the Kenya Institute of Mass Communication where I studied filmmaking. Ever since I was young, I have always had the urge to tell stories through the lens. I grew up in the Eastland's part of Nairobi. There was a lot happening around - both good and bad - which provided very rich fodder for great Kenyan stories. However, no one was telling those stories and that bothered me," says Oluoko who shot his first film with a simple handycam.
"I had just enrolled in film school and was inspired to make a film. I did not have money, but I was motivated, I shot a short film with a budget Sh250. It was called Who is Smarter, and I worked with a group of youths from Dandora slum who volunteered to act in the film. It was later screened in the local social hall to a large gathering of locals. This experience resulted in the birth of G-PAY, an acting group from Dandora," says the man who is part of the technical crew of Mother-in-Law and Tahidi High when he's not shooting films.
After making his first film, Oluoko claims he had an Aha! moment that changed his life forever.
"I knew I was on the right path, doing what I enjoyed most - telling stories visually while also giving back to the community. So, in my final year, I decided to register my production company, Film Production Technics. It is not the usual production company as most of my efforts are channelled towards doing stories with the youth from the slums - to find plus nurture new talent, and create opportunities for them to stand out and be seen. My first feature film was The Brief Case. It emerged the best feature film overall in the student category, and scooped the Kalasha Awards in 2011," Oluoko adds.
The award-winning film was made at the Dandora dumpsite, and most of the cast was from youth talent groups from G-PAY and Jungle Africa, both from Dandora and Korogocho respectively.
So far, Oluoko has made over 30 short films, mostly on a shoestring budget and often without pay.
"Another challenge is the fact that most TV stations are not willing to give us space to showcase our work, and if they do, they want to do it for free. I want the young people I work with to have a platform to showcase their talents, but tell me, is it fair for them not to get paid? It is not an easy business. You must be very passionate to stick it out," he adds.