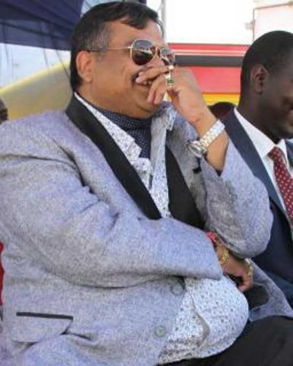 Gold-ring-wearing Dr Swarup Mishra, born in Odiasha, Eastern India, is not only fluent in Kalenjin, but also calls Uasin Gishu, specifically Eldoret town, home.
"I must say that Eldoret has the best weather in the world. We came to this town in 1997. My wife landed a job at Eldoret Hospital as a consultant in obstetrics and gynaecology. I also got a job at Moi University's School of Medicine as a lecturer in the reproductive department. My job sometimes demanded that I travel to Keiyo and Kabarnet to conduct operations and surgical procedures in obstetrics and gynaecology," says Mishra.
Mishra says that his family fell in love with the pleasant weather and town associated with athletics superstars and has never looked back since.
"We opted to settle in this part of the world quietly. We started to lease and subsequently bought the then Pacifica Hospital that was owned by Robert Neysweta in 2005. We then re-named it Mediheal Hospital, and that's how I changed from academics to business," he says.
He seems to have slipped into the community effortlessly and in no time, former Baringo Kanu chairman, the late Joel Bultut, nick-named him 'Kiprop,' which means 'one born during the rainy season' because of his philanthropic nature.
"I was honoured during Madaraka Day in 1998 by the County Council by the late mzee Joel Bultut, who gave me the name Kiprop. Hussein Dado, then District Commissioner in Baringo (now Governor Tana River) was present. That made me to strongly believe in the Kalenjin community. I thank God that the community has accepted me as one of theirs. They have taught me the philosophy of giving and forgiving," he adds.
As a rule, academics thrive high up there; teaching, researching and writing. But 'Kiprop' eased from the lecture room into the world of business, establishing an empire in medicare that spans across Eastern Africa. He owns Mediheal Group of Hospitals in Eldoret, Nakuru, Nairobi, Kigali (Rwanda), Addis Ababa, (Ethiopia), Goma (Democratic Republic of Congo) and will soon commission one in Burundi.
"We want Kenya to become a destination for medical tourism and travel for Eastern Africa's half-billion population within half a decade from now," he says.
Mishra holds a postgraduate degree in obstetrics and gynaecology from Rajsthan University in Northern India, where he first met his wife Dr Pallavi Ayenger as classmates. The two then proceeded to Dublin, Ireland, where he studied Registrarship before heading to Germany for super specialty in gynaecological endoscopy.
"From there, we made a brief visit home before moving to Kenya. We realised that we could do a lot in Kenya in the field of health. We were highly impressed and moved by the hospitality and beautiful landscape of the country," he says.
But Kiprop, the restless boy from Odiasha, India, now wants to become a politician. He retired six months ago from academia to run for Member of Parliament for Keses, a seat currently held by James Bett.
"My testimony in life is that a stranger will help you more than your brother or your relative. I quit academia because I want a forum from where I will get to serve the public better. I hope and intend to venture into politics to assist the community to develop in the sectors of agriculture, health and education," says Dr Mishra.
Inside his office at the Mediheal Hospital in Eldoret, a number of beaded traditional gourds tell of a man who has embraced a new culture. The gourds, he says, were presented to him in various functions and ceremonies.
Asked why a man of his means wants to become an MP and not Senator or Governor, he says: " The seat of a senator and governor are meant for people who are more exposed and learned about the community. I believe, as a beginner, in serving my people properly, adequately and effectively, an MP is the ideal position."
As far as medicare in Kenyan public hospitals is concerned, he says there is need to invest more in facilities and high-tech medical equipment and involve a strong committee of experts from the health sector, administration, finance and health education in the management.