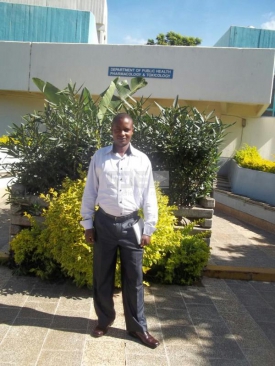 You were imprisoned in 2006. What  happened?
I was convicted in Nakuru for stealing Sh100,000 and phones from a shop in the town. The owners tracked me using a phone I had stolen and I was arrested and  imprisoned for seven years in Nakuru prison. I was 24 then.
How did you end up in crime?
I grew up in a family which never cared so much about education. I grew up with my grandmother who never monitored my life. I was in and out of school for lack of school fees. I approached relatives for help but in vain. Born of a single mother who had to toil in people's farms for a living, I had no much hope. I kept changing schools and did my KCSE in 2006. With nothing to do, I joined a gang in Nakuru which initiated me into crime.
How was life in Nakuru prison?
Horrible! It was hell on earth! The senior and hardcore prisoners bullied me, beat me up, and even attempted to sodomise me. I came face to face with 'starved' homosexuals. Life had come to an end for me. I regretted stealing and would cry the whole day. The other prisoners would laugh at me and beat me up, ordering me to shut up.
How did you cope?
Each day was a dark day until I met a senior prisoner who advised me to apply for a transfer to Naivasha Maximum Prison on educational grounds. He advised me to apply for technical courses so that the transfer would be successful. Luckily, I qualified for the transfer. If miracles were happening in my life, that was one. And that minute, in the welfare officer's office, I decided to give my life to Jesus Christ. He had saved me from the hell that was Nakuru Prison. I dedicated myself in prayer and joined spiritual teams and turned into a man of prayer, a man of God. Life got a meaning for me. I got hope.
Did you enroll for classes in Naivasha?
Oh yes, but not technical courses. I joined as a high school student in 2007. There were no qualified teachers, no stationery, and even facilities. But with my little knowledge, I managed to fight on and in 2009, I scored an A-minus. The media was all over me, bombarding with interviews on how I managed to pass, when students in national schools could not make it. Paul Mwendwa, the welfare officer, facilitated my release on April 1, 2009.
What happened next?
After my release, an NGO helped me and I applied for admission for a veterinary medicine degree. I will be graduating this July as a veterinary doctor. I was hopeful. A new dawn had come.
How did your mother react upon your passing and release?
I went home six months after my release. The reception was wonderful. Everyone was so happy and encouraged me to keep on, even though some of them had branded me a criminal and good-for-nothing man.
How was life at the university?
Fantastic! A few of my colleagues who knew my story got inspired. Even my lecturers cannot believe that I was once a criminal. I have written three books - Breakthrough Behind Bars, Your Letter from Prison and You Are Not Useless. The books have details of my life and are inspirational.
You then got married...
Yes. I wedded the lovely Beatrice Mabuka in 2013 and we have two kids, Baraka and Bahati. I am now a motivational speaker, a veterinary doctor and an author. Wherever I go, I intend to spread the word that could change a life for better.