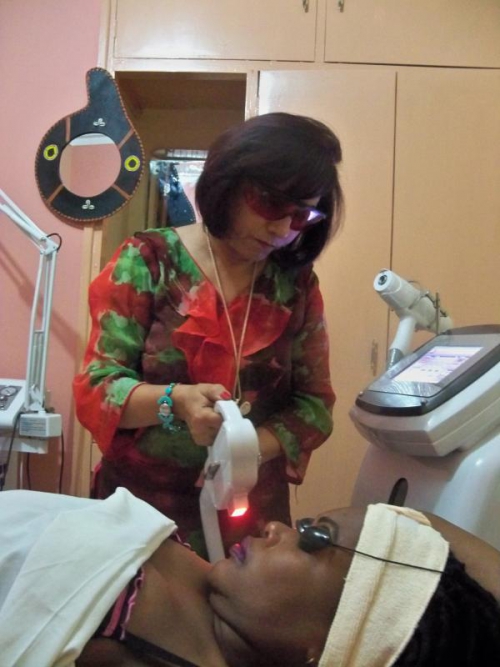 There's a new machine in town that clears unwanted hair. Beautician Raffat Mohammed and owner of New Look Dream Line Salon situated along Mpaka Road in Westlands, says she imported the laser machine from Italy. She has been in business for less than two months and the response is great.
She told The Nairobian that despite her 10-year experience in the beauty industry, she had not realised how problematic unwanted hair was.
"Due to hormonal changes after birth, some women grow beards and they don't know how to deal with it," Mohammed said.
The approximately one-metre tall laser machine has come in handy, not only for women with hirsutism (condition of unwanted hair growth) but also for those who wish to permanently shave their beards, armpits, chest, legs, backs and 'fundamendos.'
No shaving men's pubes
Mohammed revealed that, "The machine can shave using laser light and radio frequency energy to permanently remove hair. I can only shave women's pubes if they want; not men's."
The laser, Mohammed explained, directly acts on hair follicles and is ideal for most hair types, including thin, light, thick, golden and white hair. It is also friendly to all skin types."
Permanent pubic hair removal costs about Sh100,000 over 10 to15 sessions.
Men who want to stop visiting barbershops for good, will spend up to Sh4,500 for their heads and chins, while shaving of armpits, the chest and private parts costs between Sh8,000 and Sh10,000 depending on the state of the 'bush'. This is also done in 10 to 15 sessions, depending on how fast the hair roots are killed.
Training
Mohammed explained that, "For men who don't want hairy chests, they have to consistently check in until it is all smooth. The charge is Sh10,000 and all sessions must be in intervals of two to three weeks depending on the response."
At the moment, Mohammed who invested slightly over Sh3 million in the laser machine, is the only one skilled to operate the machine.
"I trained in Dubai some time last year before purchasing the machine," she said.
Several sessions
Client are made to relax in a massage bed, as their chins or armpits are first shaved with a razor and cream applied on the target. It is only then that the laser machine is used. She said the challenging bit at the moment is that most clients don't do the required 10 to15 sessions.
Other services at the salon include massage, permanent tattoo removal, eyebrow tattoo drawing and stretch mark removal, among others.
Related Topics