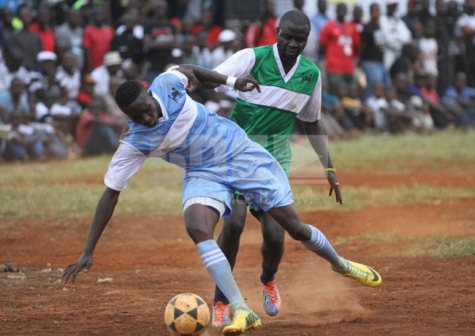 The youth in my home village once requested me to donate a trophy for a simple village Christmas tournament.
Being one who hardly suffers fools easily, I asked how they identified me as a potential sponsor.
Their reasoning was simple: I resembled my grandfather whose generosity was known beyond our village borders! And they strongly believed that "a fruit does not fall far from the tree." Let me report that the trophy I bought was named after me.
The reason I agreed was because their budget was really more like pocket change. Only Sh1,500 was needed to buy the trophy for the winning team.
To them, the small village soccer match was a kick-about that just needed something symbolic to play for.
The sports shop in Kisumu had cheap Chinese made trophies and I ended up buying more than what they budgeted for. Besides, the winning team and the other finalists, there were also trophies for the Best Player, Top Scorer, Best goalkeeper and Best Defender.
The match officials received medals, besides their allowances of Sh100 per match. My total budget for the five-day tournament was just Sh10,000!
Now in its seventh year with 12 teams drawn from neighbouring villages participating, the budget has ballooned to a modest Sh50,000 and we now have a committee to coordinate activities.
I marvel when I look back at how the simple request by the two young men has grown so much so that I receive many telephone requests from young men requesting to participate.
The two-week tournament has become a small market for village women and the youth who now look forward to selling foodstuff like soda, chapatis, mineral water, ice cubes, mandazi, tea, nyoyo, boiled maize, sugarcane and airtime.
I was indifferent to the 2013 edition, until my mother reminded me how stopping the tournament would spoil very many people's Christmas holiday and that a 'representative ' of the women who sold foodstuff during the tournament had asked her to persuade me not to pull out. She whispered that one woman can sell 500 chapatis for Sh10, taking home Sh5,000. She went further and clarified that since the chapatis are the thin type, most customers (read footballers) eat them with beans and consume more than one, and the woman sold more than just chapatis.
The teams are grouped into different pools and the tournament normally kicks off around the 10th of December, with the finals taking place on Christmas Eve. Players from the winning team share Sh10,000 and to avoid any conflicts, the prize money is distributed to them via M-Pesa.
Youth who hail from the village find it attractive to be in shagz in December.
They actually come to represent their 'clan teams' to avoid defeat against their sometimes perceived arch rivals. Interestingly, village elders have found a common ground and they sometimes reminisce how they used to participate in such local tournaments during the colonial days.
Ironically, all the old men I come across in the village claim to have been great footballers during their heyday. The presence of elders means hiring a tent for them. Simple arithmetic shows that the chapo woman can make Sh50,000 during the two week bonanza.
The long and short of it is that a small unknown football tournament - minus speeches - can bring people together and create a market where villagers make money, besides changing the way people in the village spend their Christmas.
Related Topics