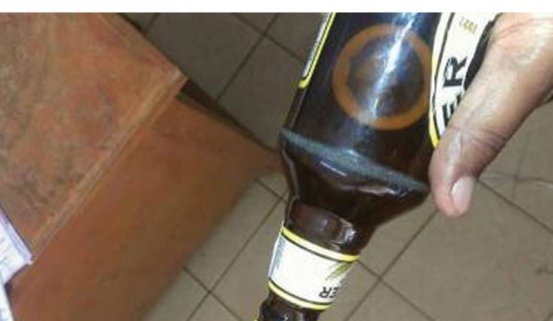 Desperate times call for desperate measures. In the current hard economic times, it seems some Kenyans will stop at nothing to make an extra coin.
Take, for instance, an Eldoret-based lawyer who is alleged to have stuffed a bottle of Tusker with a used condom and sued the manufacturer, demanding compensation.
Richard Maina claimed he fell ill, vomitted and experienced psychological torture and thus wanted the brewer to compensate him.
Tables have since turned on Maina, with the East African Breweries Limited (EABL) providing proof that he actually opened the beer and introduced in it the impurity, in a bid to defame the giant brewer for financial gains.
Poking holes in the lawyer's wild allegations, EABL argued that their bottling system is in tip-top condition and can't let through a huge impurity like a condom without detection.
"EABL is not just ISO-certified. The company was recently re-certified to international standards for quality and food safety. More so, their ingredients sourcing procedures are so strict that such reckless mistakes would never occur under whatever circumstances," argued the company's lawyer in court papers, demanding damages for defaming the respected regional giant brewer.
He went on to expose Maina as a fraud, saying that condoms are not found in the company's production line, thus there is no way a company like EABL, which is also certified to local regulatory standards and accredited by the Kenyan bureau of standards, would make such a reckless mistake.
After failing to present the bottle for laboratory testing, which the lawyer claimed would have proved that the beer was opened and stuffed with the impurity, the brewer dismissed the claims as false and a desperate ploy to defraud it.
Accusing him of being an ambulance chaser, EABL's lawyer demanded that Maina proves he personally bought the beer.
What's more, Maina further squeezed himself between the hammer and the anvil after he failed to provide proof that he fell ill and experienced trauma and mental anguish or even sought medical attention after consuming the allegedly contaminated beer.
The embattled lawyer now find himself in more trouble after the Law Society of Kenya (LSK) instituted investigations into his character. If found guilty of gross misconduct by the LSK, he will be further punished by being deregistered and stopped from practising.