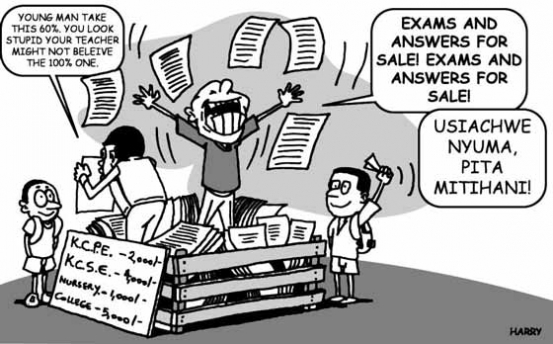 The season of national exams leakage is upon us, again. Like the El Niño storms, it is massive. There are rumours that the exam papers are being sold in market stalls, alongside tomatoes. Apparently, marking schemes are thrown in as a discount. Would you believe that?
KNEC does not seem to have a ready bank of emergency papers which are usually administered in substitution of leaked ones. Candidates are therefore laughing all the way to the examination rooms and hopefully to the best of grades.
Parents have joined the carnival and are sneaking in smart phones to their kids in schools. All one needs is a phone with a WhatsApp and a few shillings to access the papers. The massive scale of leakage has rattled the national leadership. The eyes of the chair of the parliamentary education committee have miraculously popped open to discover that the Kenyans they govern are a dishonest lot. She has traced the leakage to police armouries where the sealed exam papers are stored, alongside guns, for onward transmission to exam centres.
The police spokesperson, keen on maintaining the integrity of the newly vetted force, has demanded evidence. Hon Kisoi Munyao has a motion which seeks to send KNEC officials home. KNEC on its part has stuck to the tired refrain: the leaked papers are fake anyway and that the leakage isn't as widespread as the media would have Kenyans believe. We, however, are being too hard on KNEC and the candidates.
Cheating is life
Look, cheating, an aspect of corruption is what makes Kenya throb and every Kenyan is doing it. This was dramatically demonstrated by Julius Njogu who sneaked into the leading pack of athletes during the Nairobi International Marathon last weekend. He would have probably smiled to the bank had he remembered to wear running shoes instead of the training ones.
The person next to you is either corrupt, has a corrupt relative or knows someone who is! In our colleges, we hear of 'sexually transmitted degrees.' Many post-graduate students are conning their way to masters and post-graduate certificates. They sidestep the rigours of academic research by paying unemployed graduates to write papers for them. Our universities continue to give them the power to cheat and do all that appertains to cheating.
The corrupt are our national heroes. During the Goldenberg scandal hearings, scores of school children sought autographs from one of the key architects of the mega economic rip-off. Fellows who have confessed to buying and coaching witnesses to fix their political enemies at the ICC are being treated as heroes too. For their service to the nation, they have aides paid by the Kenyan taxpayer.
When Pastor Kanyari emerges and cons miracle-hungry Kenyans millions of shillings, we admire his industry and creativity. Many of our women would fall over themselves for a ride in his top-of-the-range vehicles.
According to Dr Willy Mutunga, the Chief Justice, corruption has stolen its way back to the hearts and robes of our judges. Every Kenyan knows that the traffic police department is the most corrupt. Some cops would even sell their mothers to secure a slot in that department!
Early induction
Last week, a parliamentary committee confirmed that most police stations use fake cash bail books. Is it any wonder that the police vetting exercise is unearthing no 'Bonyeza Ushinde' cop millionaires?
We routinely use pirated text books in our classrooms across the country. There are printing presses on Nairobi's Kirinyaga Road that are forever busy. Please give KNEC and our candidates a break. Which society would they fit in if they were not inducted into the art of cheating early enough? After all, aren't we a nation of hustlers? Since the concerned authorities, some of whom cheated their way into leadership positions, have decided to bury their heads in the sand, we better brace ourselves, for these exam cheats will be the leaders of tomorrow and will steal public funds.
Email: [email protected]