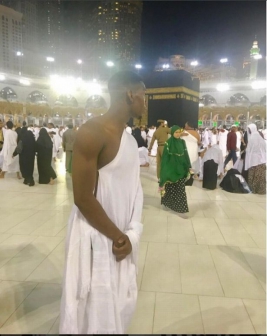 Paul Pogba has shunned usual footballers post-season hotspots of Las Vegas or Dubai to make a pilgrimage to Mecca.
Manchester United superstar Pogba celebrated his side's Europa League victory by taking the trip to Saudi Arabia.
Pogba, who is a Muslim, decided to attend Umrah - which is a non-mandatory pilgrimage for people who follow Islam.
The midfielder, dressed in white, is expected to adhere to the religious festival of Ramadan - which will see him fast until June 24.
He has previously visited Mecca to perform the Hajj - a journey every adult Muslim is expected to make in their lifetime.
Pogba posted a clip of him at the holy site and images with the captions "most beautiful thing I've seen in my life" and "happy Ramadan".
Before travelling he put on his Instagram a video of him leaving his Manchester apartment with a suitcase with the message: "On my way to go say thank you for this season. See you soon Manchester! En route to my prayers."
This time last year Pogba was ready to complete a world record £90m move from Juventus to United.
The Frenchman played 51 times to help the Red Devils lift the Communited Shield, EFL Cup and Europa League - which allowed them to qualify for next season's Champions League.
Pogba still has a couple of weeks left before he starts pre-season - which will see him travel to Norway and the US with his United teammates.
Related Topics