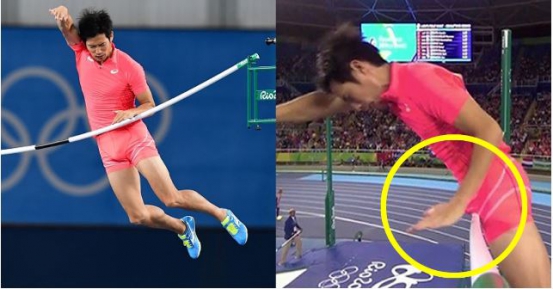 As his Olympic dream died, Hiroki Ogita must have been the only man in history wishing his manhood was smaller.
The relationship between a man and his manhood is often a complicated one. Most of the time, they both want the same thing - and all is well. Sometimes, they have different priorities - and life becomes a bit tricky. But we're pretty sure no man has ever fallen out with his crown jewels to such an extent… that it has knocked him out of the Olympics Games.
Incredibly, that is exactly what you can see happening to Japanese pole vaulter Hiroki Ogita. Trying to clear 5.30m in qualifying for the Rio 2016 final, Ogita goes up… But at the last second, the vault fails - leaving Ogita in 21st place and out of the competition.
No doubt the Japanese athlete was gutted by the turn of events that saw his Olympic dream crushed. But we have some news that might cheer him up. News and footage of Ogita's unfortunate moment has gone around the globe. People everywhere are now aware that his (now world-famous) package is sizeable enough to knock that big bar off its ledge.
Related Topics