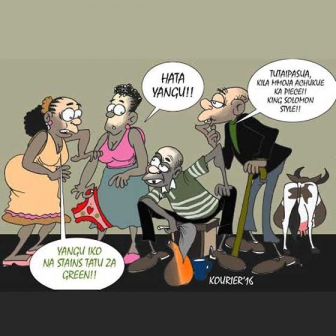 Elders at a village in Chepalungu, Bomet County had their wisdom put to test after a case pitting two women laying claims on an underwear was brought before them. Together with other village mates, the two women had gone to do laundry and shower at a nearby river, when one of them lost her panty to a roaming cow that swallowed it.
Being a weekend, the river was a beehive of activity, with women washing clothes as others took a bath. As villagers are wont to do, the two women had aired their panties and were waiting for them to dry as they sunned themselves and gossiped by the river. Unfortunately, one of the cows that were grazing nearby ate one of the panties.
"It was a coincident that the women had similar panties and had aired them side by side. When the roaming cow chewed one of them, ownership of the remaining one was thrown into dispute, with both laying claim on it," said Sang, a resident who witnessed the incident.
"The controversy sparked a fierce argument that quickly degenerated into a war of words. Each began claiming how this or that stain was a unique identification mark that proved they owned the small garment," the eyewitness said.
The verbal combat got so bad that the two women started fighting. The matter proved to be too weighty for fellow women to solve that it had to be taken to a village dispute resolution committee, chaired by elders.
"A fight ensued at the river and one of the women was almost swept away by the raging waters as they squared it out. Attempts by the local women to resolve the stalemate did not bear any fruits," Sang added.
LONG-STANDING STALEMATE
"I will only give in once I get my panty, nothing will change my mind, not even the council of elders. It's is my one and only and that's why when I wash it, I have to wait for it to dry to wear it. Again, she did not help me to buy it. I used my heard-earned money to acquire that underwear," one of the warring women is quoted as having wept.
The council of elders, known for finding solutions to some of the long-standing stalemates on matters land, petty theft and other mundane stuff, picked up the dispute and are still burning midnight oil to solve it.
"It is a unique case and we do not have a neutral person who can give evidence or leads in finding the rightful owner of the underwear," Melly, one of the elders complained when asked to confirm the incident.
Melly confirmed that the elders have taken custody of the garment and are still consulting on how to settle the matter. It's over a week since the incident took place and elders are still scratching their heads in search of a solution.
Related Topics