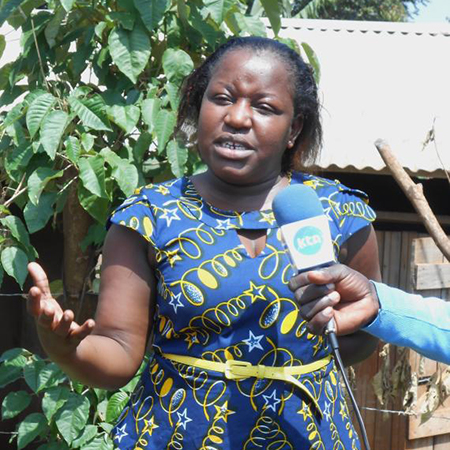 Youth Rep Dorcus Anupi addresses journalists outside her Mbale office    Photo: Benjamin Sakwa
The remote Kiliboti village in Lugari Constituency, Kakamega County, has become a cesspool of incest, defilement, rape and abortion; with innocent minors, some younger than 10 years, falling victim to sex pests. The most vulnerable are children of single mothers.
Elders blame the vice, which is rampant in Lugari and Malava sub counties, on bizarre rituals and beliefs, as offenders believe that defiling minors or having sex with virgin relatives can cure Aids.
"Children are defiled because some people believe that sleeping with a child will cure them of Aids. Some believe it can bring them wealth. Most cases are related to children of single mothers who are left at home to care for themselves when their mothers go to work. The most affected areas are Kiliboti, Matete, Matsakha and parts of west Kabras," Patrick Lubao, a village elder, revealed.
According to Lubao, between March 2014 and June, seven incest cases were taken before the Butali Law Court. Three of the cases have so far been concluded. He says that many cases however go unreported. In fact, some residents now consider the village cursed.
Anne Khaoya, 17, from Kiliboti village was defiled by her cousin who got her pregnant and ran away after the act. But the case was not reported because the suspect is a relative. Some of her relatives wanted her to abort the child, claiming that she had brought shame to their community.
"I gave birth to a baby boy who is four months old now. The villagers wanted to kill my child, claiming he is taboo and cursed according to the Kabras culture. My parents have been supportive and vowed to help me. It is their support that has sustained me and the child. Traditionally, the community kills a child born out of incest. This is cruel and unfair to an innocent child," says Khaoya.
Strained relationship
Mary Shikuku, her mother, says the relationship between the two families is now strained.
"Villagers have vowed to kill the suspect if they get hold of him. They claim incestuous relationships are a bad omen and offenders must be banished from the community. My daughter and grandson were faced with the same fate, but we intervened as parents, and told them that those are outdated beliefs, and that as civilised people, we were ready to take care of the child," Shikuku says.
Tinah Thomas* who stays with her stepmother was defiled by her classmates, but instead of her family reprimanding the suspects, they preyed on her instead.
"I told my father what had happened at school but he didn't seem concerned. He took me to my 72-year-old grandfather who raped me that very night. My father came for me when he heard what had happened, but to my surprise, insisted he also wanted to "taste." It is traumatising going through such an ordeal. The experience has made me very fearful of men," says the 14-year-old who also conceived as a result of the rape.
The villagers insisted that the pregnancy be terminated, but when she was taken to the hospital for the procedure, she delivered instead.
"They tried to kill the child immediately after birth. They put my son in a sack and had already dug a grave for him. I informed the authorities of a local non-governmental organisation and the child was rescued," Tina discloses.
Another victim from the same village is Consolata Kamenza*,14. Her father pounced on her when her mother was away. She was lucky to have carried the pregnancy to term, despite pressure from the community to abort. In most cases, traditional birth attendants aid abortions in cases of incest.
"I was raped by my father and conceived. I am very careful and protective of my baby even today, because children born out of incest are considered outcasts. Many have been killed and buried secretly,'' she tells The Nairobian.
The accounts get more harrowing as we move to another homestead and meet Mary, 12, who was repeatedly defiled by her father and grandfather. "My mother died three years ago after which my biological father started defiling me daily. I decided to seek refuge at my grandfather's since living with my father had become unbearable. But there was no respite there either. My drunk grandfather would come to my room every night and rape me. I had no one else to turn to,'' she says.
Fortunately, both men were arrested. Her grandfather was released on bond due to his advanced age, but her father is currently serving a jail term.
High cases of incest
Malava Officer Commanding Police Division (OCPD), Justus Kitetu, reveals that criminal files at Malava Police Station indicate that from January 2013 to date, 47 such cases are in court, 10 of them being incest, 25 are defilement and 12 are attempted rape.
"Many cases go unreported, but we encourage residents to file complains as this will help us bring the suspects to book and give us sufficient evidence for prosecution,'' says the OCPD.
Unfortunately, he adds, most families resort to out-of-court settlement.
"Most people prefer settling these matters out of court. They do not want to strain the relationship with their kin. Suspects tend to buy their freedom because most of the victims are poor and when they are given Sh72,000, they quickly dismiss a case," says the police chief.
He blames collusion between parents and suspects as a setback in the pursuit of justice for victims.
Kakamega High Court outgoing judge, Justice Chitembwe, says the penalty for defilement of minors is life imprisonment and warns villagers of dire consequences should they be found guilty.
"Most cases of incest and defilement have been reported in Butali in Kakamega North District. But parents of victims want to be bribed and this is against the law," says the judge.
Antony Luvisia, Secretary General of Urafiki initiative that helps defiled children in Malava, is not amused by the way 'culture' is being invoked to protect rapists.
"There are many rape cases, yet the community just resorts to cleansing rituals. There is a case of a girl who ran away to seek refuge at her grandfather's after being repeatedly defiled by the father. But the grandfather was similarly a pest and subjected the girl to a similar ordeal. She was only rescued from her beastly parents after reporting the matter to a village elder," Luvisia discloses.
He adds that, "No arrests were made; cultural rituals were conducted involving slaughter of a goat and collection of traditional herbs which are mixed with the goat's blood and offenders compelled to drink."
Luvisia explains that, "This is meant to bind their blood relations and inhibit sexual desire among family members. Sometimes those involved are forced to walk towards a river naked to bury a newborn animal, a ritual believed to exorcise evil spirits. Such rituals do little to deter rapists though."