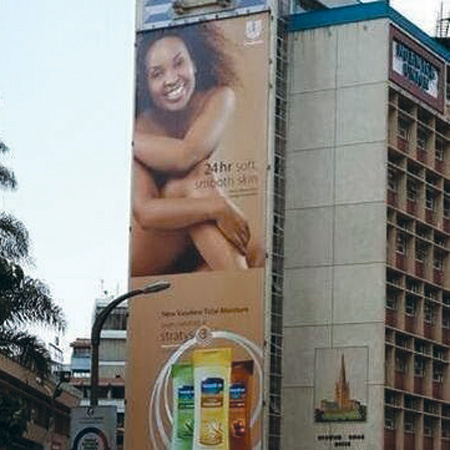 Consumer lobby has refused to remove controversial billboard
By HUDSON GUMBIHI
A consumer lobby has failed in its attempt to have a controversial billboard featuring radio and television personality Sheila Mwanyigha removed.
The Consumer Federation of Kenya (Cofek) wanted to take action following a public uproar over the Vaseline billboards in parts of Nairobi. The lobby wanted the advert brought down because of 'extreme nudity' that is 'a distraction' to the public and abuse of morals.
Cofek secretary general Stephen Mutoro said they had been advised against pursuing legal action by their lawyer, but added that other avenues were being considered.
"We still have a problem with it, but our lawyers advised us that we have a weak case. Obviously strategies are different, we shall decide what to do next," said Mutoro.
The lobbyist said the billboard has 90 per cent nudity — a situation Mutoro said is unacceptable. Initially, Cofek had threatened to mobilise a consumer boycott of Vaseline products and will closely work with the county government in banning 'offensive' outdoor advertising.
County spokesman Fidelis Mwatha said they had not taken action against the alleged offensive billboard.
"It is still there, but when billboards are a source of problems we sometimes pull them down," Mwatha said.
The Vaseline billboard at Muthaiga Roundabout, for instance, has been pulled down in what some insiders in the outdoor business claim to be 'expiry' of its times pan.