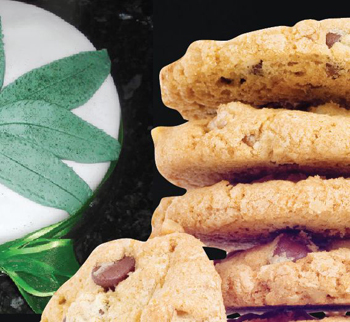 When Esther walked into her friend's birthday party in Lang'ata on a Saturday afternoon, she was first offered a glass of juice and some cookies as she waited for the main meal to be served. A few minutes later Esther, a teetotaller, started feeling tipsy. After taking two more cookies she became so excitable that her boyfriend thought she had either taken alcohol or her juice was spiked.
That was when the host revealed the secret. What Esther and other guests were nibbling at were not ordinary cookies but 'weed cookies' baked with bhang (also known as cannabis or marijuana among other monikers) as an ingredient.
"She'll be fine, just give her one hour," the birthday boy told Esther's boyfriend. It soon became clear that some of the guests at the party were deliberately eating the cookies to get high while others, like Esther, had been tricked into taking the drug.
Smoking or possessing marijuana is illegal in Kenya, but those seeking to beat the law seem to have resorted to concealing the drug in cakes, brownies, muffins, cookies, chocolates or sweets. Not having the distinctive smell of the drug makes it even more difficult to tell the difference between the ordinary baked foods or confectioneries and the illegal products
Using bhang as a baking ingredient is a trend that was identified in the city a few years ago, but the authorities are now more concerned by the increased consumption of the illegal products. Nacada, the government agency that leads the campaign against drugs and alcohol abuse, has now raised the alarm and is planning to combine the arrest of suspected suppliers with a campaign against the practice.
"The youth should be warned. It is likely that the drug's toxicity could increase if it is baked in food like cakes, cookies or biscuits," says Nacada chairman Frank Njenga.
But after weeks of investigations, The Nairobian can reveal that the cluelessness of the authorities on how to deal with the 'weed foods' is in direct contrast with their widespread consumption. What is more, the suppliers of the 'drugs foods' only deal with trusted repeat customers and do not openly sell the products.
We tracked one alleged dealer to a shop on Kenyatta Avenue that sells clothes. After mentioning the name of our contact as a referee, the supplier was more comfortable telling us about the popularity of his products, which are homemade. The bhang is usually ground before being mixed with other ingredients.
"Haven't you been to a party with lots of cakes and brownies and very little alcohol yet everybody is high?" he poses.
He says the 'weed products' are particularly popular with partying youths who have little money to spend on alcohol. Drug addicts who fear arrest for smoking also find a safer alternative in feeding their habit — quite literally.
But it is the profile of his VIP clients that indicates how fast the habit is spreading. Expatriates, politicians and pastors have, according to our dealer, firmly joined the consumer chain.
"Some church leaders have come asking if they can have access to the products. We charge them a premium price and swear to secrecy. One pastor told me taking one weed cookie fires him up during preaching," says our source.
Even though from a distance it may be difficult to tell the difference between the 'weed products' and ordinary baked foods, the dealer explains that on close scrutiny one can always see some fine green particles in the illegal products.
"One weed cookie, which goes for between Sh80 and Sh100, could probably make you high for at least one hour," says the dealer, adding that on a night out one may only need three cookies. The consumer can then just buy water or a soft drink instead of alcohol.
Our investigations indicate that weed cakes and brownies are popular for birthday parties. For outdoor events cookies and chocolates are more popular. But the authorities are set to be more alarmed by information that even lollipops and mabuyu (baobab seeds) with bhang as part of the ingredients are also available, exposing young children to the drug.
Susan, who admits to eating the products, says she was once surprised when some guests at a party she attended brought weed cookies as presents instead of wine or whisky.
She says the weed products are portable and palatable, making them easy to sneak in anywhere without raising suspicion.
"Who will stop me from getting into a club because I have cookies in my bag?" she asks. But is apparent that the products are also a favourite of criminals, who drug their victims. It is something the Nacada boss says the organisation has included in its civic education programme.
"We advise people never to take cookies, cake, bread or any food from whoever is sitting next to them in public transport vehicles during long journeys," he says, adding that Nacada has received complaints from people who had been robbed after eating foods given by strangers.
Our attempts to buy some of the drugs products proved just how tightly controlled the supply chain is. On the day of our visit, the alleged dealer says his last stock has just been bought by a supplier at a city university and promises to sell the 'weed foods' to us the following day. But on the appointed day he says he had taken a 'brief break' because Nacada officials were on his trail. After a long search and many false leads, The Nairobian eventually bought some cookies from the campus-based supplier.
Despite the existence of such products being public knowledge, the police do not appear to have done much to arrest the suppliers and consumers. Nairobi CID boss Nicholas Kamwende told The Nairobian he has no primary data on bhang being used as an ingredient in various foods.
"I'm not aware about that. But this does not mean I'm denying the existence of the products. As we speak, I have not handled any such case. I advise that you contact our anti-narcotic experts, who could be having more information," he said
- By Solomon Kioko, David Odongo and Hudson Gumbihi
Related Topics