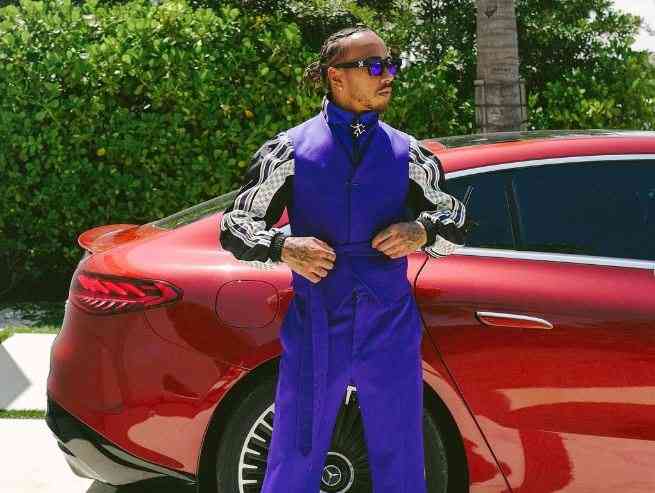 Formula One star Sir Lewis Hamilton has excited a section of Kenyans on Twitter following reports that he is in the country.
Hamilton, who has won a joint-record seven World Drivers' Championship titles, was trending for the better part of Monday after word went round that he is at a popular tourist destination in Kenya.
He seems to have a loyal fanbase if tweets about his visit to Kenya are anything to go by.
A tweep even joked about how Kenyans should behave themselves during this period to maintain a good reputation.
"If Lewis Hamilton is in Kenya then we best behave this week. We can't afford to embarrass ourselves before the most accomplished F1 driver yet," wrote a user identified as Kalamzinga.
His sentiments were echoed by Otieno, who tweeted, "The fact that Lewis Hamilton is in Kenya should give us enough reason to behave well during this election period. Bruh, idk but we can't afford to misbehave in front of an accomplished car driver and champion per excellence, an acknowledged KNIGHT in that matter."
Lofi Girl couldn't hide her enthusiasm saying, "Currently breathing the same air as Sir Lewis Hamilton so that's a plus."
Paula Miss Pee seemingly has a crush on the British racer and hopes to interact with him before he leaves the country.
"Hey God, here I am again this morning believing and trusting you that I am going to see Lewis Hamilton before he leaves Kenya," she wrote.
Aside from being a seven-time world champion, the 37-year-old holds the records for the most wins, pole positions, and podium finishes and became the first Black driver to win the F1 world drivers' championship.
Hamilton is currently spending his summer break 'tracing his roots' in Africa, something he says he'd been planning to do for years.
View this post on Instagram
"To say this journey has been a grounding experience is an understatement. This has been a life changing reset. I feel like I have gained a new perspective on life, grown an even stronger love for animals and became even closer with my brothers who I've shared this special journey with. Everywhere I look I'm surrounded by so much beauty, and I feel truly re-centred and at peace," he wrote.
The racer made his first stop in Namibia, calling it one "of the most stunning places I've ever seen with my own eyes."
"Words and pictures do not do it justice. The hot air balloon ride was surreal. We had to land sideways which is definitely something I'll never forget. I could not think of a better place to spend this time off. Sending everyone peace and light, I'm off to the next," said Hamilton.
Related Topics